A federal judge ordered the Trump administration on Monday to temporarily stop the deportation of families for at least a week after reuniting them.
The Trump administration is currently in the process of reuniting about 2,500 children with the parents it separated them from at the border, many of them under a zero tolerance policy cracking down on illegal border crossings. It is still working to determine who is the parent for 71 of those children, a government official said in court on Monday.
Judge Dana Sabraw ordered the government last month to halt those separations and reunite the families it already split up, with a deadline of July 10 for children under age 5 and July 26 for children 5 years old and up.
He said on Monday that those reunifications need to happen as quickly as possible, admonishing Trump administration officials who pushed for a lengthy screening process for parents that he said could lead to families being separated for months. Sabraw said his order to temporarily halt deportations of newly-reunited families should not slow or stop the process.
Deportations of newly-reunited families will be halted for at least a week, at which time the judge will receive further briefing on the matter.
The American Civil Liberties Union, which is representing the families, asked the judge in a filing on Monday to order the government not to deport parents until at least a week after they have been reunited with their kids "given the persistent and increasing rumors – which [the government has] refused to deny – that mass deportations may be carried out imminently and immediately upon reunification."
Government attorney Sarah Fabian said there is a chance that the order will delay reunifications because of space limitations at Immigration and Customs Enforcement, where parents and in some cases families are detained. But the judge rejected that argument. If space is an issue, the government will have to make space in other ways, Sabraw told officials.
The judge has been critical of some of the Trump administration's statements and procedures during the reunification process, particularly a declaration by Department of Health and Human Services official Chris Meekins on Friday saying quicker vetting would put children at risk.
That declaration was "exasperating, to put it plainly," Sabraw said on Monday. He said the government was wrongly treating children it took from their parents in the same way it does those who arrive at the border alone and need to be released to sponsors in the U.S. HHS officials must recognize the situations are not the same because the government "improperly" separated these families, Sabraw said.
"It is inviting a process of delay at the expense of children and parents, which is not in the best interest of children," he said in court.
Government officials have claimed that if they release children to their purported parents without a lengthy screening process, it could lead to some being put in the custody of dangerous criminals or child traffickers. Vetting did detect some individuals with serious criminal records during the process of reunifying children under age 5 and they were not approved for release. Several additional adults were found to not be the parents of the children in question, although some were other relatives, according to the government.
Sabraw said the screening process should be about looking for red flags. If the government needs to conduct DNA testing to confirm family relationships, it should, but in many cases it will not be necessary, he said.
Under the Trump administration's current plan for reunification, the government officials in charge of assessing parents receive a summary of their criminal background check from Immigration and Customs Enforcement. Not all criminal backgrounds preclude parents from reuniting with their kids ― illegal entry is not grounds for keeping them apart. If there are allegations of abuse or other concerns, it might require additional analysis to determine if the child can be released, HHS official Jonathan White, who is leading the reunification process, said in court.
Sabraw used a government attorney's invitation for him to visit a facility holding kids as another opportunity to call for quicker action.
"No matter how nice the environment is, it's the act of separation from the parent, particularly with young children, that matters," Sabraw said. "And it's time that is at issue."
This article has been updated with more information from the court hearing.
Before You Go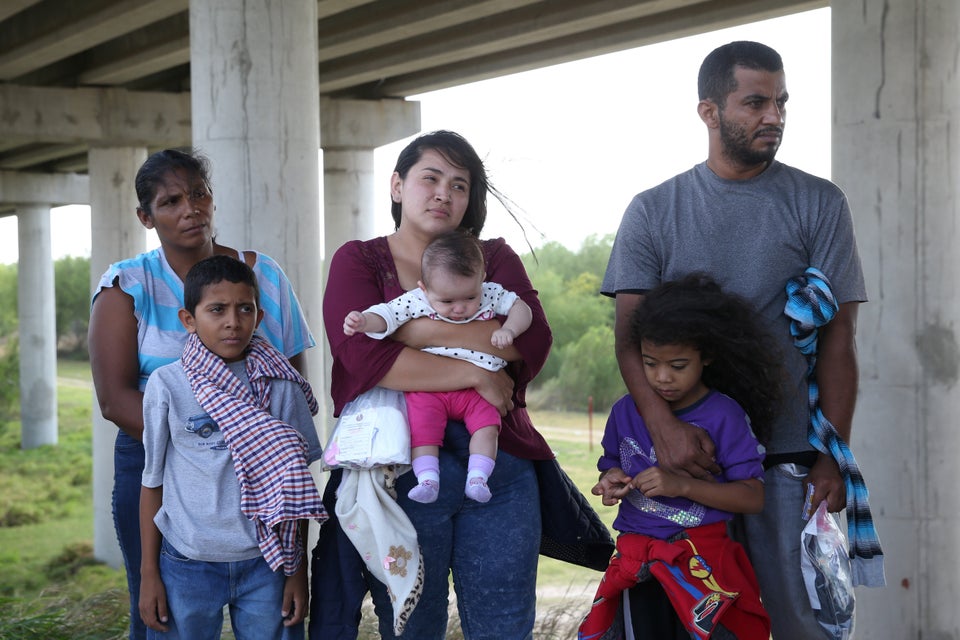 Immigrant Families At The U.S.-Mexico Border
Popular in the Community