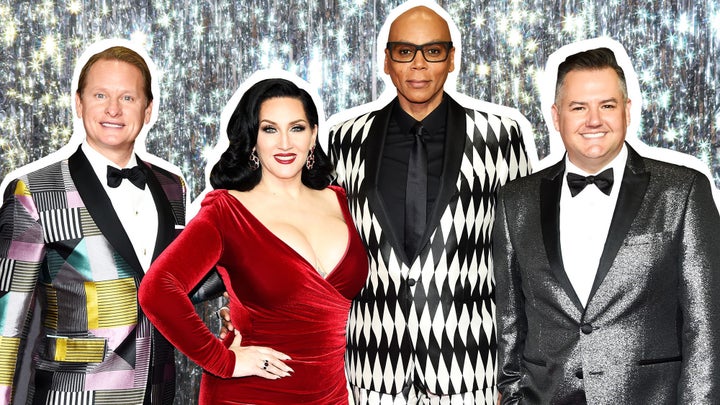 As it turned out, two candidates fit that bill. And since Ru couldn't choose between them ― one a beloved style guru, the other a red carpet stalwart ― he went ahead and hired both. Enter Carson Kressley and Ross Mathews. 
On a reality series that boasts its fair share of celebrity guest judges (Kathy Griffin, Margaret Cho, Johnny Weir, Lena Headey, Neil Patrick Harris, Vanessa Williams, Lady Gaga, Christina Aguilera, to name a few), Michelle, Carson and Ross manage to do what a cameo player never could. They rise above the enthralling fracas of competition to deliver whip-smart commentary and artistically sound evaluations episode after episode, without falling prey to the show's real stars: the queens.
As RuPaul insists, the judges aren't "just showbiz experts, they're super-fans and longtime lovers of the art of drag."
Fans and lovers, yes, but also cultural critics who have been endowed with a serious responsibility. Whereas Simon, Randy and Paula needed only to identify a good voice and a pop-friendly image on "American Idol," Michelle, Carson and Ross (and Merle Ginsberg and Santino Rice before them) must coronate a queen who meets the drag world's highest standards ― all the while entertaining an audience who might be getting their very first taste of drag culture courtesy of VH1. It's no small task, and it takes a trio of entertainment veterans to pull it off.
HuffPost caught up with Kressley, Mathews and Visage before the Season 10 premiere to learn more about their ability to amuse the masses and their careers before "Drag Race." Here's how, in their own words, they came to sit comfortably beside Mother Ru. 
Michelle Visage
Michelle Visage was raised in New Jersey by overly supportive adoptive parents, who never failed to tell her how special she was "from the moment they received me." 
RuPaul, it seems, had a similar reaction to meeting Visage. They first came face to face in the late '80s New York nightclub scene, when Visage was 18 or 19, and then officially reunited in 1992 at the New Music Seminar.
"We bumped into each other in the green room and that's when I said, 'Honey, I don't know if you remember me?' And he was like, 'Bitch, remember you?! You are a fucking superstar. I have been watching you for years.' And I was looking around going, 'Me?! You're talking to me?! I'm a superstar?'" she told HuffPost. "This is the first person other than my mom and dad who ever told me I was a superstar. Somebody like RuPaul saw me clearly, with full vision, and that was the moment where I was like, 'There's something else to this relationship.'"
Of course at that point, Visage, now 49, had already made a name for herself in the music business. Being an entertainer was something she'd dreamed about ever since she performed "Rhinestone Cowboy" on her organ in the second grade. From an early age, she wanted to become the next Madonna, so she moved to New York City, attended the American Musical and Dramatic Academy and hustled to find gigs after graduation. Theater casting directors initially told her that she wasn't the right fit for Broadway, so Visage decided to follow a different path. 
"I auditioned for [the R&B girl group] Seduction, which was really ballsy and weird because they had already had the Caucasian girl, so to speak," Visage said. "I basically said, 'Well, you don't have me and you haven't heard me. I'm the one that you really want.' I always had balls of steel and that's kind of how it started." 
We bumped into each other in the green room and that's when I said, 'Honey, I don't know if you remember me?' And [RuPaul] was like, 'Bitch, remember you?! You are a fucking superstar. I have been watching you for years.'

Michelle Visage
At 19, Visage became a member of Seduction, with April Harris and Idalis DeLeón. The ladies produced a few hit songs, including "It Takes Two" and "(You're My One and Only) True Love," but never had the leadership they needed to achieve bonafide success. 
"En Vogue was out at the same time and they were so amazing, but everything went to them at that point and Seduction was forgotten about," Visage said. "The record label and PR people didn't really know how to work us in the correct way. And then, of course, there were personal issues amongst the girls."
After the group disbanded in 1991, Visage had no management, no agent and no support from producers.
"I ended up not knowing what to do, not getting my solo deal and working in a strip club in Queens hosting the hot oil wrestling on the microphone," she said. "I did that for nearly two years, starting out in Queens at Goldfingers, and then Goldfingers opened in Manhattan and it was huge. That's when C+C [Clivillés and Cole], [Seduction's] producers, contacted me to do a solo project, which ended up being S.O.U.L. S.Y.S.T.E.M."
S.O.U.L. S.Y.S.T.E.M.'s one hit, "It's Gonna Be a Lovely Day," appeared on the 1992 soundtrack for "The Bodyguard," reached No. 1 on the Billboard Hot Dance Club chart and peaked at No. 34 on the Hot 100. 
After that moment of fame, Visage dabbled in radio and eventually landed a gig with WKTU in New York. Following her successful stint as the "girl on the street" alongside Hollywood Hamilton and Goumba Johnny, the station decided to set Visage up with another on-air personality. 
"They said, 'We want to send a person to fashion week, so meet at 5 a.m. tomorrow morning,'" she recalled. "I show up to the hotel at 5 a.m. and in walks RuPaul. Literally, Ru looks at me ― I didn't know it was going to be Ru, he didn't know it was going to be me ― and he said, 'Of course it's you sitting here! Who else would it be? This is why all roads led to this day.' And we did our week together, they hired us immediately, our first ratings book beat Howard Stern in New York City ― which hadn't been done in decades ― and they knew it was a hit. So we signed for two years, and then Ru immediately brought me in as a sidekick on his VH1 show." 
Since then, Visage has been by RuPaul's side, officially joining "Drag Race" as a regular mentor on Season 3 in 2011. 
"It's been a gift, and the biggest gift of all is to be able to sit next to my best friend and watch the amazing talent that comes through," she said. "The more the show continues, grows and expands, the more drag changes, grows and expands. These kids who were once 11 and grew up on 'Drag Race' are now 21 and can audition, so there's a whole new crop, plus the ones who were already in existence for 20 years. There's no end in sight to me and it's changing the queer landscape for the better." 
Carson Kressley
"We did a show together called 'Skin Wars,' which was on the Game Show Network, and he was one of the hosts and permanent judges," Kressley told HuffPost. "I was a guest judge and that's when he asked, 'Why haven't you been on my show?'"
A fitting question for someone who has more experience than most in the realm of lifestyle critique. 
Born and raised outside Allentown, Pennsylvania ― "almost in Amish country, I call it Amish-adjacent," he said ― fashion aficionado Kressley has always considered himself a standout. 
"I grew up on a pony farm, which I know sounds like the reason why I might be gay," he joked. 
Kressley became an equestrian at a very young age and spent a lot of time alone with the horses on his family's farm. "It was a little bit like an after-school special but not quite that sad," he said. "It was the 1970s, so I think I was wildly influenced by television. I became enraptured by 'The Carol Burnett Show' and 'Fantasy Island,' and I think I got my penchant for shopping from watching 'The Price Is Right' on sick days. My eye for fashion came from TV as well, from shows like 'Hart to Hart' and 'Charlie's Angels.'"
The 48-year-old said that when other kids were drawing pictures of race cars, he "was drawing French provincial houses and pantsuit sketches," adding that he begged for and eventually received the Fashion Designer set by Milton Bradley as a present. 
Kressley also credits his mom with inspiring his love of design in the '70s. "I remember being marched off to a store called The Hum to get a suit that I wore on Sundays — it was polyester and a terra-cotta color," he said. "Seeing my mom wearing Bob Mackie long evening gowns to go to a cocktail party or a pantsuit for work, I was taught the importance of wearing the right thing at the right time." 
His passions drove him to New York City in the '90s, where he eventually landed a job at Ralph Lauren.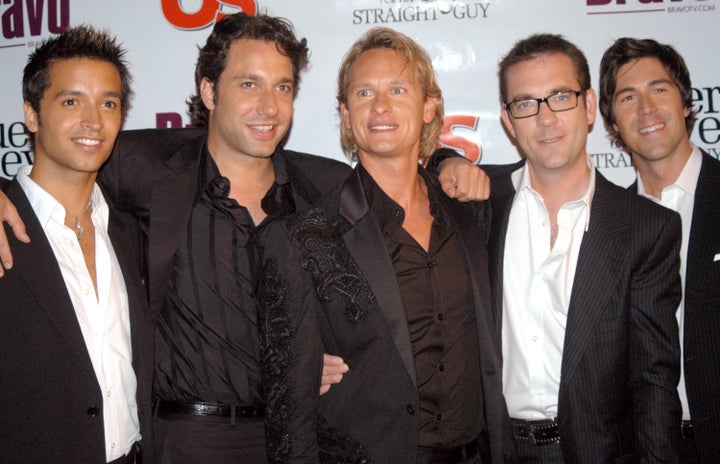 During his seven-year tenure as a stylist-turned-creative director at Ralph Lauren, Kressley more or less stumbled across "Queer Eye for the Straight Guy," a reality series being created for Bravo in the early 2000s. (He doesn't appear in the Netflix reboot.) On the set of an ad campaign, a producer friend told Kressley that Bravo was looking for a stylist to be part of a group of gay men (aka the Fab Five), all with their own expertise, who would help straight men discover their true potential.
"I called Bravo, and at that point I thought they were a non-stick cooking spray. I had no idea they were even a network," Kressley laughed. After some back and forth, he was called in for an interview, and then another, and another, until he was cast in the pilot episode. 
"I took a couple of vacation days off of work, we made a pilot on Newbury Street in Boston, and then lots and lots of time went by," he said. "In that interim, Bravo was purchased by NBC and the new head of the network said, 'I really like this concept for "Queer Eye," let's do it.' So the producers called and said, 'Are you ready to quit your job?' And I said, 'Oh my God, do you guys have dental insurance?'" 
The show was an overnight success, and Kressley and his co-stars became household names.
"We had no idea the show would do what it did," he said. "I look back at the pictures and I'm like, 'I did host the Flame Worthy Awards with Dolly Parton! We did go to the White House!' We did so much in such a whirlwind amount of time that we couldn't really savor it all."
After "Queer Eye" ended in 2007, Kressley was given opportunity after opportunity, and he didn't turn down a single one. "I say yes a lot," he joked. "I call it the William Shatner School of Showbiz." Programs like "How to Look Good Naked" and "Carson Nation" led him to appear as a contestant on "Dancing With the Stars" in 2011 before he ultimately met up with RuPaul, who he believes offered him the perfect gig.
"A lot of the judging on this show I think of as coaching," Kressley said. "Michelle, Ross, Ru and myself, we've all done a thousand auditions at the start, and we all realize the importance of presentation and the hoops you have to jump through in showbiz," he said. "We just want them to be successful ... and we can save them, hopefully, a lot of time and heartache by giving them some valuable kernels of wisdom." 
Ross Mathews  
Ross Mathews bumped into RuPaul at a red carpet event a few years into his budding career as Ross the Intern on "The Tonight Show with Jay Leno." 
Already a longtime fan of Ru's, Mathews grew even more enamored as they chatted about the drag queen's first book, Lettin' It All Hang Out. "I remember thinking, 'This person looks so fabulous, so show business and so glossy, but here they are writing about the real nitty-gritty.' I was intrigued by that juxtaposition," Mathews told HuffPost. 
Admittedly, Mathews has always been dazzled by Hollywood types. 
"I wanted to meet every celebrity in the entire world. I wanted to interview them, I wanted to see a soundstage, I wanted to know who pulled the lever that made the curtain open. I just wanted to know everything about show business," he said. 
That's pretty much how he found himself as a correspondent on "The Tonight Show," where he appeared for nearly 15 years beginning in the early 2000s. He would do bits and attend red carpet events for the late-night program, showing off his natural charisma and built-in comedic chops while attending California's University of La Verne as a communications major. 
"I went from zero to a million miles an hour on that show," he said. "I was literally living in the dorms but appearing on the No.1 late-night show in the nation, and so I learned incredible work ethic and incredible gratitude. It was like showbiz bootcamp — I was learning from the best of the best."
Mathews said he's wanted to be a talk show host since he was 7 years old. Growing up in a little farm town in Washington, he was well aware that he wasn't like the other kids, but he had the unending support of his family and friends. 
"It could've been really difficult, because I'm kind of like a gay cartoon and there weren't a lot of people like me growing up in Mount Vernon, Washington," he said. "But I lucked out. Of course I had challenges, but I had the best weapon in the world, which is humor." 
While learning the ins and outs of production as a creative consultant alongside Leno and his team, Mathews began booking side gigs on networks like VH1 and E!, where he was a regular commentator on Chelsea Handler's show, "Chelsea Lately," and co-hosted red carpet shows. 
"All those years I covered the red carpet, it wasn't just like a pinch-me moment but a pinch-me life," Mathews said. "I used to cut out pictures of the Oscars or Golden Globes from the magazines and tape them to my wall, and here I was, as a grownup, on the red carpet year after year after year."
Throughout his career, mentors like Leno, Handler and Rosie O'Donnell have taught him to "trust my own voice and carve my own lane. I couldn't sort of imitate anybody," Mathews said. "No matter how hard I try, I'm never going to sound like anyone else. I realized that some people may be funnier than me, but nobody has my point of view."
That confidence is what caught the attention of RuPaul, who after their initial meeting asked Mathews to appear as a guest judge on Season 4 of "Drag Race." The team asked Mathews to return as a permanent judge a few years later. 
"It was one of those moments in life where I wanted to push pause for a second and let it digest, because I don't know if I've ever been more qualified for anything in my entire life," he gushed. "I love drag queens, I go to drag shows all the time, I love sitting in the front row, I love breaking a $50 so I can tip the girls. I judge like a fan."
The 38-year-old said he's honored to be a part of "Drag Race" and to sit beside his fellow panelists.
"It is unbelievable how Ru and these producers up their game every single time. Just when I think things couldn't get any better, it gets so much better, and that's a testament to Ru," Mathews said. "I just want to say something about RuPaul: Ru is the most fabulous person I've met in my entire life and the fact that Ru thinks I'm fabulous makes me feel like a unicorn," he added. "It makes me feel like I could do anything in the entire world. And I think anyone who's met Ru or seen Ru on TV can understand how I feel." 
"RuPaul's Drag Race" Season 10 airs Thursdays at 8 p.m. ET on VH1. 
Calling all HuffPost superfans!
Sign up for membership to become a founding member and help shape HuffPost's next chapter
BEFORE YOU GO
PHOTO GALLERY
"RuPaul's Drag Race," Season 10