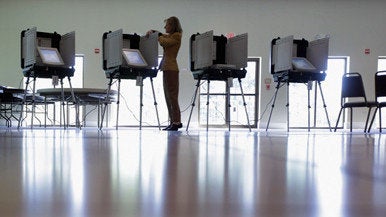 How hard can a state make it for citizens to vote? It's a hot topic which some argue may impact the Presidential election in swing states, like Pennsylvania, and down-ticket races for Congress in Pennsylvania's 6th District or Georgia's redrawn 12th district.
It's no surprise to anybody that Voter ID has become a highly partisan issue from legislatures to living rooms. We are all well acquainted by now with the statistics that show that Black people of all ages, the elderly of all races and young people, particularly young people of color, are all more likely to lack the necessary identification to vote under new voter ID laws. They're also more likely to rely on early voting and more likely to be mobilized to vote through registration drives. Because these demographics lean Democrat, the impact of voter ID laws on the election results this year may be partisan, with Democrats arguably losing ground and Republicans benefiting. Republican-controlled state legislatures have introduced the restrictions and Democratic legislators have generally voted against these restrictions.
But consider this - For much of the past year, the debate hasn't been in the legislatures. Rather, they've been in courthouses. Less examined is the extent to which the rulings in these cases have been partisan and what that says about the state of our democracy.
There have been a dozen or so challenges to various forms of voter suppression laws in key states this election year - Ohio, Wisconsin, Texas, Florida and Pennsylvania, to name a few. Of the pro-voter cases in those four swing states, nine judges who voted to protect the right to vote were appointed by Democratic administrations; four were appointed by Republican administrations. The only "block the box" rulings came from Republican-appointed or Republican-identified judges.
From these cases, judicial behavior seems less partisan than, well, the behavior of our politicians, and that's a good thing. Still, this snapshot of judicial decision-making suggests that our ideologies follow us into court appointments. We expect our courts to be representative of who we are as a nation. But the law is not supposed to be too ideological. Judges are supposed to reflect, soberly, on the case law as it develops and certainly a good dose of common sense understanding of the real world in which their decisions will live.
In our Constitutional framework, the Courts are supposed to be a check and balance to protect the minority from the majority and ensure that we all are equally protected by the laws of this great nation. That means protecting everyone's fundamental right to vote. But like many things in our policy-life as a nation, these judicial decisions show that we as a nation are becoming more ideologically polarized and partisan, less rational and less able to come together to defend the foundations of our democracy.
REAL LIFE. REAL NEWS. REAL VOICES.
Help us tell more of the stories that matter from voices that too often remain unheard.