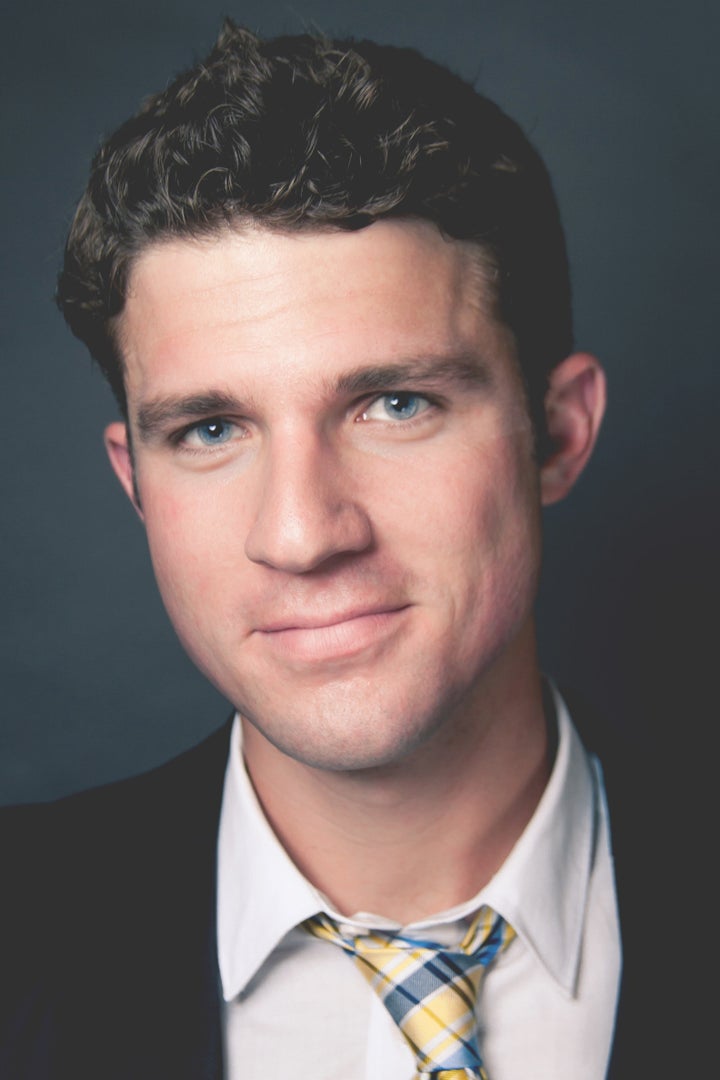 Citizens of Denver, do you live in "Stinky Town"? Or perhaps you live "Taco Cart HQ", "Gay-pleton" or near the "people with diseases because of the power plants"? Wherever you live in Mile High City, Trent Gillaspie is making fun of you or your area in his hilarious Judgmental Denver Map and it's been going viral since he recently unleashed it on the Internet
The Huffington Post chatted with Gillaspie about his map, Denver and how he got so "judgmental." (Scroll down for "Judgmental Denver Map")
Trent Gillaspie. Been in the Denver area since 1993/1994. I am a Technology Product Manager by day, but have been moonlighting as a stand-up comedian since 2008 -- starting my role in the Denver comedy community in 2009. I have had the opportunity to perform around the country with some fantastic comedians, but Denver has some of the greatest comedians out there. I then took a break in 2012 to both focus on some other things, as well as work on my comedic voice, with intent to return to the stage in the early half of 2013. That plan is still on track, and I am planning to get back into the Denver scene in the coming months. I am also an avid runner in the Denver community, and run for the Runners Roost team. My wife, Anne, and I live near "Taco Cart HQ" with our dog, Bowser.
I'm a tech nerd who loves the outdoors, so it makes sense to be here. I just wish people would stop moving here and cluttering I-25. I've said it before, and I'll say it again - the weather here is always horrible - it snows 355 days out of the year, everyone here is so depressed, and there are cowboys and guns everywhere. Still. Stay away. Stay alive.
What was the inspiration for the map?
When I describe where I have lived to people in Denver, some people wouldn't know the exact neighborhoods. I would proceed to use more generalized stereotypes to describe the area, and they would both understand it better, maybe get a laugh out of it, and be able to share similar experiences with their own neighborhoods. I thought it might be fun to put together a visualization of all the stereotypes on a map of Denver for people to use and enjoy, along with tying in a light-humored aspect.
How did you research all of Denver's neighborhood idiosyncrasy?
Most of it just comes from living here in various parts of Denver over the past ~20 years, and being passionate about the city we love, but some of the neighborhoods that I didn't know as well, I reached out to friends that lived there and asked them to tell me what their neighborhood was like in a few words. That was a huge help to fill in gaps.
Are you planning on making more maps like this of other cities?
I didn't know this was going to take off the way it has. However, once the map started moving around, some friends and other people started reaching out to me to both request other cities, as well as offer up to put together maps for other cities. I also then reached out to a few comedians either from the Denver scene that moved away or that I met out on the road to see if they'd be interested in helping as well. Ideally, I'd love the judgmentalmaps.com site to be an open forum for people to submit similar maps for other cities. They don't have to be as intricate, but I'd love to see what makes each city tick. We are hoping to have Chicago, New York City, and Albuquerque on the site to join Denver soon. It just takes someone who really knows the city at least relatively well to put something together.
LOOK: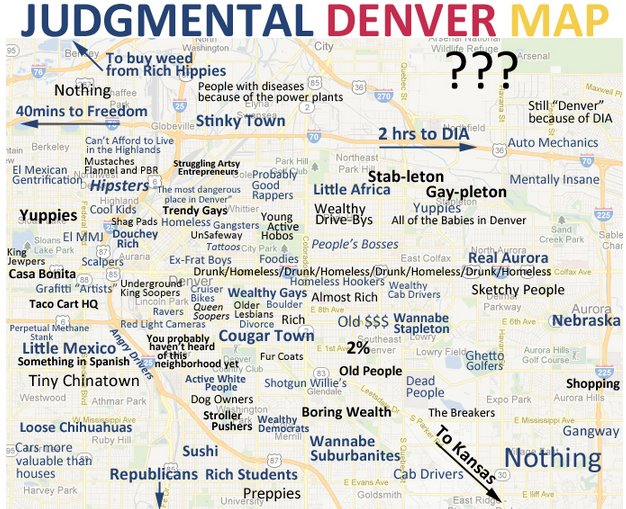 REAL LIFE. REAL NEWS. REAL VOICES.
Help us tell more of the stories that matter from voices that too often remain unheard.