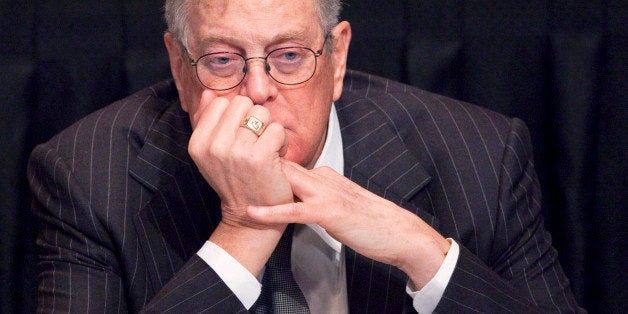 WASHINGTON -- Outside interest groups spent at record levels in state-level judicial elections in the 2012 election cycle, according to a new report, reflecting a trend of increased spending on down-ballot races by political groups looking to control individual state agendas.
The report -- put together by Justice At Stake, the Brennan Center for Justice and the National Institute for Money in State Politics -- shows that independent groups spent $15.4 million on 2012 judicial elections, which helped drive a record $29.7 million in television advertising in those races. The spending by independent groups also represented a record 27 percent of all spending on judicial races.
Some of the big spenders in judicial elections in 2012 included recognizable names from national political movements, such as the billionaire Koch brothers' Americans for Prosperity and the National Rifle Association's Law Enforcement Alliance of America.
Alicia Bannon, counsel for the Brennan Center's Democracy program, said that the increased spending, especially on television ads, has "created a carnival atmosphere where judges are starting to look indistinguishable from other sorts of politicians."
"We don't want our judges to be politicians in robes," Bannon said. "We expect our judges to be above politics and these mud-slinging ads hurt public confidence in the integrity of our judicial system."
Michigan's judicial elections topped the list for spending in the 2012 campaign, with more than $13 million spent by the candidates, political parties and independent groups combined. Political parties were the dominant spenders in Michigan, where a 4-3 conservative majority on the state Supreme Court was at risk, but was ultimately maintained.
Perhaps the most well-known judicial race of 2012, the recall election of Wisconsin state Supreme Court Justice David Prosser, saw the second largest amount of money. More than $5.1 million was spent in the race between Prosser and JoAnne Kloppenburg, with the vast majority coming from independent groups with partisan affiliations, including the pro-labor Greater Wisconsin Committee and the pro-business Issues Council of Wisconsin Manufacturers & Commerce. Prosser kept his seat, maintaining the conservative majority on the court.
In Florida, tea party-linked groups like Restore Justice 2012 and Americans for Prosperity fueled an effort to defeat three state Supreme Court judges appointed by Democratic governors. The effort would have made all seven state Supreme Court justices Republican appointees. The overall campaign ultimately totaled $5 million, but all three justices retained their seats.
Spending in judicial races has been increasing since 2000, when business groups and trial lawyers began an arms race over tort reforms. Justice At Stake Director Bert Brandenburg explained that it was cheaper for special interests to buy a court seat than to pump money into a state legislative race.
"These were deemed as ripe for the picking," he said.
Even though the spending rise predates the Supreme Court's Citizens United decision, which opened the door to unlimited independent political spending by corporations, unions and, ultimately, individuals, the Brennan Center's Bannon said the 2010 decision has definitely affected recent independent spending.
"In response to Citizens United, what we saw was the creation of new spending infrastructure," she said, noting the creation of super PACs and the expansion of spending opportunities for 501(c)(4) social welfare nonprofits. "That spending infrastructure went into state judicial races as well."
In a key 2012 North Carolina judicial race, a super PAC called the North Carolina Judicial Coalition spent $2.9 million to support conservative state Supreme Court Justice Paul Newby's reelection.
The groups behind the election spending report also raised concerns about attempts to inject politics into retention races for justices who were selected based on merit. And they sounded the alarm about attacks on judicial public financing systems in both Wisconsin and North Carolina from conservative politicians and donors.
REAL LIFE. REAL NEWS. REAL VOICES.
Help us tell more of the stories that matter from voices that too often remain unheard.
BEFORE YOU GO
PHOTO GALLERY
Conservatives Pointing Fingers