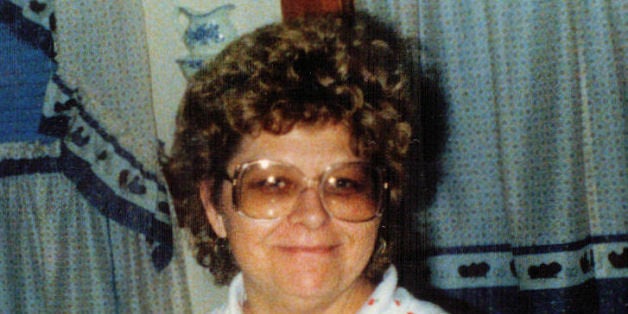 When Amy Kusaywa thinks about her mom today, she doesn't picture her as the gray-haired grandma she would now be, but, rather, as the loving mom she once knew, two decades ago -- before everything went awry.
"I am almost the same age she was when everything happened, so at this point, I am even more consumed with it," Kusaywa told The Huffington Post.
Kusaywa was 21 years old in January 1991, the last time she spoke with her then 45-year-old mom, Judith Geurin.
"I think about that conversation a lot," said Kusaywa. "I did not know it would be our last."
Geurin's disappearance is rooted in events that transpired in July 1988, when her husband of 18 years, 57-year-old Joseph Geurin, died of a heart attack. Joseph was, as it turned out, the glue that held the family together.
"We lived a middle class life in Cohoes, N.Y.," Kusaywa said. "My dad was a sergeant for the Albany County Sheriff's Department, and my mom, for the most part, was a stay-at-home mother to five kids."
According to Kusaywa, her father's death devastated her mother and shattered the family. The grief, she said, was so severe that her mom turned to alcohol for solace.
"When he died unexpectedly, her world got turned upside down," said Kusaywa. "Alcohol became a big problem for her, and she made a bunch of bad decisions."
By January 1989, Judith Geurin had collected more than $250,000 in life insurance and pension funds granted to her following her husband's death. She sold the family's four-bedroom, colonial-style house and took out a mortgage on a two-family duplex in nearby Troy.
Kusaywa and her younger siblings -- ages 16, 13 and 11 -- moved into the duplex. However, unbeknownst to them until moving day, their mother had other plans. Instead of following her children, Geurin moved in with 27-year-old Curtis Pucci.
Kusaywa, anxious to keep what family she had left together, filed for custody of her three younger brothers. A judge awarded her full custody of them in April 1990.
"My older brother was already married, so I took care of my other siblings," Kusaywa said. "In the beginning, it was an emotional and financial struggle."
Kusaywa did not know Pucci before her mom started dating him and is not sure how the two got together.
Kara Skelly, a woman who lived in the Albany area at the time, told HuffPost she was dating Pucci when he met Judith Geurin.
"We were living together, and she was dating a friend of his," Skelly said. "Somewhere along the way, the two of them started seeing each other. I didn't know about it, and he left with Judy when I was out of town."
In 1990, Geurin and Pucci moved some 200 miles southwest of Albany to Sodus Point. Even though she had all but abandoned her children, Geurin kept in regular contact with her eldest daughter.
"As much as I did not agree with her life or anything she was doing, we still spoke all the time on the phone," Kusaywa said.
By January 1991, Geurin and Pucci had burned through all the money Geurin had received after her husband died. Penniless, Geurin took a kitchen job at a local Comfort Inn. Things deteriorated further when authorities charged her with DUI and writing bad checks.
That same month, Kusaywa had her last conversation with her mom.
"She was realizing all the mistakes she had made," Kusaywa said. "She said she was embarrassed that she had fallen for Curtis and his crap. I told her to come home. I told her we could start over."
Whatever happened to Geurin after that phone call remains a mystery. She never called her daughter again.
A few months after that January 1991 phone call, Skelly paid Pucci a visit at the mobile home he had been sharing with Geurin.
"I tracked him down because he still had a lot of my stuff," Skelly said. "He told me Judy was at work that time. When I went back a month and a half later, he said she had left and left all her belongings there. He gave me a necklace that she used to wear all the time. He said she left it behind."
Skelly said she later gave the necklace to Kusaywa's cousin.
"It was a birthstone necklace [that] had been passed from my grandmother to my mother," Kusaywa said. "I don't think she would have ever given it up willingly."
Kusaywa said she reported her mother missing to police in the weeks following their last phone call. The authorities, she said, did nothing and attributed her mom's disappearance to her recent legal problems.
"Their theory was she disappeared because she did not want to face those charges, but the bad checks were under $100," said Kusaywa. "She was not charged with larceny or anything, and even with the DUI, she was not facing jail time."
CASE PHOTOS: (Story Continues Below)
PHOTO GALLERY
Judith Geurin Missing
Geurin's disappearance continued to weigh heavily on her daughter, especially when she received news of Pucci's arrest for a violent crime.
On May 5, 2001, police in Rochester arrested Pucci for attacking his roommate, John Georgetti, with homemade steel knuckles and threatening to kill the man with a pistol.
According to reports in The Democrat and Chronicle, Pucci was angry because Georgetti owed him back rent. The Chronicle also reported that Pucci had a lengthy criminal record dating back to 1977.
Authorities charged Pucci with assault and illegal possession of the knuckles, pistol, a shotgun, and a rifle -- items he was prohibited from owning because of his prior criminal history.
Released on bond, Pucci fled to Schenectady. He was convicted in absentia, prior to his capture in February 2002.
"I admit that I'm not exactly the most upstanding person in the world, but for the past five to seven years, I've been conducting myself very well," Pucci said in court at his March 2002 sentencing hearing.
State Supreme Court Justice Francis Affronti was unmoved by Pucci's explanation and sentenced him to 15 years behind bars.
"I believe that your conduct was such that, but for intervening factors, you could have been ... awaiting sentence on perhaps a homicide charge," Affronti said in court.
The following year, Kusaywa met and married an officer with the Albany County Sheriff's Office. Her husband eventually convinced the Wayne County Sheriff's Office to look into her mom's disappearance.
"They figured they would find her working as a waitress somewhere, but they found no record of her after 1991," Kusaywa said.
"What we can guarantee is it will always be open, and we'll always be working on it," said Lt. Brian Ameele.
In March 2013, Kusaywa sent a letter to Pucci at the Downstate Correctional Facility. The letter read, in part:
"I am a daughter who is looking for answers. I think you can help me with the questions I have. I pray that you will. There has not been a day that has gone by that I don't ache for my mom. I have had a lifetime of struggling because of losing my mother at 18. I have children she will never see. … Curt, I am begging you to please help me bring my mom home and complete this puzzle I have lived with all these years."
In the days that followed, Kusaywa received a response from Pucci. He sent her a photocopy of a 19th century folktale titled, "Feathers in the Wind." It tells the story of a man who slanders a wise man in his town.
Typed out at the bottom of the photocopy was one haunting sentence: "Go pick up your feathers and we both may forgive you, but not until."
Kusaywa sent another letter to Pucci in April 2013, but she has yet to receive a response.
"He won't speak to the police or me about it," Kusaywa said. "I am not convinced my mom is alive out there somewhere, and I believe Curt knows what happened."
Pucci has never been named a suspect or person of interest in Judith Geurin's disappearance. He will be eligible for parole in April.
For now, Kusaywa revealed that she and her siblings will continue to search for the answers they someday hope to have.
"We have already been robbed of going through the journey of life with our mother, so we just want some closure," she said. "We'd like to put her to rest with our father."
Anyone with information in this case is asked to contact the Wayne County Sheriff's Office at (315) 946-9711.
PUCCI'S RESPONSE:
Calling all HuffPost superfans!
Sign up for membership to become a founding member and help shape HuffPost's next chapter
BEFORE YOU GO
PHOTO GALLERY
Missing People