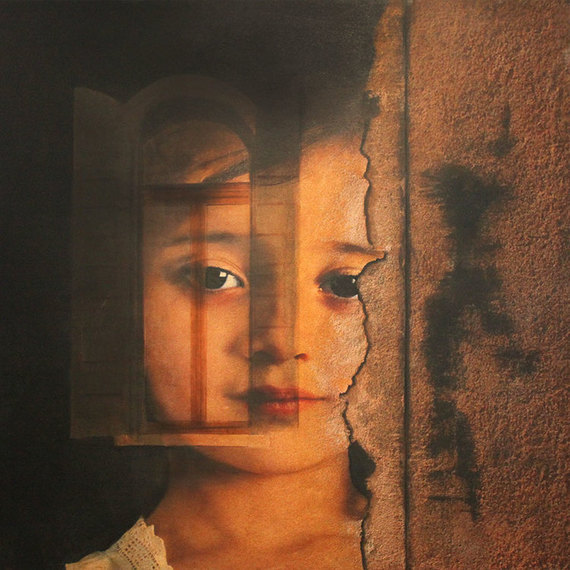 I Can See You, Mixed Media on panel, 2015, 48" x 48"
Judith Kindler, whose work is on view at Melissa Morgan Fine Art in Palm Desert, through May 8th, has been creating collage-paintings that layer and intersperse the artist's personal graffiti with imagery of women and girls, to suggest a kind of accumulation and history. Kindler likes to raise questions, and the central question being asked in her current exhibition is "Why does each of us feel so strongly that we need to leave our mark, and to be seen?"
I recently interviewed Judith Kindler and asked her about her background, her themes and her methods.
John Seed Interviews Judith Kindler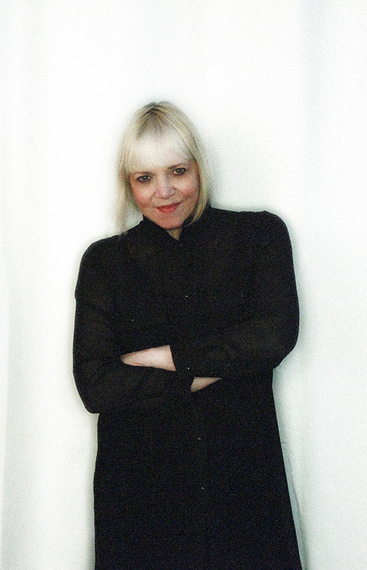 JS: Tell me a bit about your early background and education.
JK: I grew up in a creative family in Western New York. My grandfather designed furniture and my mother - interiors. It became second nature for me to have a calling in the home furnishings industry, which I did for close to 20 years as an adult. However my family referred to me as "the artist," at a very early age, because I was always painting. I was interested in the fine arts and studied classical painting, photography, sculpture and installation art at Kent State University. I was very much influenced by the New York avant-garde early in my life.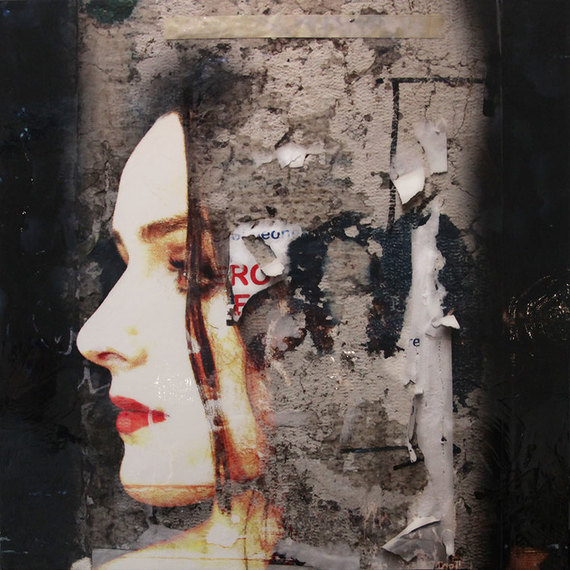 The Writings on the Wall, Mixed Media on panel, 2015, 48" x 48"
JS: Tell me about your career in applied arts and how you have balanced it with your development as a visual artist.
JK: I left Kent State after the infamous May 4th massacre in 1970. We were all caught up in questioning the real value of the war in Vietnam as our friends were being killed or maimed there and now on campus. So I was very affected by this experience and I traveled to India to meditate in search of meaning. I always joke about going to India to meditate but coming back a materialist and while the eastern thought continued to lay a ground for interpretations of life for me, I in fact discovered I could have wonderful things made there and bring them back to the US to sell. I always designed, photographed and painted throughout this period in my twenties. I created many things. (Years 20 - 27)
I moved to San Francisco and went on to start my own business in textiles, applying my hand painting directly on cotton and silks imported from India and Thailand. It was a wonderful time and my textiles were distributed through interior design showrooms across the country. They were considered a great innovation in textile design at that time and I was credited for these creations in the local and national press and periodicals often. I went on to create printed and woven fabrics as well. "The Kavalaris Collection" of prints based on earlier photo-documentation I did in the palaces of Rajasthan, India won the prestigious National product design "Roscoe Award" in textiles. (Years 28 - 40)
I began to design furnishings and interiors as well and ultimately was hired to reposition a large home furnishings chain, "gentrify" it if you will, for the burgeoning more upscale market. I successfully did this and went on to do a similar thing in two other large companies as a senior executive heading up merchandising, marketing, advertising, store design and product design. I became enmeshed in mass marketing. While this was all an incredible experience, I was very unhappy in this retail corporate world. (Years 40 - 47)
Through this period of my life I always painted. It was my therapy. But I made no effort to market my art work. However, I was building personal creative confidence in my aesthetic judgement through all the products I designed and brought to market as well as the experience gained from designing and developing brands through advertising, store design and marketing. I had become a critical player in the applied arts world on a very large stage but I hated the politics, the ethics, the back stabbing, etc. that went on. I was not suited to this environment and despite my successes, I wanted out. I had also come to challenge many of the ideals of commercialism that I was very much a conductor of. This background had a big impact on later works of art, for example, "Consume" a series of mixed media art I did which included installations. This series looked at how we define ourselves by what we consume, a subject I was very familiar with and wanted to look at from a sociological point of view through my art. (Exhibitions at Woodside/Braseth Gallery and Center of Contemporary Arts In Seattle with exhibition catalog, 2006)
After a move to the Northwest in my late 40's I made the decision to leave corporate life and focus solely on my art and began to sell my work. I became a professional artist. I loved the singular purpose of just creating a unique work of art or thematic body of work based on the cultural stories or personal experiences of the time or informed by my past experiences.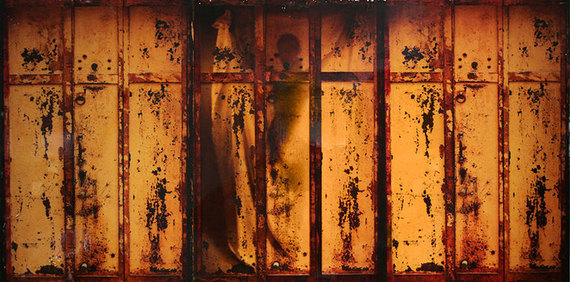 Behind the Screen, Mixed Media on two panels, 2015, 24" x 48"
JS: What are the most important themes of your recent work?
JK: When one looks through the history of my work, especially since 1996, there is much that speaks to the nature of our psychological needs, and really turns inward in narrative but mindful of the common threads that connect us all in our dramas of life. There also is reference to the challenges of political extremism prevalent, along with nostalgic references to previous times socially and personally. The figure has always had a prominent role in my work. Every body of work I do stems from a desire to explore some element of the sociologies, actions, emotions of people, of ourselves.
In this new work (I CAN SEE YOU) I am turning outward sociologically to the need of us all to leave a mark on our society, our world - symbolized in this work, by the proliferation of graffiti. Through questioning the morality of all graffiti I want to challenge us to look at this need to be seen from a historical, psychological and cultural point of view.
I did an extensive photoshoot of the old worn walls covered in graffiti and ripped posted political bills, in Venice, Italy. I felt that by capturing these marks and the history of worn surfaces, I was appropriating the appropriated. In this body of work I bring my own graffiti adding imagery photographed in my studio of both innocent and provocative women and girls that now become part of the accumulative story told on these walls. Through this I have become part of an unknowing collaboration. I pose the question - Can you see me?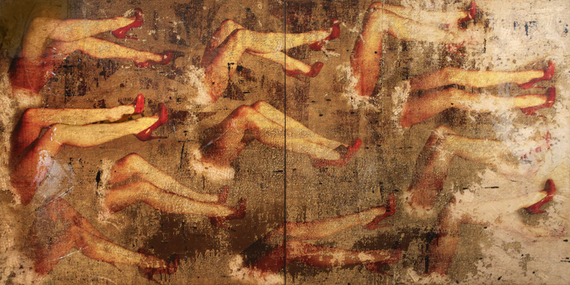 22 Legs, Mixed Media on two panels, 2015, 48" x 96"
JS: Can you describe one of your recent works in terms of imagery and possible meanings?
JK: I woke up one morning and I had this image in my mind of an old wall covered with many legs wearing red stilettoes, moving about against this wall. This became the pivotal work for me titled "22 Legs". The idealism and iconic objectification of the "perfect" legs blended against the old decaying background of this old wall...the legs becoming graffiti on the wall...aging, wearing out yet perfect, beautiful - suggests we also have our scars, we are also wearing out. What meaning is there to our obsessions with brands, with perfection?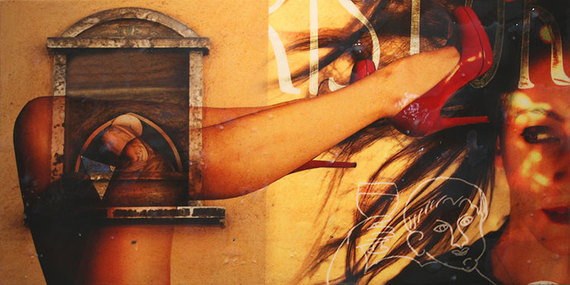 Celebration, Mixed Media on panel, 2015, 24" x 48"
JS: What are your working methods?
JK: I work in numerous media. In this work it all starts with photography. First an elaborate shoot in Venice Italy of the walls of Venice, I did some years ago. Add to that, numerous composed studio shots of various models. I take these elements and blend them together within a digital environment, digitally altering and painting effects that I want to add or subtract. Then the work is printed out on archival large scale pigment printers in my studio on canvas where I can control the outcome. The canvas is mounted to custom built wooden panels. Then I begin to paint on the surface - layers of classical glazing techniques, or painted additions, mark making etc. until I achieve the feeling I am going for. Then there is between 6 to 12 layers of over glazing with a transparent thick media that is both tactile when fully cured, as well as having perfect clarity and a glossy effect that dramatizes the imagery below the glaze. (It is not, however, a rigid surface like resin.)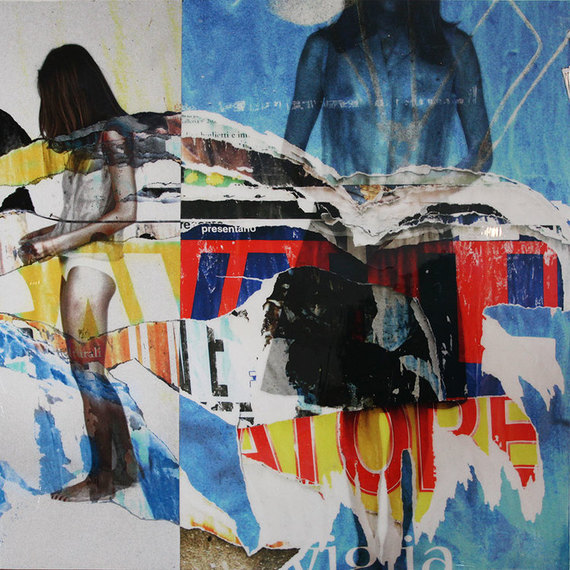 Ripped Bills, Mixed Media on panel, 2015, 48" x 48"
JS: What are your interests outside of art?
JK: Golf, cooking, entertaining, philanthropy in the visual arts, sociology
JS: Is there anything else you would like to say about your current exhibition?
JK: There is a more in depth explanation of the exhibition in the online catalog of (I CAN SEE YOU) that one can check out on my website. At the end of the catalog or on that same web page is a link to a video where I talk about the work as well.
Judith Kindler
I CAN SEE YOU
April 11- May 8, 2015
Melissa Morgan Fine Art
73040 EL PASEO, PALM DESERT CA 92260
REAL LIFE. REAL NEWS. REAL VOICES.
Help us tell more of the stories that matter from voices that too often remain unheard.