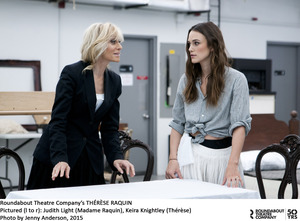 Judith Light feels right at home in New York. After spending so many years in California, she says she missed the life-blood and energy of the city. With a full schedule, she gets up with the rising sun and doesn't stop.
"We gotta get through the day, babe," she says playfully, but determined.
She's about to head to rehearsal for the Roundabout Theatre Company's production of Thérèse Raquin, a stage adaptation of the 1867 Émile Zola novel. Directed by Evan Cabnet, the play also features Academy Award and Golden Globe-nominated actress Kiera Knightly in the title role. It's the actress' Broadway debut. Ironically, this year marks the 40th anniversary of the first time Light appeared on the Broadway stage in A Doll's House. Much has happened since then.
She made soap opera history as Karen Wolek, a doctor's wife turned prostitute, on One Life to Live. Her portrayal earned her Daytime Emmy Awards for Outstanding Lead Actress in 1980 and 1981. Shortly after she tried her hand at comedy and landed what would become her signature role as Angela Bower in Who's the Boss? She returned to Broadway after a 35-year absence in 2011 in Lombardi and earned her first Tony Award nomination. She remained on Broadway and won the Tony Award for Best Featured Actress in a Play two years in row for her roles in Other Desert Cities and The Assembled Parties.
"I would have never expected this career or response or longevity," Light says. "I would have hoped for it, but I did not expect it; particularly in the theater."
For as far back as she can remember, she knew she wanted to be an actress. Raised in New Jersey, Light went on to study drama at Carnegie Mellon University. After graduating she headed to New York. She can still remember the moment she was about to land and saw the Manhattan skyline.
"I said, 'This is the place I hope I can make it.' I had a great deal of hope in my heart and a great deal of want and perseverance," she recalls. "I looked down at that city with the vision and the dream of what I had always wanted since I was a little girl."
She is still driven. Last year she began working on the award-winning television series Transparent. The show centers around Maura, a transgender dad, played by Jeffrey Tambor, who took home the Emmy this year for Outstanding Lead Actor in a Comedy Series. Light plays Shelly Pfefferman, Maura's ex-wife and mother to their three children. Like many of the characters she's tackled, Shelly is complicated and complex.
"The women I chose to play have to have a quality that I can go deep into and help the audience understand this human being and their psychology," says Light. "For me it's very important that it's a deep character and well written. She begins one place and she moves to another."
With all that Light has done, she calls Transparent one of the highlights of her entire career.
"We're learning so much more about the transgender community," she says. "I am excited to be a small part of something that is bringing education and awareness to gender fluidity in the world. It is the perfect blending of my life, work and advocacy."
Since the beginning of her career, Light has been a gay rights activist and has been tireless in her support for Human Rights and HIV and AIDS-related causes. Most recently she's teamed up with The Flu + You initiative, which is aimed at educating the public about the severity of the flu, especially for people 65 and older.
Over the years Light has learned to stay alert and always return to her center whenever she's frightened or nervous. She also knows she can't get distracted by her emotions. In a moment of reflection she says if she could go back and talk to the young woman she was when she first arrived in New York she'd say: "You chose wisely for your team, which has been the most important component in all this."
That team consists of her managers of 35 years, Herb Hamsher and his partner Jonathan Stoller. Together they have guided her and always made sure she stayed focused and chose projects wisely.
She also says she'd say: "You have worked really hard. It wasn't as easy as you thought it was going to be, and it was quite different than you thought it was going to be."
Calling all HuffPost superfans!
Sign up for membership to become a founding member and help shape HuffPost's next chapter