I won't keep you in suspense. Her name is Judith Viorst. She is a witty, urbane, insightful and no-bull fiction and non-fiction author and poet. And she is slightly older than me -- which means that everything I am feeling, she has already felt before and put into words.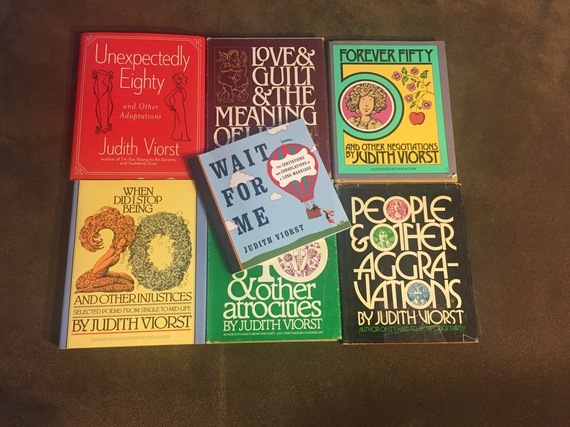 If you don't know Judith Viorst, 84, you are in for a profound awakening. Google her. Her magnetic children's books like Alexander and the Terrible, Horrible, No Good, Very Bad Day grace kids' bookshelves everywhere. And she is no slouch in the self -help section either.Necessary Losses is a necessary read.
But my favorites books from Judith are the books she has written as she survived and thrived during each decade of her life: Forever Fifty and Other Negotiations. Suddenly Sixty and Other Shocks of Later Life. I'm Too Young to be Seventy and Other Delusions. Her take on marriage, parenting, friends, hair, and weight offer fresh -- but utterly recognizable -- perspectives.
And her newest book doesn't disappoint either. Wait For Me - the Irritations and Consolations of a Long Marriage. She finds the patches of common ground in marital relationships of extended duration. How extended is not precisely defined. But who cares?
Ever wonder what the toughest vow of all is? It's not to go on a diet tomorrow, swear off chocolate forever, or be less snippy to your son's girlfriend (whom you secretly and not-so-secretly would like him to ditch). Nope. "The hardest vow of all," says Judith is the "until death do us part."
Who hasn't heard one's spouse repeat the same tired jokes over and over again? Who hasn't waged constant war over closet space? Who hasn't listened maddeningly to our partner's snoring and contemplated -- just for a second -- smothering him or her into oblivion?
As our minds constrict, our waist expands and our kids urge us to downsize, we begin to deal with both the monotony and wonders of a long marriage. And we continue to conjure up images of what lies beyond for the two of us. Judith Viorst wanders through this same murky terrain in her newest book -- with insight, good cheer and affection.
"Everything I write about humorously, I've lived through tearfully," she once told me during our 90-minute, face-to-face chat some years ago. She's spent her adult life transcribing her un-enhanced routines and rituals into sentences and stanzas. And the reader benefits from her provocative probing into the bottomless mystery of human behavior. Or, at the very least, into a best friend's kitchen window.
"In every marriage more than a week old, there are grounds for divorce. The trick is to find, and continue to find, grounds for marriage." Quotes like this from famous and not-so-famous people are sprinkled throughout Viorst's entries as an added bonus.
Do you and your spouse meet nightly in a half sleep shuffle on the way to the bathroom? And is this often in lieu of engaging in wild sex in the wee hours of the morning in your own king size bed? Do you grapple with the maddening monotony of decades-long matrimony, at the same time recognizing the wondrous joy of same? This book will sing to you.
By the way, Wait For Me goes on sale October 20.
Also, if you'd like more Judith, written excerpts of our 90-minute conversation are posted on my website: www.irisruthpastor.com.
Calling all HuffPost superfans!
Sign up for membership to become a founding member and help shape HuffPost's next chapter