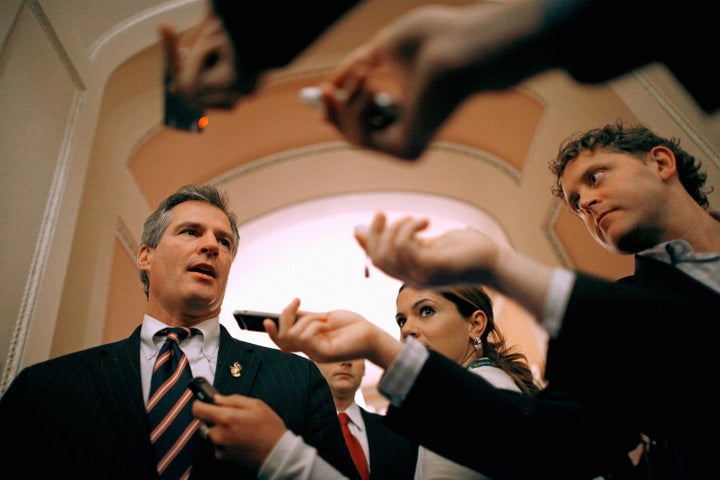 Tea Party Nation founder Judson Phillips said on Friday that Sen. Scott Brown (R-Mass.) threw members of the conservative movement "under the bus" by making critical remarks about budget cuts proposed by members of his party, the Washington Times reports.
"Memo to Scott Brown. If you think budget cuts 'disproportionately affect low income families and seniors,' what do you think is going to happen when we have an economic collapse?" wrote Phillips in a blog post.
Support from the Tea Party movement helped propel Brown to victory in a special election for the late Sen. Ted Kennedy's seat in 2010. But now, as the Massachusetts senator prepares to run for reelection next year, Phillips is making clear he's less than pleased with the Republican lawmaker. The Times reports:
Friday morning, Phillips claims Brown is all about "self-preservation and self-promotion" and that he's aligned himself with the RINOs who have "no beliefs, other than getting reelected and appeasing whatever base he thinks will help him get reelected."
On Thursday, Brown made an appeal to lawmakers on both sides of the aisle to reach an agreement in ongoing budget negotiations to avert a government shutdown. He called spending cuts proposed by members of his own party "irresponsible." Politico reports:
"Sadly, rather than reaching a workable, bipartisan solution to responsibly address our staggering deficit ... our leaders have repeatedly given us a false choice between CR proposals that either don't go far enough to reduce federal spending and proposals that establish the wrong priorities that would disproportionately affect low-income families and seniors," he said in his floor speech, and repeated in his letter.
HuffPost's Sam Stein reported last year that Brown could face opposition from the Tea Party in his reelection campaign in 2012. On Friday, Phillips addressed the possibility the incumbent senator could face a primary challenge.
"Perhaps the Massachusetts Tea Party will step up with someone to challenge him in 2012," he said, adding, "That, unlike Scott Brown, is not an April Fools' joke."
REAL LIFE. REAL NEWS. REAL VOICES.
Help us tell more of the stories that matter from voices that too often remain unheard.