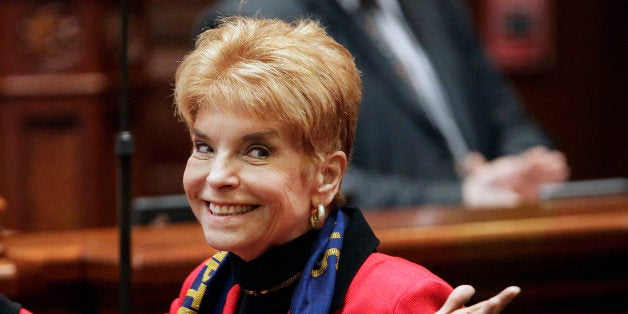 As Illinois continues to mourn the passing of comptroller Judy Baar Topinka, one of the state's most universally admired elected officials, a key facet of the Republican's legacy has topped many reflections: her unflinching support for the LGBT community.
Topinka, who died Wednesday at the age of 70 following complications from a stroke, was a longtime backer of LGBT rights though few of her peers shared her stance on such issues, including her support for same-sex marriage. She also was a perennial participant in the Chicago Gay Pride Parade and other LGBT events. Fiscally conservative, she was socially liberal and also outspoken on reproductive rights.
At the November 2013 ceremony where the state's marriage equality bill was signed into law, Topinka — the only Republican speaker at the event — delivered a stirring speech and noted "it takes both parties to make something happen and when we work together, look what we can do!"
She went on to offer to serve as a flower girl "and will even waive the fee" at any upcoming same-sex weddings.
"I could never understand what the problem was with gay rights," Topinka told the Windy City Times shortly before her re-election as comptroller this year. "Jeepers, gay people are people. There's rights under the constitution, everybody's supposed to have them, and it bugs me when folks pick on gays or anybody else."
In a statement reported by the Windy City Times, longtime LGBT rights activists Rick Garcia described Topinka as "a consistent and firm supporter of gay rights. Even when attacked by members of her own party for her gay-rights support, she never wavered."
Topinka was nominated as the Republican candidate in the 2006 Illinois gubernatorial race but lost to Democrat Rod Blagojevich. Prior to that, she served in the state House of Representatives, state Senate and was the first woman to be elected as state Treasurer. Between 2002 and 2005, she was also the chair of the Illinois Republican Party.
‪"Judy was a trailblazer in every sense of the word," said Illinois Gov. Pat Quinn (D) in a statement.
BEFORE YOU GO
PHOTO GALLERY
10 Incredible Improvements For LGBT People Since The First State Legalized Gay Marriage