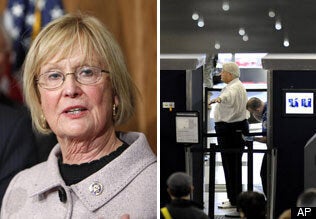 A few months after investing additional money in an airport body scan manufacturer last year, Chicago-area Congresswoman Judy Biggert voted in favor of the allowing the TSA to use the devices in airports across the nation.
Biggert (R-Hinsdale) is the only Illinois member of Congress to disclose significant investments in L-3 Communications. Biggert holds between $15,001 and $50,000 in investments in L-3, making her Congress's fourth-largest investor in the company.
Other top investors include Sen. John Kerry, a Democrat, and Rep. Mike Castle, a Republican.
Biggert bought between $1,001 and $15,000 in L-3 stock on March 30, 2009 (Congressional disclosure rules require only that members give ranges for stock holdings.) A little over two months later, Rep. Jason Chaffetz (R-Utah) offered up an amendment that would have prohibited the TSA from using whole body imaging as a primary screening technique. Biggert voted against the amendment. It passed the House 310-118, but Senate inaction doomed its implementation.
Biggert's press secretary, Zachary Cikanek, told the Huffington Post via email that "The single, solitary motivation behind Rep. Biggert's vote regarding full body scanners was her conviction that the safety of American travelers should be our top priority. That's why she voted against tying the hands of the security officials who are charged with keeping us safe. She continues to believe that if we have the technology to detect explosives like those carried by the Christmas bomber, terrorist Umar Farouk Abdulmutallab, we shouldn't prohibit the use of that technology."
Cikanek also noted that Biggert has held stock in L-3 since 2003, and that her investment decisions are made by a broker.
The Center for Responsive Politics's Open Secrets Blog, which highlighted Biggert's investment, added that just after the "underwear bomber" failed to blow up a commercial airliner, the Department of Homeland Security accelerated its process of acquiring the body scanners: "L-3 Communications was awarded a $165 million contract for the machines, and another company, RapiScan, was also awarded a $173 million contract."
L-3, a defense firm involved in many other government contracts beyond the scanners, has spent more than $1.4 million on lobbying since 2004.
Full body scans at O'Hare airport began in March.
Update (3:22pm): This post has been corrected to note that the Chaffetz amendment passed the House before dying in the Senate.
Related
Popular in the Community