Judy Garland would have turned 93 earlier this month on June 10th, and we are quickly approaching the 46th anniversary of her untimely passing on June 22nd. Proof that a legend never dies, two new works have emerged celebrating her 47 years on this earth, and the rich legacy she has left behind.
Many claim to have known the "real" Judy Garland, and/or claim to have tried to have save and help her. How refreshing it is to happen along someone who actually did know Miss Garland, sans such gross exaggerations. Someone who had the great privilege of being in her company on several occasions. Including her famed London recording sessions, the filming of her final movie and working under the same roof at CBS at the same time. That someone is Joan Beck Coulson, who has authored Always for Judy, Witness to the Joy and Genius of Judy Garland. Just like Glinda, the Good; Joan Beck Coulson floats in, in her (figurative) pink bubble and delivers a refreshing book celebrating Garland's life.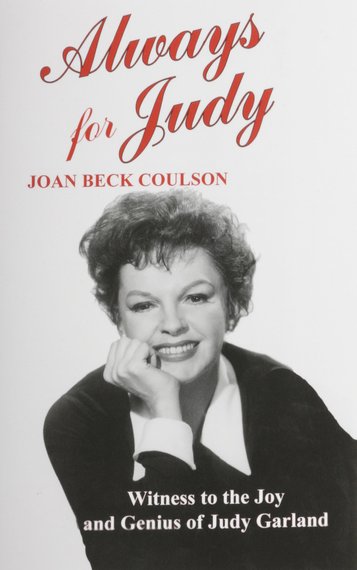 Can you imagine being invited to attend a recording session by the "world's greatest entertainer' (an apt sobriquet attributed to Tony Bennett about Judy)? You arrive at the studio to find that 4'11" power house bearing a warm smile and as she guides you down the corridor she turns and says:
"I don't know why you want to watch this-It will be so boring!", Garland said. As if! Miss Coulson's recollection: "We were in Seventh Heaven!"
On watching Garland in action at the recording studio Miss Coulson reflects:
"There was no diva there, it was a collaboration of artists working together to produce a piece of art."
Along with her personal reminiscences, Coulson's book, uses the psychological approach of "7 Up" to explain Garland's life. "7 Up" is a Jesuit early childhood psycho-social analysis, that has the core tenet: Give me the child until he is seven and I will give you the man. Ms. Coulson skillfully uses this concept to anchor the narrative, without hitting the reader over the head with an over indulgence of psychological folderol. Throughout she makes intelligent assessments (Coulson's degrees and experience are in Sociology and Anthropology). Including the fact that Judy was forced to sing in her childhood, which logically accounts for the fact that she sometimes resented being forced to sing as an adult. Especially when due inept management who squandered her earnings, there was no monetary reward for her efforts, and in fact debt that she often had no knowledge of. I certainly think that is worth a pout. "7 up" indeed!
Ms. Coulson's recollections are crucial; especially those of being on the set of I Could Go On Singing. She was present in the audience while Garland filmed the iconic "Hello Blue Bird" number, and the title song from the film. Her memories of Judy's behavior are very different than that of director Ronald Neame. Coulson recalls a very cooperative, consummate performer doing her job and showing concern for the extras.
Always for Judy is an extremely well written and perspicacious book which sparkles with love, warmth, intelligence, sincerity and humor. All of the ingredients that made Judy Garland, JUDY GARLAND!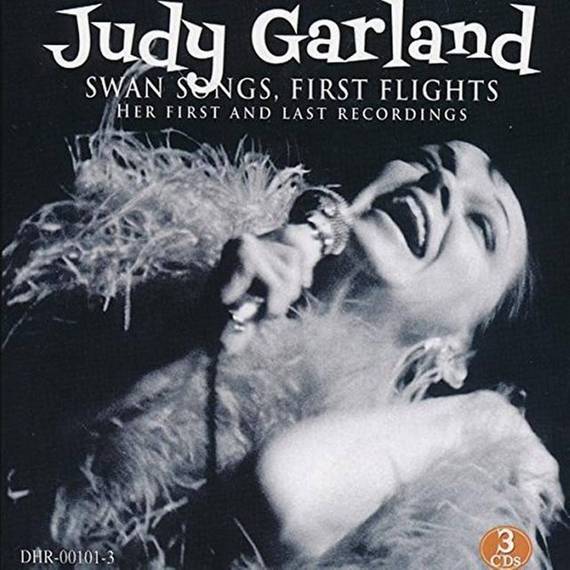 Judy's final years have turned into the stuff that legends are made of, and people often love to commiserate (falsely) about her voice "being gone." Enter Hallow Records to correct this myth. The men behind this curtain are audio restoration engineer extraordinaire: John H. Hayley, and award winning music producer, Lawrence Schulman. Their latest project is with Judy Garland Swan Songs, First Flights: Her First and Last Recordings. To set the record straight Hayley aptly states:
"She remained in admirable command of her extra ordinary voice and riveting performing ability."
These newly re-mastered recordings are proof positive that, as Scott Brogan curator and archivist of the online site The Judy Room offers:
"Judy still had "it" even at the very end."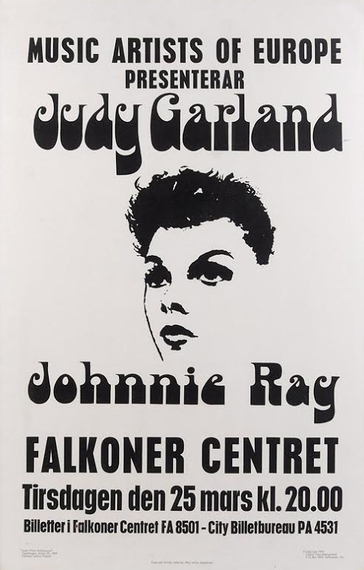 Judy shines brightest during the March 25th, 1969 concert at the Falkoner Centret in Copenhagen, Denmark. Her last live performance ever. The Garland wit is clearly heard as a Dutch fan, tries to convey in his native tongue his deep regard for the star.
"You know I have trouble with my English, let alone!" Garland jokingly scolds photographers, "Well, stop photographing and translate!" Finally, the enthusiastic fan musters a great big "I LOVE YOU!" Her exuberant response: "Oh say, I sort of recognize that language! I love you, too! I love you all, you know that!"
"Joy prevailed" Mr. Schulman, astutely observes in his liner notes. "That unending optimism despite the disillusionment that life often offers us."
Finally, composer John Meyer, whose contribution to the Garland legacy cannot be overestimated states that Garland's voice had:
"The force of a locomotive. Judy had all her power and her command."
Bravo, John H. Hayley for not only re-mastering these precious moments but for helping to dispel that myth of "a washed up Judy without a Rainbow." Through such conservators like Joan Coulson and John H. Hayley preserving Garland's legacy for future generations; the joy and genius of Judy Garland will continue to shine as bright as the stars in heaven.
Calling all HuffPost superfans!
Sign up for membership to become a founding member and help shape HuffPost's next chapter