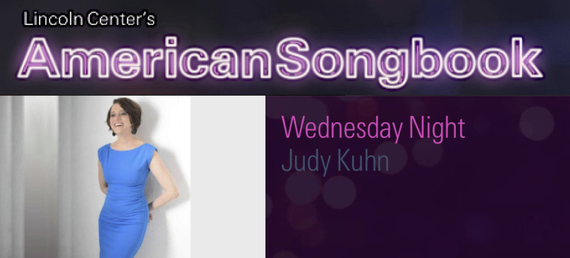 This coming Wednesday evening, Lincoln Center's American Songbook series is presenting what promises to be a remarkable concert in the glorious Appel Room at the Time Warner Center on Columbus Circle. Judy Kuhn, one of our great singers, has put together an evening comprised entirely of songs composed by Richard Rodgers, his daughter, Mary Rodgers, and his grandson, Adam Guetel. The obvious rightness of this family gathering does not preclude the fact that this is, so far as I know, the first time anyone has had the guts to tackle the Rodgers trio as one.
If the father, daughter, and grandson share anything at all through their music, it is an unwillingness to surrender their secrets easily. Perhaps this is what makes the music of each one of them so mesmerizing.
Listen to the songs of Richard Rodgers, as the world has now for nearly a century. Nothing in the effortless melodicism -- not the joy or even the pathos that these songs so rapturously convey -- suggests the crushing depression that haunted Rodgers to the end of his life.
Listen to his daughter Mary's music. No hint of the resentment that Mary Rodgers readily acknowledged she bore toward her often-distant father seems present in these songs. Only the wit, the light-hearted, even tender- hearted, lyricism of an open-hearted creative spirit can be heard.
As for Richard Rodgers' grandson Adam Guettel -- the son of Mary Rodgers -- his music possesses both his grandfather's penetrating melodicism and his mother's lyrical sense of play. Underscoring this utterly exquisite amalgamation, however, is the burden Adam Guettel has privately admitted to bowing under as the anointed heir to the Rodgers' legacy.
All three of these extraordinarily complicated talents were born in New York City; Richard Rodgers on June 28, 1902; Mary Rodgers on January 11, 1931; Adam Guettel on December 16, 1964. The elder Rodger's career in the theater is unmatched -- a litany of hits including many of the longest-running Broadway shows of his age. The theater's collaborative art defined Richard Rodgers, inspiring in him music that divided along the fault lines of his two most constant collaborators: Lorenz Hart and Oscar Hammerstein II. Rodgers literally evolved two very different songwriting voices to set the words of his infamously different lyricists -- the erratically brilliant Hart and the unfailingly brilliant Hammerstein. Rodgers' genius was not only protean, it was also a little schizophrenic.
Is it any wonder that his daughter Mary embraced her destiny as a musical theater composer, only to abandon it? Her first Broadway hit was also her last, the much beloved Once Upon a Mattress, written with lyricist Marshall Barer, which moved to Broadway in 1959 after opening Off-Broadway. In 1966, she created another delightful score for another Off-Broadway hit, the Mad magazine revue, The Mad Show.
By the 1970s, though, Mary Rodgers was primarily writing children's books, to great acclaim, most decisively Freaky Friday. Here and there, she contributed individual songs to revues; to the 1978 collaboratively composed Broadway musical Working, and to Phyllis Newman's one-woman show The Madwoman of Central Park West, in 1979. The Griffin and the Minor Canon, which the Music-Theatre Group produced in 1991, was her last effort as a composer. Not only did she cease writing music altogether, she barely ever touched a piano again.
Instead, she became her son's great champion. Adam Guettel's bounteous musical endowment was recognized early on by his mother particularly, if not by his grandfather, who died when Guettel was 15. The Richard Rodgers genius gene had clearly been passed to this profoundly original young composer, whose music climbed mountains that even his grandfather had not ascended. Thus far, Guettel has produced three full-length musicals, each of them a kind of masterpiece.
Floyd Collins was the first, a musical exhumation of the heartbreaking hopes, dreams, and death of a dirt-poor Ozark spelunker trapped in a cave in 1925. Floyd Collins ran for just 25 performances Off-Broadway at Playwrights Horizons in 1996. Many who saw it still cannot get it out of their heads.
Myths and Hymns and/or Saturn Returns followed, a dramatized Guettel songfest largely derived from Greek myths and the text of a 19th-century American hymnal that Guettel happened upon in a bookstore. This show has had multiple incarnations under both titles, as Guettel has shifted back and forth in his perception of the piece. Each version shares one commonality: glorious songs instantly recognizable as the work of Adam Guettel.
His next work was also his most successful, the sublime A Light in the Piazza, which won Guettel Tony Awards for Best Score and Best Orchestrations, after premiering at Lincoln Center Theater in 2005. Fascinatingly, the idea for the show -- an adaptation of a novella by Elizabeth Spencer -- came from Mary Rodgers, who first proposed it to her father as a potential musical, before selling her son on it years later.
Last June, the world lost Mary Rodgers, which makes this concert all the more poignant. Theater music remains a Rodgers family enterprise. "I've been fascinated by their DNA since I first learned that Adam was Richard Rodgers' grandson," says Judy Kuhn. "That all that music came from these three generations of one family. When has that ever happened? As an artist, I loved the idea of exploring this music, spanning so many styles and time periods. It is very challenging."
It is also quite revealing. But you have to listen closely.
REAL LIFE. REAL NEWS. REAL VOICES.
Help us tell more of the stories that matter from voices that too often remain unheard.