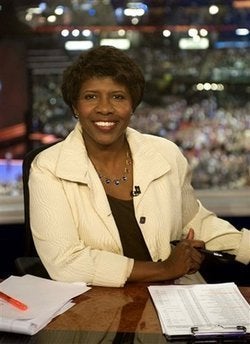 Colleagues of Gwen Ifill are coming to her defense after conservatives, including members of the McCain campaign, declared her a biased moderator for Thursday's vice presidential debate because of a book she is authoring on black politicians that includes Barack Obama's name in the headline.
"Of virtually all the reporters I know, Gwen is somebody I have no idea where she stands politically. I mean, I have no idea where she is," said Judy Woodruff, who has moderated a vice presidential debate herself and works alongside Ifill at PBS. Writing this book does not present a problem "at all," she added. "I haven't seen it because Gwen has been working on it. But Gwen Ifill is a reporter. She is not someone who delivers opinion and I know that that is not the type of book she is involved in."
A virtual political firestorm erupted on Wednesday morning after it was reported that Ifill was working on a book about "emerging young African American politicians," which Republicans - including aides to John McCain - proclaimed compromised her objectivity for the vice presidential debate.
"You know, I think the moderator will have some serious questions to answer themselves if they do go so heavily foreign policy," said aide Nancy Pfotenhauer on Fox News, suggesting Ifill would ask questions that played to Joe Biden's expertise.
McCain himself downplayed the revelation, perhaps rightfully so. His campaign approved of her selection and ostensibly knew about the book before hand (it had been in the news weeks prior).
"I think that Gwen Ifill is a professional and I think she will do a totally objective job," said McCain, "because she is a highly respected professional. Does this help that if she has written a book that's favorable to Sen. Obama? Probably not. But I have confidence that Gwen Ifill will do a professional job."
Woodruff, likewise, touted Ifill's history of professionalism and objectivity, saying she'd brush off the criticism from conservatives.
"Of all the people I know who are unflappable she is not going to be influence in any way by this," said Woodruff. "The fact is in journalism today one has to have a thick skin anyway. And Gwen has a thick skin. And like all of us who work in this business you get accustomed to people telling you what they think, and they have that right, this is a free country and people can way in anyway they want to."
Calling all HuffPost superfans!
Sign up for membership to become a founding member and help shape HuffPost's next chapter