Atalee Judy has been thrilling audiences for a dozen years with her high-impact projections of female power and her high-concept deconstructions of male brutality. Though bully.punk.riot, her boneDanse company's final production before disbanding, doesn't pull any punches, it does have an elegaic quality not usually associated with any of the title terms. While bringing along two younger choreographers, Melissa Ganser and Megan Klein, who seem to embrace fully the rompin' stompin' Are We Not Women?
Breakbone/boneDanse aesthetic, Judy herself offers a reflection on the 30 years she's spent turning her foundation experience into art. It's a hell of a foundation, because the experience was of being a 13-year-old runaway in the 1980s New York punk scene.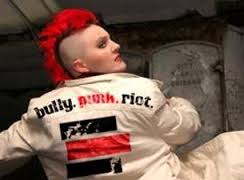 What comes through more clearly than ever before is how much her work expresses vulnerability, or at least emotional availability. She displays toughness as a necessary armor, but she remains completely accessible to those who accept her on her own terms. In this vision, the punk-rock mosh pit is practically a womb, a place where you drop down and hang on but where other people also shelter and protect you.
I don't want to sentimentalize the work: if it were my first exposure I would probably find it as harsh and unsettling as I did when I saw my first Breakbone concert and emerged feeling like a whipped dog. But as someone now familiar with Judy's aesthetic, I can see that she's getting ready to hang up the Army boots and the Mohawk and explore what it's like to make art from a place of confidence and safety instead of from a place of terror and defensiveness. And I look forward to seeing the result.
For years now I've told anyone who would listen that Atalee Judy should receive a MacArthur genius grant. I still believe that, and would be absolutely charmed if it enabled her to take another big step towards freedom and away from fear.
bully.punk.riot finishes its brief run this weekend: Thursday the 27th through Sunday the 30th, 7p.m. at the new Links Hall, which is the old Viaduct Theatre, under the concrete overpass where Western meets Belmont.
Popular in the Community