It was one historic night at Newton North High School in Massachusetts.
Geoff Muldaur and Jim Kweskin — and, John Sebastian — were together on the stage as the Jug Band Giants, and that alone would have been momentous. The show benefited Historic Newton, an organization that preserves the faces and places of the city, which lies west of Boston and encompasses 13 villages.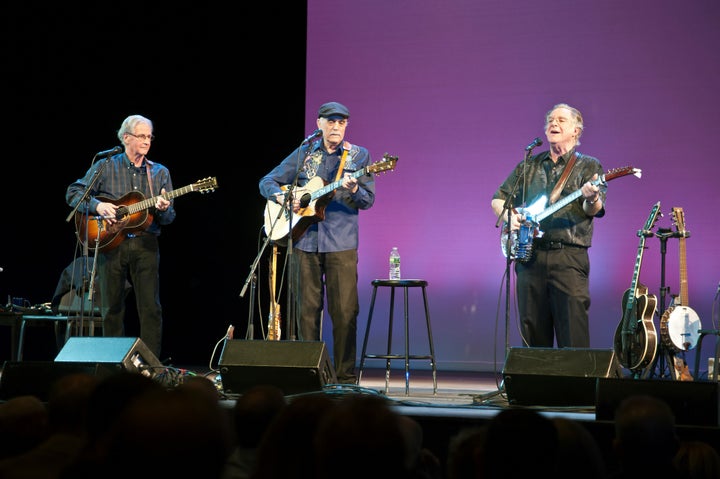 "We are incredibly honored to have the Jug Band Giants perform at our annual benefit concert," said Historic Newton director Lisa Dady in a preview statement. "It promises to be a night of incredible music, and part of our mission to showcase ways in which music is a living tradition of American history."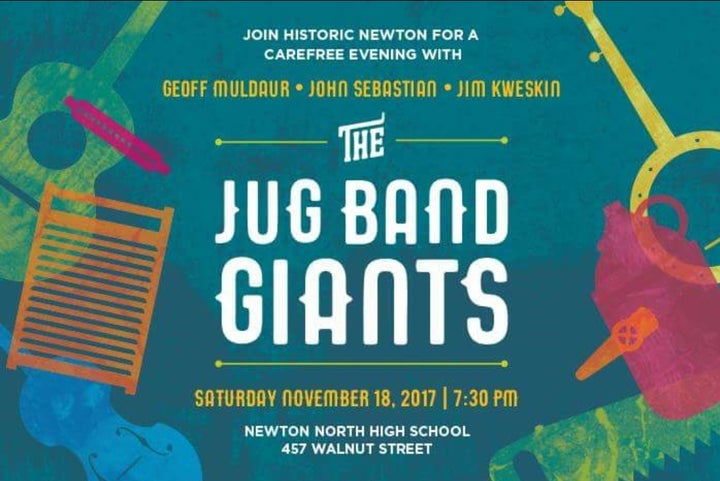 The capacity crowd ranged from curious folks like me, who had heard the names but hadn't seen the act, to longtime fans going way back to when Kweskin and Muldaur founded the Jim Kweskin Jug Band at the legendary Club 47 in nearby Cambridge. Cambridge was originally Newe Towne, which included present-day Newton, first called "Cambridge Village."
The evening was filled with such parallels.
For example, Newton native and seminal Kweskin member Fritz Richmond was lovingly recalled through the night. "Fritz made my washboard with wood that was from Martha's Vineyard," Kweskin told the crowd at one point.
Richmond was a world-renowned washtub bassist, and also coined the term Lovin' Spoonful for Sebastian's legendary band, which was inducted into the Rock and Roll Hall of Fame in 2000.
Richmond was also the innovator of the colored "granny glasses" donned by Janis Joplin, Jerry Garcia and John Lennon, among other rock figures of the time. (The idea was to shield stoned-out eyes from the public.)
Muldaur, who was influential in the blues, folk, and folk-rock revival in Cambridge and Woodstock, New York, composed music for film and television, and has recorded with Jerry Garcia, Bonnie Raitt, John Cale and other musical legends.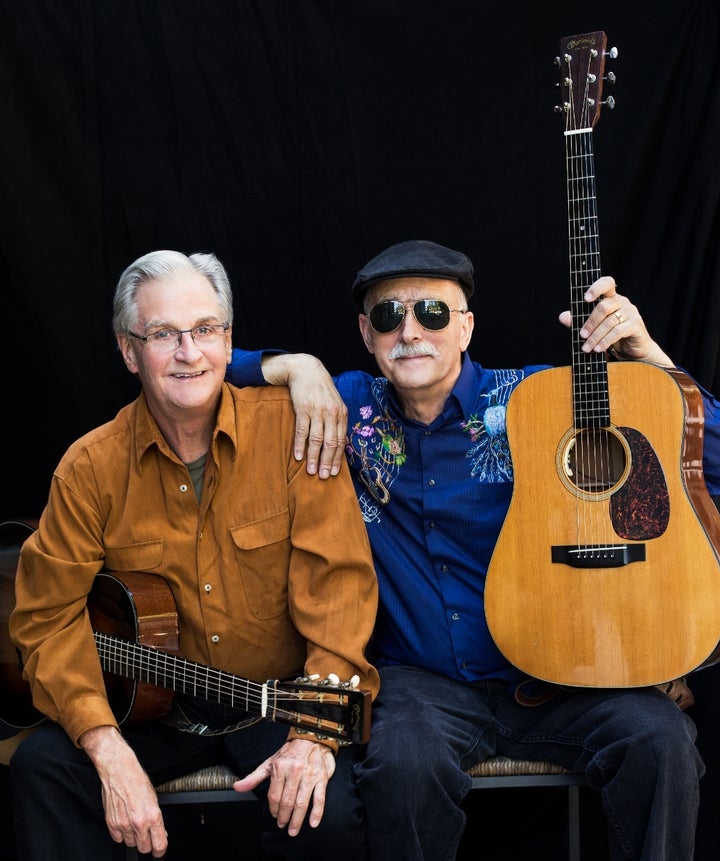 In addition to jug music, Kweskin's band played blues, ragtime and other American genres, and influenced groups including the Grateful Dead, Country Joe and the Fish and the Lovin' Spoonful.
Prior to the Spoonful, Sebastian, a guitar, harmonica and autoharp virtuoso, was a member of the Even Dozen Jug Band. He performed several songs at Woodstock, and recorded with The Doors, Gordon Lightfoot, Crosby, Stills, Nash & Young, NRBQ and many other luminaries. His Lovin' Spoonful hit singles included "Do You Believe in Magic?," "Daydream," "Summer in the City," and "Darling Be Home Soon."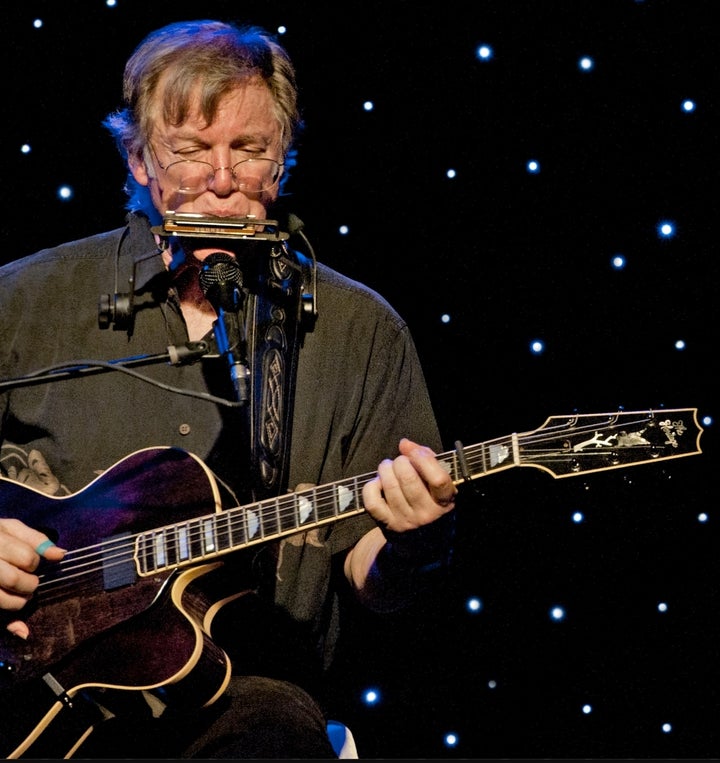 Jug band music originated in the late 1800s when African-Americans in the Deep South would gather to make music with jugs, washboards, spoons, and whatever was around. Muldaur, Sebastian, and Kweskin were the leading lights among other artists who revived the style in the 1960s. Blues, jazz, R&B, rock and other musical genres also developed from African traditions, which also included vocal components like labor songs, chants and spirituals.
In England, jug band was referred to as skiffle music. One Liverpudlian skiffle band, The Quarrymen, eventually became The Beatles.
The Kweskin Jug Band released its first album in 1963, and are still going strong, as was evidenced in Newton by their sharp humor and crystal-clear instrumentation. Last year, the duo released the Penny's Farm CD, but their on-stage banter was rooted, rightfully, in the past.
"We used to listen to cats in Greenwich Village and Cambridge," Sebastian reminisced. And Kweskin, who recalled a gig at Brandeis in the 1960s, pondered the context of their catalogue. "I remember saying to a friend, 'a lot of the songs we do are really, really old. So, are we covering them?'" he asked him.
"No, you're uncovering them," his friend replied.
"So that's what we do," Kweskin told the crowd. "We un-cover songs."
To the audience's delight, there were some Lovin' Spoonful hits sprinkled throughout. "Who knew when I wrote it, that I'd be still around for that song to be creepy?" mused Sebastian, following a spirited "Younger Girl." Also included from the catalogue were "Lovin' You" and "Daydream."
The band both talked and sang about their genre. Kweskin said there were hundreds of jug bands in the U.S. "They still have an annual jug band jubilee in Kentucky," he said.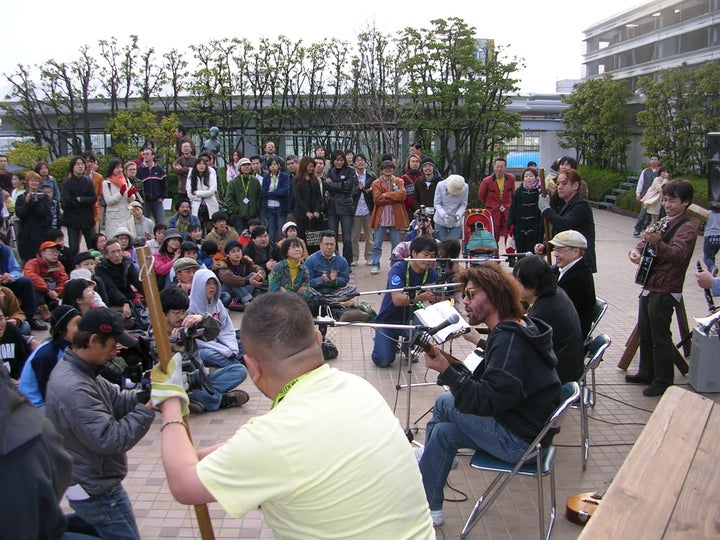 The trio performed Sebastian's "Jug Band Music," which was a Lovin' Spoonful version of the song originally recorded as "Jug Band Quartette" by the Memphis Jug Band on Nov. 8, 1934 in Chicago. "Jim Kweskin and the Jug Band" also recorded it, with new verses added in, in 1965, and they played it in Newton.
Because it sounds so sweet, Aw, you know, it's hard to beat, And the Jug Band music certainly was a treat to me/
Lines from Sebastian's 1966 version included:
I was down in Savannah eatin' cream and bananas/When the heat just made me faint/I began to get crosseyed/I thought I was lost/I'd begun to see things as they ain't/
As the relatives gathered to see what's the matter/The doctor came to see was I done/But the doctor said give him jug band music/It seems to make him feel just fine/...
So if you ever get sickly/Get sister run quickly/to the dusty closet shelf/And pull out a washboard/and play a guitar chord/And do a little do it yourself/
Call on your neighbors to put down their labors/And come and play the hardware in time/'Cause the doctor said give him jug band music/It seems to make him feel just fine..../
"Would you like to play the guitar," a takeoff on the 1944 Bing Crosby standard "Swinging on a Star" was a hilarious riff about the unenviable life of a guitarist.
Take your money home in a jar/From a coffeehouse, club or a bar/...So you drive for miles in a car /As you think that you're a big star/...Or would you rather get a job?/...And by the way, if you want to wreck your life/Become a guitar player's wife/...But you could be worse off than you are/At least you're playing your guitar..../
Sebastian performed washboard duties on "If You're a Viper," a Kweskin Band ode to weed. "Is recreational marijuana legal yet here?" Kweskin asked the crowd, who gave him the affirmative. Also a treat was the South African folk song "Gwabi Gwabi," first recorded by Zimbabwean musician George Sibanda in the 1940s or 1950s, then recorded by Ramblin' Jack Elliott, and later popularized in the U.S. by Arlo Guthrie.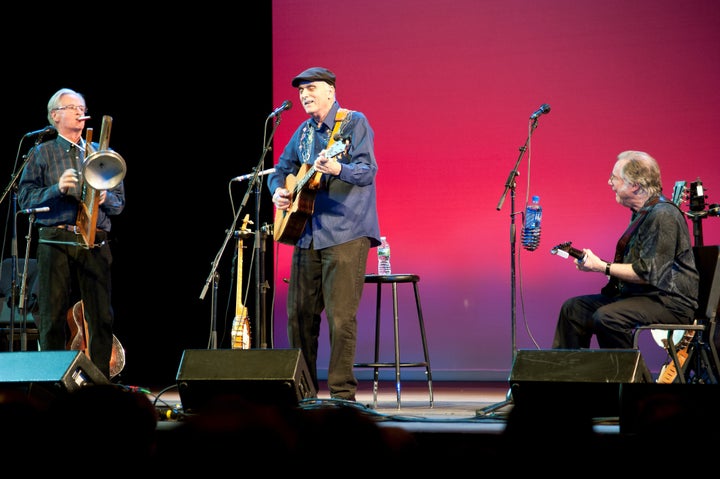 After the show, I asked Kweskin an obvious question: "How come there were no jugs tonight?" He explained that no one could fill Richmond's shoes. "Why do it conceptually?" he said, adding that instead, they used a bowed bass to imitate the jug.
At the merch table, where the three stars signed CDs, Jackie Locantore from Bridgewater was ebullient. It was like being a kid again," she said. "I saw them at Club 47," she said, also recalling seeing Eric Anderson and Tom Rush.
"What was your relationship with Maria?" a buyer asked Muldaur, who explained that they had been married, and had two daughters. "Maria was on a date with John in Greenwich Village in about 1964," Locantore told me. "And she really went for Geoff."
Given his proficiency across genres, I asked Sebastian where his heart resided. "That's a very simple question about a very complex situation," he responded, while casually stuffing his face with an hors d'oeuvre.
"When I was 16 I wanted to play rock and roll, and so that's what I did," he said. "But as I was doing that, I discovered jug band."
One star-struck fan asked Sebastian about his most well-known tune. "They hired me to write a song for a new show," he answered. "Don't let me write a song called Kotter," he recalled telling them. "Nothing rhymes with it, except maybe otter." True to the telling, the Billboard #1 song, "Welcome Back," doesn't contain the word "Kotter."
Community Engagement Manager Clara Silverstein said that Historic Newton sponsors lectures, walking tours, workshops, and educational programs for all ages, and operates the Jackson Homestead and Museum (a federal-style home that was a stop on the Underground Railroad) and the Durant-Kenrick House and Grounds.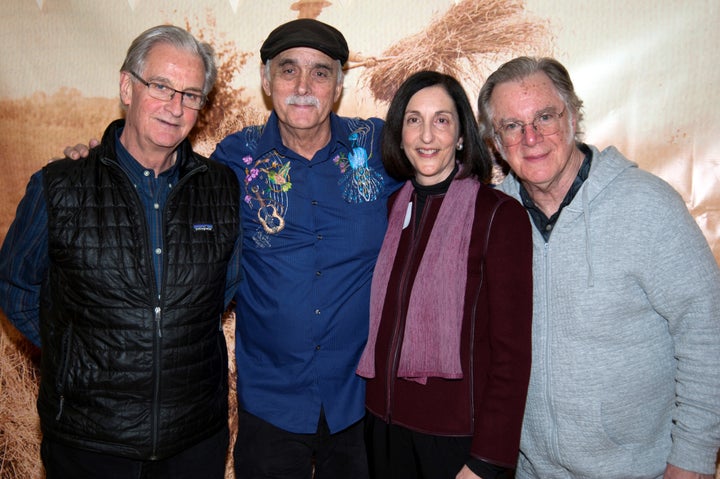 "We see music as a living tradition that brings together the community to hear music from the past reinterpreted by contemporary musicians," Silverstein said. "With their ties to traditional jug band and folk music, the musicians in the Jug Band Giants fit into this living tradition."
Susie Davidson tweets at @SusieDavidsonMA.