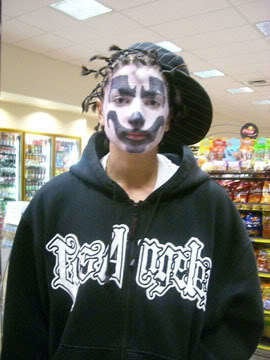 Insane Clown Posse's new social network is a horny teenager's cough syrup-induced daymare.
That's what Vice magazine is calling JuggaloBook, a Facebook rip-off dedicated to the to the debaucherous fans of a rap group whose lyrics center around violence and drug use.
The site, which has gained almost 10,000 members so far, takes plenty of Facebook staples and turns them on their head. For instance, you "Whoop Whoop!" a post rather than "Like" it, your friends are "homies," and you identify your gender as "Juggalo" or "Juggalette."
WARNING: JuggaloBook contains pictures and conversations that many people would find offensive.
Vice magazine writer Tommy Lucente -- an admitted hardcore ICP fan -- took a tour of the site:
After about 10 minutes on the site I learned that it's basically a horny teenager's cough syrup-induced daymare. Everyone is looking to sext immediately, and they're very liberal with providing personal cell numbers to strangers -- within 20 minutes of registering, I received a homie request and a message from a homely Juggalette. She told me she had to "put her kids to bed, but feel free to text me." She then gave me her actual cell phone number.

I decided it was time that I jumped in fully, so I nerdily introduced myself on the homepage chatroom. "Hi! I'm Tommy, and I'm new here. What's up ya'll?" One person mistyped my name as Timmy, which sparked an onslaught of South Park references that lasted the better part of an hour. Once the "Timmay" jokes subsided, the conversation returned to the site's basic mainstays: sex, weed, and shockingly intimate confessions.
Indeed, some of the conversations picked up by The Huffington Post on Thursday were shocking.
"I'm makeing [sic] cookies anyone have body parts to donate?" wrote one user, named "bloodartist," on a live chat feed.
User "VeraKrAziLee" responded with, "I just punched six holes in my wall!"
An 18-year-old woman posted her cell phone number for the entire site to see, asking someone -- anyone -- to text her. Another user responded, "I gave up texting, just not sexting!"
Insane Clown Posse, a rap duo known for their ridiculous and offensive lyrics, has gained a large cult following since their inception in the late 80s. Since then, the two have received national media attention for their parties and concerts, which openly glorify violence toward women, sex, and drugs. Their fans regularly get tattoos, paint their faces to resemble the clown-like mugs of the band, and fight one another at shows.
JuggaloBook is rife with offensive pictures, videos, and even user-submitted polls. "Ninjette420" created a disturbing one:
How are you celebrating Juggalo Day (Valentine's Day)?

Every mutha[bleep] is gonna see my paint on.
Drinkin and smokin like a [bleep]in madman.
With all my juggalo homies.
Can't do [bleep]...
"With all my juggalo homies" followed closely by, "Drinkin and smokin like a [bleep]in madman."
Popular in the Community