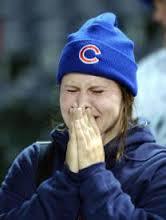 Faster than you can say "dropped third strike," the Chicago Cubs transformed themselves from World Series contenders to "rebuilders." Or, baseball speak for, "we must get rid of a few guys."
I'm not privy to how many stacks of hundred dollar bills the Ricketts family has in its Wrigley Field suite. Nor am I skilled enough in the X's and O's of baseball -- or in the Cubs' case, the K's -- to determine whether a power hitting lefty, a flame throwing righty or an ambidextrous beer vendor will bring the Cubs their long overdue World Series title. But, when it comes to baseball, I do know how to assemble a winning combination, having consistently taken numerous teams of 9, 10 and 11-year-old girls to Little League softball title games.
My methods are not controversial, require little cash up front (though money will change hands) and won't reduce any player to tears. That means Joe Maddon will never see Starlin Castro in the on-deck circle, choking back sobs while knowing he represents the go-ahead run. Cubs brass, please continue evaluating candidates' running speed, arm strength, fielding and ability to hit for power as you retool the team while watching the Mets and Royals battle for baseball supremacy this year. But, in the four months leading up to spring training, I implore you to copy my winning formula by adding the following personnel, traditions and teaching techniques to the 2016 Chicago Cubs:
1. A team mom. My charges always played better when a team mom was in the dugout. Perhaps it was her ability to multitask. The Cubs team mom should be able to handle everything from charting pitches to creating a designated "spitting area" in the dugout. I don't know enough about the players' upbringings to nominate a candidate, even though the phrase "mama's boy" pops into my head whenever I see Kyle Schwarber. But whoever steps up must be in it for the long haul; that World Series victory parade along Michigan Avenue won't organize itself.
2. A partnership with Dairy Queen. Theo Epstein, it appeared your team consistently played hard while getting swept by the Mets. But I can't help thinking Jason Hammel would have escaped that disastrous first inning in Game Four unscathed had he known victory meant post-game Peanut Buster Parfaits for everybody. Or Dilly Bars. Take it from me, tasty incentives never hurt, particularly when you are down three games to zip.
3. A team cheer. Yes, Steve Goodman's Go Cubs Go could be heard for miles after the Cubs finally vanquished the Cardinals. And yes, after that same series, Pearl Jam lead singer Eddie Vedder popped up around Chicago and sang All the Way more times than he's crooned Even Flow on world tours. But, as my teams proved, nothing rattles an opposing pitcher like a well-rehearsed cheer emanating from the dugout when there are runners at the corners. If we face the mighty Mets next year, I suggest the following:
Jacob deGrom, you better beware,
We're gonna hit one through your hair.
I have created another cheer Cubs players can use whenever Daniel Murphy steps to the plate but it's not suitable for most U.S. publications.
4. Occasionally yell, "Pay attention!" to the outfielders. True, players with multi-million dollar contracts should not be staring into space during crunch time. But one thing the playoffs taught the Cubs is never to assume ANYTHING. Jake Arrieta lost, didn't he? All I know is that occasionally checking on my players' focus prevented Chloe, my left fielder, from taking a line drive to the noggin one year. Instead, she snagged the game winning out, something the Cubs never experienced in the NLCS.
5. Two words: juice boxes. I don't know what's in them but they work.
Tom Ricketts, my email and phone number are easily accessible should you need more suggestions. But start with these. The Cubs faithful will never question your desire to win. And if the team somehow loses in the playoffs next year at Wrigley Field, the fans will still cheer mightily.
Even as the Cubs accept their participation trophies.
Calling all HuffPost superfans!
Sign up for membership to become a founding member and help shape HuffPost's next chapter