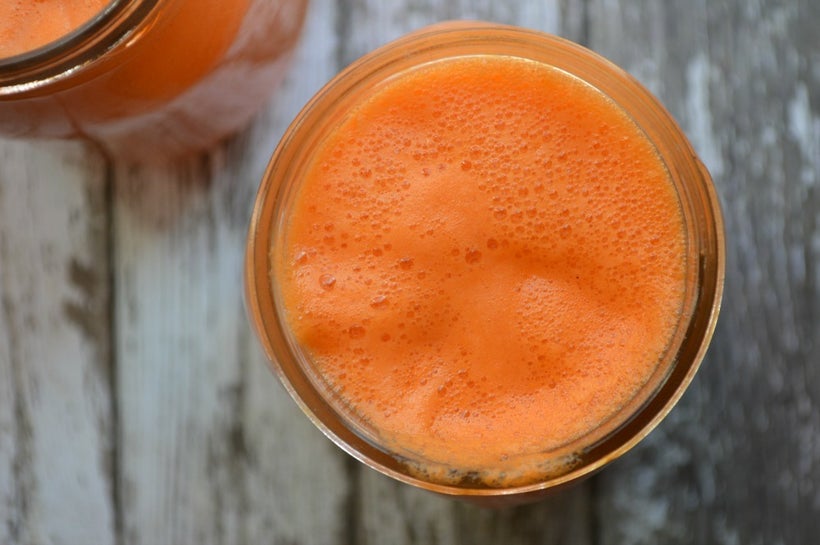 There is always a hot debate going on in the healthy and wellness world when it comes to which is better – juices or smoothies. While many peopele love to blend up a variety of smoothies and squeeze out some super healthy juices, there are also many people (even health experts!) who have chosen their sides in the battle between juices and smoothies.
Diehard juice fans and experts will tell you that juice is far superior to smoothies, because it helps your digestive system take a break, is absorbed into your bloodstream quickly and is loaded full of nutrients and enzymes that are delivered almost instantly to your body. This quick shot of nutrients helps your cells feel satisfied, so you have less cravings and stay satiated for longer. The critics will tell you it is full of sugar, lacks fiber and is no more a "whole" food than a glass of Mott's apple juice or a potato chip. And since it lacks so much fiber, it simply spikes your blood sugar and doesn't leave you feeling very full or satisfied. According to these experts, you are better off eating the produce whole or, better yet, blending it into a smoothie.
Smoothie lovers and experts will tell you that smoothies are far better for you, because they contain the entire piece of produce, including the fiber, so you can stay full longer as well as load up on some delicious and nutritious veggies and fruits. You can also add endless ingredients to a smoothie, packing it with superfoods. Not to mention how easy it is to clean up after. The critics will tell these endless possibilities of ingredients are the downfall of the smoothie. When you can blend just about anything, you are easily able to take a super healthy drink and turn it into a "calorie" bomb (or fat-bomb, or carb-overload, etc), making it super unhealthy. Plus you have to add liquid to make it blend, which could come from unhealthy sources like sugary non-dairy milks, hormone filled regular milk or even sugar-laden store-bought juice. And because of these ingredients, smoothies take a little longer to digest and breakdown, so you aren't getting the benefits as quickly as a fresh juice.
So, in this great debate, which is better? Let's break is down a little further.
Enzymes
Cellular level – full
Digestive break
Digest Quickly
Little fiber
Just the juice
Straight into blood stream
Not as easy to digest
More fiber
Add in protein, fats, etc
More filling and sustainable for some
slower to digest (not as easy)
Easier clean up
Tons of nutrients and enzymes
Can be super healthy for you
Easy way to get more fruits and veggies into your diet
So which is better for you? That all depends on what you need in your lifestyle.
If you are looking for more nutrition and a bit of cleansing, juices are a great option.
Juice is also great for when you are wanting to supplement all the things you are already doing, but just want a little more green or fresh nutrients to add to your already healthy lifestyle.
This could be adding a green juice to your morning routine, along with your bowl of oatmeal or eggs and avocado.
Juice is also prefect for when you are ready to dig in a little deeper and get immediate benefits into your bloodstream.
Or it is great if you need a little snack, but aren't super hungry.
If you are looking to add some healthier foods into your diet, without having to eat salad all day, smoothies are perfect.
Smoothies are also great if you have an intense workout or will need to go a longer period of time before your next meal, since they are a bit heavier than juice and digest a little more slowly.
They are also perfect for adding in some of those other healthy ingredients, like essential fatty acids from seeds and nut butters.
And of course, smoothies are great if you are looking to make healthier versions of your favorite coffee or dessert.
All in all, both can be fantastic additions to your healthy lifestyle, but serve different purposes.
Jessi Andricks, author of Detox 101 and The Smoothie Life, is an emerging leader in the field of modern healthy, whole living. Through her training in Health Coaching, Yoga, and mind-body fitness, she's able to blend together the best of all worlds to create innovative online wellness and private coaching programs. Jessi fuses together clean eating basics, empowering fitness techniques, and expert wellness tips to help clients live the happier, healthier lives. Get in touch with Jessi at thehouseofhealthy.com.
REAL LIFE. REAL NEWS. REAL VOICES.
Help us tell more of the stories that matter from voices that too often remain unheard.
This post was published on the now-closed HuffPost Contributor platform. Contributors control their own work and posted freely to our site. If you need to flag this entry as abusive,
send us an email
.