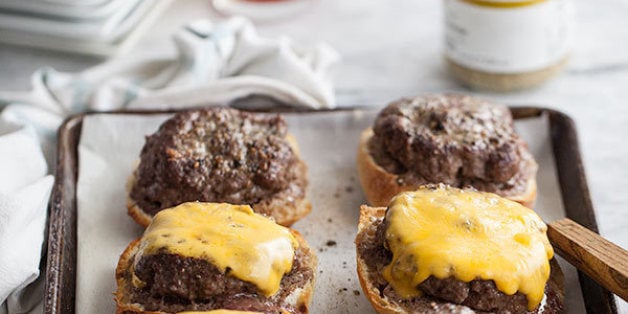 For being such a simple food, there are many theories about the best way to cook a burger. There have been multiple articles about mistakes you might be making with your burgers, and even more written on what kind of beef makes the best burgers. But, none of that matters anymore because today we've stumbled across the trick to making the juiciest burgers every single time.
You don't need any special equipment to make the juiciest, most perfect of burgers. You don't need fancy beef or a high-tech grill. But, you will need lots of butter -- a whole stick -- and a working oven.
Food Blogger Heidi of Foodie Crush shared her father's recipe for game-day burgers and the simple genius of it has floored us. Not only are these burgers 100 percent awesome, but they are stupid easy to make. They hardly require any attention, just lots of butter love. (And the idea of cooking a burger under a broiler isn't a new one -- just ask any fan of Corner Bistro in New York.)
Here's the gist of the recipe: You form a burger patty and place it on a bun, score the top, season it with Worcestershire sauce, garlic salt and pepper, and then top with a tablespoon pat of butter before you put it in the oven on the broiler setting for 10 minutes. The butter not only adds richness to the burger and prevents it from drying out, but it also butters the bun for you.
We're not going to downplay it, these burgers are decadent. But, if you're going to eat a burger, you may as well do it right. And, this recipe does it so right. Give it a try, we promise you will never look back.