Juli Briskman, the cyclist who made headlines last fall for flipping off President Donald Trump's motorcade, is making her first foray into politics with a bid for local office in Northern Virginia.
Briskman, a marketing executive, announced Wednesday that she's filing paperwork to run in 2019 as a Democrat for Algonkian District supervisor in Loudoun County, where she famously raised her middle finger to the presidential motorcade in October as it departed Trump National Golf Club.
"Those who know me, know that I am not one to sit idle," Briskman, 51, wrote on her crowdfunding campaign page. "Whether it's standing up for a cause, such as our First Amendment rights to peacefully protest the policies of the Trump administration, or working to ensure our children and teachers are given every opportunity to succeed, I do not back down when I see something is not right."
Briskman is hoping to unseat Suzanne M. Volpe, a Republican currently representing the Algonkian District, as part of an effort to turn the Loudon County Board of Supervisors blue. The board currently has a 6-3 Republican majority.
The running enthusiast and avid community volunteer said she hadn't considered a bid for public office until her viral moment in October ― and her subsequent firing from her job at Akima, a government contracting firm, as a result of it.
Briskman sued Akima in April and won her severance claim. Her wrongful termination claim lawsuit was dismissed.
"We have a right to peacefully protest and criticize and express dissent toward our government," she told The Washington Post on Tuesday.
"I've gotten some feedback that folks say you should respect the president," she continued. "Even if you don't like what they're doing, you shouldn't show this sort of disdain. And I simply disagree, and I think the Constitution grants me that privilege."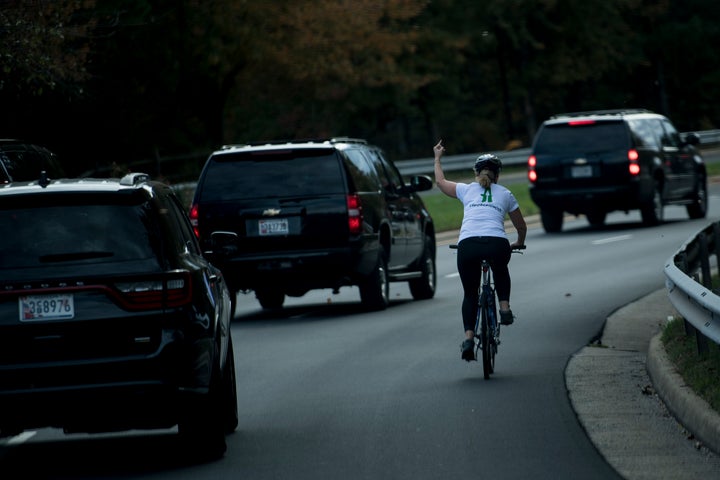 REAL LIFE. REAL NEWS. REAL VOICES.
Help us tell more of the stories that matter from voices that too often remain unheard.