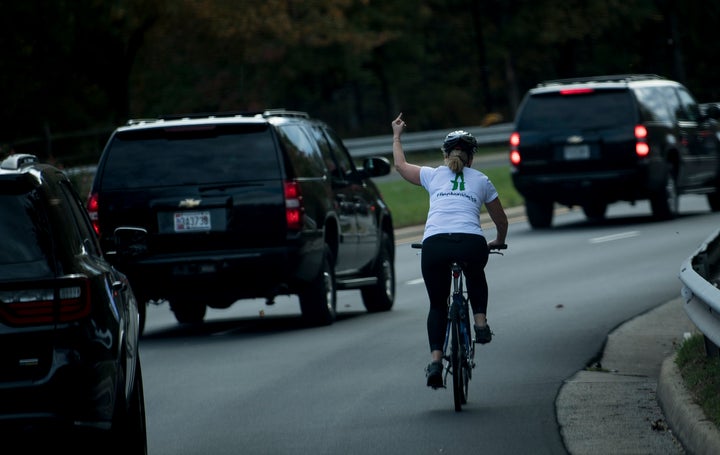 WASHINGTON ― Juli Briskman made headlines last fall after a photo of her flipping off President Donald Trump's motorcade while riding her bicycle went viral ― and got her fired.
Now Briskman is suing her former employer, government contractor Akima LLC, for potentially breaking state law.
In a lawsuit filed Wednesday in Virginia's Fairfax County Circuit Court, Briskman's lawyers argue that Akima violated state employment law in firing her because it is illegal for a government contractor to terminate an employee out of fear of unlawful government retaliation.
According to the suit, Akima told Briskman she had to go because the photo, which she posted on her Facebook page, violated the company's social media policy. But Briskman claims she was treated differently than another Akima employee who, earlier in 2017, wrote "You're a fucking Libtard asshole" in a Facebook discussion about Black Lives Matter. That person was allowed to keep his job as long as he deleted his post.
Briskman's Facebook page also did not identify her as an Akima employee, while the other worker's Facebook page did name his employer.
That difference shows that Akima LLC did not force her out because of the supposed obscenity of flipping the bird, Briskman argues. Instead, she contends the company terminated her over concerns about upsetting the federal government and potentially losing business.
"I filed this lawsuit against my former employer today because I believe that Americans should not be forced to choose between their principles and their paychecks," Briskman said in a statement. "Working for a company that does business with the federal government should provide you with greater opportunities, but it should never limit your ability to criticize that government in your private time."
A spokesperson for Akima LLC did not return a request for comment.
Briskman, a 50-year-old mother of two, doesn't want her old job back. But according to her lawsuit, Akima said it would give her four weeks of severance pay and only gave her two, so she's asking for those other two weeks of pay. She also wants the company to pay her legal fees. All told, she's seeking $2,692.30.
Briskman became something of a hero to progressives last fall after the photo of her surfaced. A White House pool photographer traveling with the president in Sterling, Virginia, snapped the picture of her riding alongside the motorcade. She was anonymous until HuffPost tracked her down, and when she lost her job, supporters raised more than $130,000 for her through a GoFundMe account.
Briskman filed her lawsuit with the help of attorneys from The Geller Law Group and Protect Democracy, a nonpartisan nonprofit that describes itself as "dedicated to preventing our democracy from declining into a more authoritarian form of government."
You can read Briskman's full complaint here:
Popular in the Community