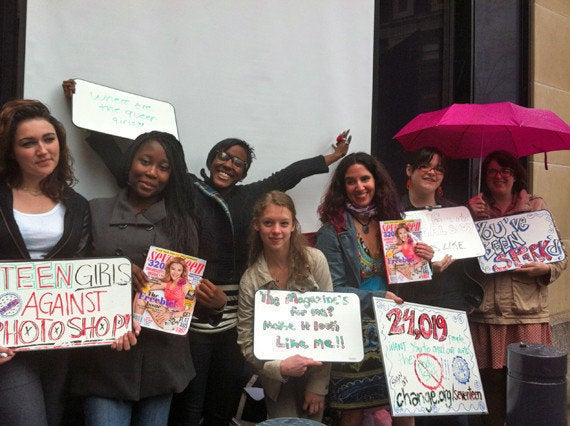 It's easy to make an online petition. It's more challenging to gather up supporters, go out in the rain and make your point in person.
"I've always just known how Photoshop can have a big effect on girls and their body image and how they feel about themselves," Bluhm told The Huffington Post. "You need to see something realistic -- you need to see a reflection of what truly represents a teenage girl nowadays."
Seventeen and the media in general, she said, fails to do that. So her petition, directed at Seventeen's editor-in-chief, asks that the magazine print one unaltered photo spread in each issue.
While the negative impact of Photoshop has been discussed by adults at length, it is clear that Bluhm's peers feel just as strongly. When she and a friend brought a magazine to school to show their friends, she said, it elicited the same reactions: "They agreed. A lot of them thought that the images were fake and they compared themselves to those images -- and it didn't make them feel good about their own bodies and their own skin."
The consequences extend beyond low self-esteem. Another SPARK Movement blogger on the scene, Crystal Ogar, explained that the negative health impacts, proven by the American Psychological Association, include "higher rates of depression, higher rates of self-harm and eating disorders."
And a skinny body, said SPARK Movement blogger Kaye Toal, is just one facet of the cookie-cutter image on the pages of teen magazines:
"The media that we're fed says that girls are sex objects and they have to be thin, white, heterosexual and cisgender, and that's a very narrow portion of women. Even the women who do fit that, dont fit this amazing perfected ideal because it simply doesn't exist."
Or, as Julia told us, "Nobody's photoshopped in real life."
"We're proud of Julia for being so passionate about an issue — it's exactly the kind of attitude we encourage in our readers — so we invited her to our office to meet with editor in chief Ann Shoket this morning. They had a great discussion, and we believe that Julia left understanding that Seventeen celebrates girls for being their authentic selves, and that's how we present them. We feature real girls in our pages and there is no other magazine that highlights such a diversity of size, shape, skin tone and ethnicity."
UPDATE, 7/3/2012: Seventeen put its money where its mouth is in the July 2012 issue. In her Editor's Letter, editor-in-chief Ann Shoket writes:
"Recently I've heard from some girls who were concerned that we'd strayed from [our] promise to show real girls as they really are. [...] And while we work hard behind the scenes to make sure we're being authentic, your notes made me realize that it was time for us to be more public about our commitment. So we created a Body Peace Treaty for the magazine staff -- a list of vows on how we run things here so we always made you feel amazing!"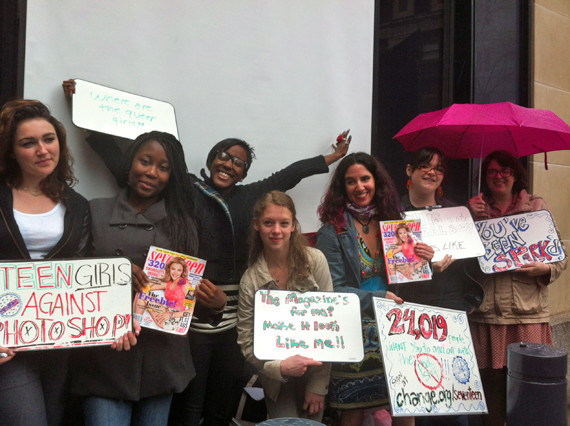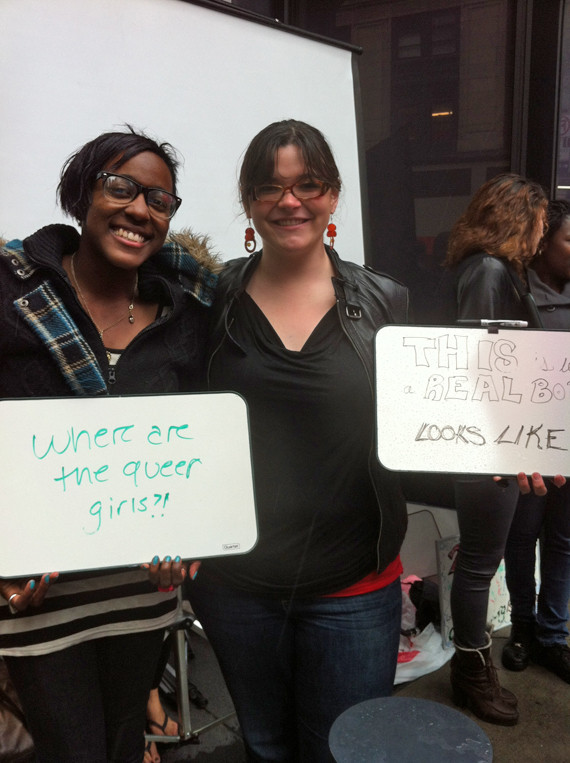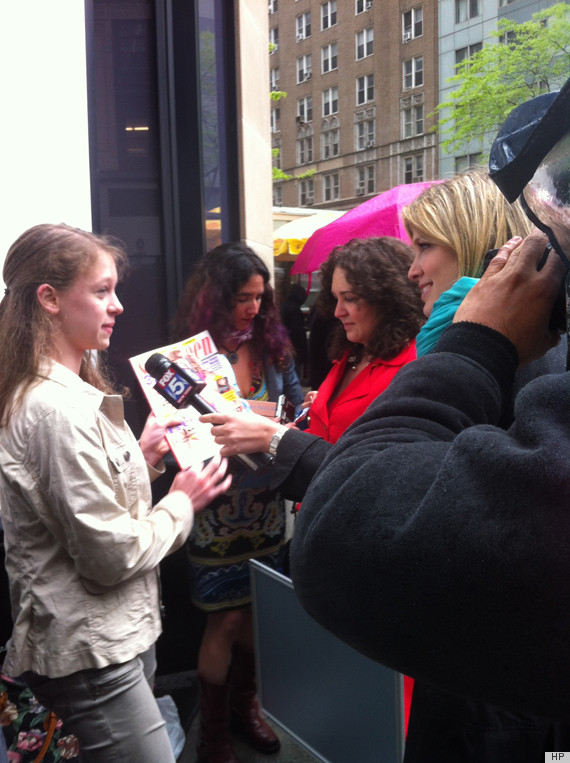 Related