PBS wants you to get involved:
PBS viewers and Julia Child fans are encouraged to cook their own versions of a classic Julia dish and share the experience through pictures and blogs on PBS Food and by using the Twitter hashtag #CookforJulia.
Best loved for her incredible wisdom and relaxation regarding the art of cooking, we always like to focus on how hilarious Julia was. Someone at PBS agrees with us, as they've started building a quotation gallery that got more than a few chuckles out of us.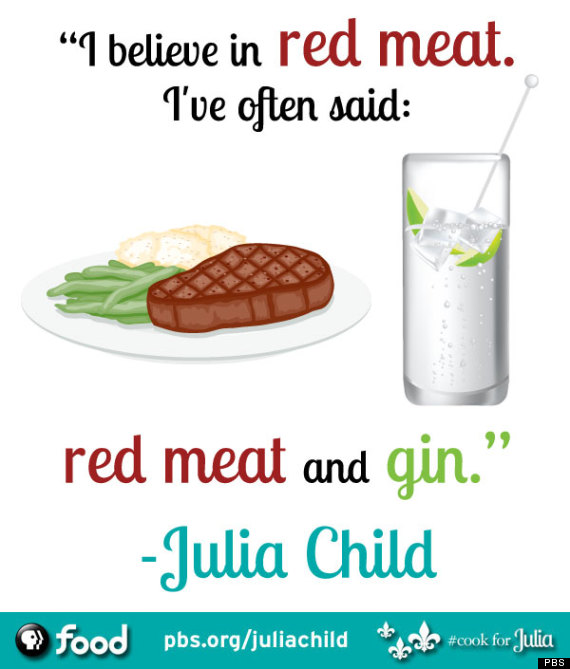 In addition to re-airing episodes of "The French Chef" that have not aired since their debut in the 1960s, an encore presentation of the special "Julia Child Memories: Bon Appetit!" and online content, PBS will be sharing testimonials by well-known food people (chefs, bloggers, other nerds) about Julia and her legacy.
Said PBS chef Jacques Pépin, "Julia and I saw cooking the same way -- a simple meal made with great care and the best ingredients, and a love for sharing the food with family and friends. She taught me to be more easy-going and casual and, more importantly, to have fun as we were teaching, and because of that (and her), I've been fortunate to have 13 series on public television, including my current one, 'Essential Pepin'."
We'll leave you with some classic Julia, and our favorite episode of "The French Chef" of all time: The Omelette Show.
[Update: PBS has notified HuffPost Food that a previous quotation from PBS Food used in this post ("The best way to execute French cooking is to get good and loaded.") was not a verifiable Julia Child statement. This post has been updated with a new, authentic quotation, vetted by The Julia Child Foundation.]
Popular in the Community