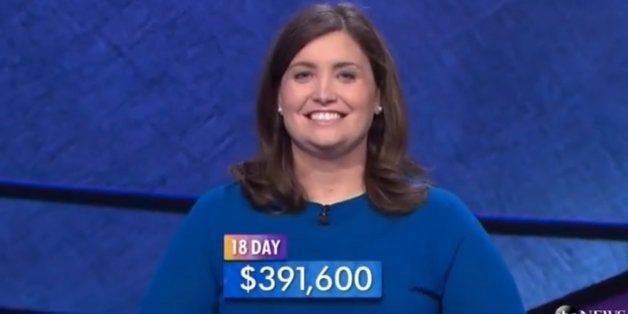 Julia Collins just keeps winning.
The 31-year old supply-chain specialist added more money to her pile of "Jeopardy" earnings on Wednesday, picking up $18,900 for an 18-day total of $391,600.
With a win on Thursday, Collins, who predicted her own "Jeopardy!" success way back in eighth grade, would enter into a tie for second with David Madden on the list of most regular-season victories in the show's history. (Before 2003, contestants were limited to five consecutive regular-season victories.) First place is still a long way away, though: Ken Jennings holds the record with 74 straight games.
Collins wasn't quite as dominant Wednesday as she had been in some of her previous games, though she still managed to make the game a "runaway" -- meaning that her opponents could not catch her going into the Final Jeopardy round -- as she had in her previous five appearances.
And while the 18-time champ hasn't received as much media attention as the divisive "Jeopardy" champion Arthur Chu did earlier this year, she was interviewed by "Good Morning America" on Thursday. "I was a pretty nerdy kid," Collins told the show. "I liked to shout out the answers to the TV like everybody else does."
Clarification: Language has been amended to clarify that Collins' 18th victory came on Wednesday, not Thursday.
Related
Popular in the Community