When you think about the cultural norm for the "ideal body," odds are the types of skeletal bodies blasted across magazine covers, billboard advertisements and mainstream entertainment come to mind. But rewind a couple centuries and these types of angular physiques were almost nowhere to be found. In the glory days of painters like Peter Paul Rubens and Titian, curvaceous bodies reigned supreme, as artists yearned to capture the soft dimensions of the human form in all its fleshy goodness.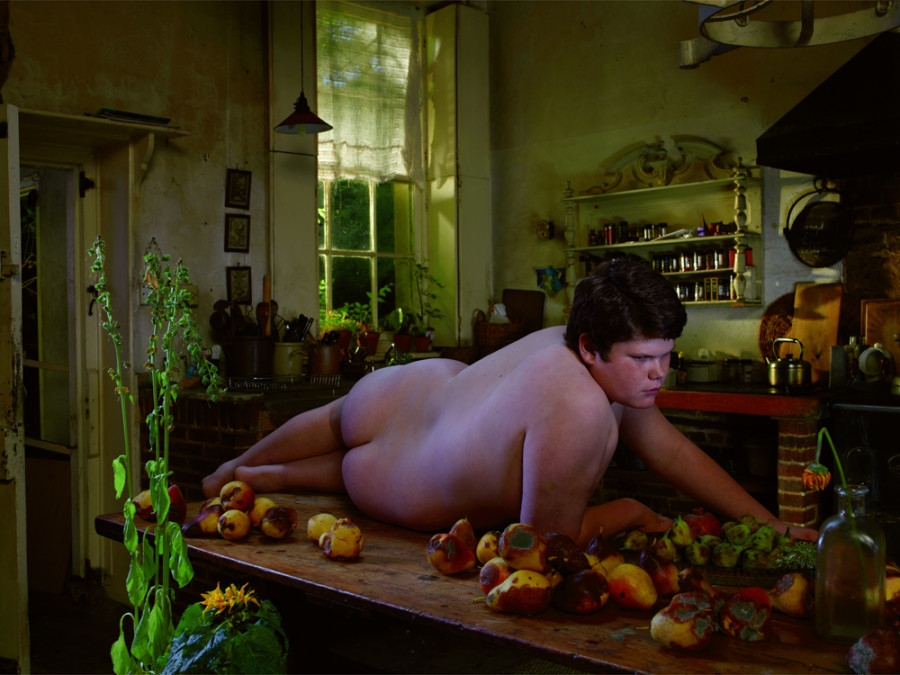 In her series "Unadorned," German photographer Julia Fullerton-Batten combines classical and contemporary stylings, capturing sharp-edged nude photographs in the style of classical Baroque-era paintings. Her unclothed models are men and women that, by today's standards, don't conform to normative beauty ideals. Yet Fullerton-Batten depicts her subjects, who vary in age, gender and weight, as sumptuous objects of desire, owning their nakedness without hesitation.
"Throughout most of the last few millennia, the most sought-after female forms were represented by curvaceous bodies and in Rubens' case of outright corpulence," the artist explains in her statement. "It is only in very recent times, since Twiggy and Barbie came to the fore in the 1960s, that our narcissistic society reinforced by the media and advertising now interprets the ideal figure to be ultra-thin, enhanced by eating disorders and plastic surgery."
"By portraying 'overweight' people of both sexes in the nude, I have hoped to illustrate that there are some among us who are perfectly happy in their skin, and acknowledge that it is inner beauty that counts and not the minimal digit size of a
person's clothing," Fullerton-Batten explained to The Huffington Post. Whether drenched in jewels, cupping fresh fruits, or lounging languidly on mattresses, the subjects harness the sensuality of 15th to 17th century aesthetics, while simultaneously flaunting their individuality. With their forms often contorted, foreshortened, and smushed, the models don't attempt to represent their bodies as anything but what they are, proclaiming their bodily beauty in a contemporary era that tries so hard to manipulate it.
"Unadorned" celebrates the nude form as it was exalted for centuries... prior to the last 50 years. A body that is individual, natural and of course, very sexy. Jamming today's media with yesteryear's aesthetics, Fullerton-Batten challenges viewers to indulge in the beauty of the flesh on its own terms, regardless of the dominating beauty trends. "It intrigued me when shooting this series how relaxed my models were to shed their clothes and be photographed naked," she said, "exhibiting the strength of their individual personalities and their contentment of themselves as they are."
With her charged imagery and heightened drama, Fullerton-Batten expands the category of bodies that deserve to be seen and deserve to be elevated to the status of art. Take a look at the gorgeous series below and see the human form in all its non-starved, non-photoshopped wonder. Spoiler alert: there's nudity, and lots of it.
REAL LIFE. REAL NEWS. REAL VOICES.
Help us tell more of the stories that matter from voices that too often remain unheard.
BEFORE YOU GO
PHOTO GALLERY
10 Female Artists To Watch