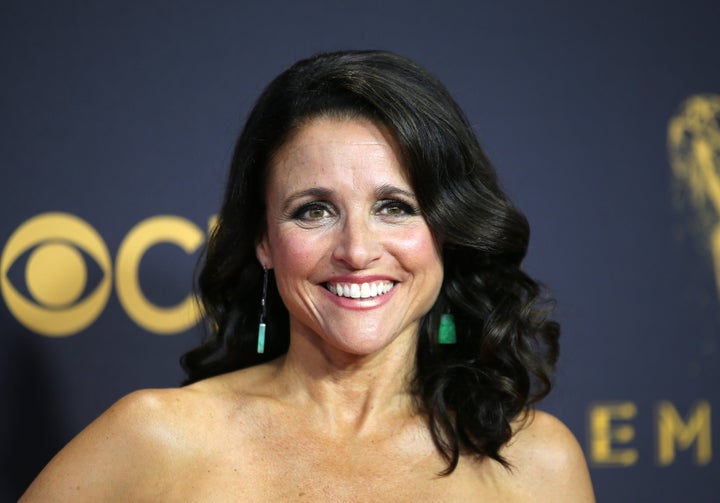 "It is not lost on me how dire my circumstances would be if I did not have really strong insurance through my union," the Emmy-winning actress, 57, told People on Tuesday. "And the idea of not being covered when you're in a crisis, from a health care point of view, is an unconscionable thing to me."
The "Veep" star announced her cancer diagnosis in 2017, shortly after winning her sixth straight Emmy award for her role in the HBO series. Production for "Veep" was delayed as Louis-Dreyfus underwent treatment that included chemotherapy and surgery. She completed her treatment earlier this year and returned to shoot Season 7 of "Veep" in August. She told The Associated Press she "feels good."
In light of her diagnosis, Louis-Dreyfus has also been actively advocating for women's health. Earlier this month, the former "Seinfeld" star announced on Twitter that she is Saks Fifth Avenue's Key to the Cure ambassador. She helped design the 20th anniversary T-shirt ― sales of which will benefit women who can't afford breast reconstruction after a mastectomy. 
"I can't say it's a club I ever really wanted to be a part of, but now that I am part of it, I'm delighted to help those who need help," Louis-Dreyfus told People on Wednesday. "I guess you could say that's a huge silver lining to all of this horribleness — being able to help others who are in the same spot. And that is quite gratifying."
The longstanding Democrat is also advocating for the cause by partnering with registered federal PAC Local Majority. In a video directed by her husband Brad Hall, she urges people to vote and volunteer ahead of the upcoming midterm election, explaining, "when you volunteer, you multiply your votes."
Louis-Dreyfus also stresses an issue that is important to her — affordable health care. 
"I'm a cancer survivor, and I am really lucky because I had access to excellent health insurance, even with a pre-existing condition. That's the way it should be for absolutely everybody, and it's not," she says in the video. "The Republican Congress is making it worse, but the Democrats can change that."
Calling all HuffPost superfans!
Sign up for membership to become a founding member and help shape HuffPost's next chapter