Julia Louis-Dreyfus, honored Sunday night with the Mark Twain Prize for American Humor, took a few moments to slam Supreme Court Justice Brett Kavanaugh in her acceptance speech.
The star of HBO's "Veep" was lauded by the likes of Jerry Seinfeld, Stephen Colbert, Kumail Nanjani, and Tina Fey before she gave her politically charged speech at the John F. Kennedy Center for the Performing Arts in Washington.
"I attended Holton-Arms, a girls school in the Washington area," said Louis-Dreyfus of the private girls school in Bethesda, Maryland, that Kavanaugh accuser Christine Blasey Ford also attended. 
"It has been in the news lately. Back in fourth grade, as a matter of fact, I was in a very serious Holton-Arms production of 'Serendipity.' You know it's funny with us Holton girls — I remember every detail of that play. I could swear to it under penalty of perjury. And yet, I don't remember who drove me to the show or who drove me home. Or if Squee or Tobin were there. Or if Brett put it on his weird wall calendar."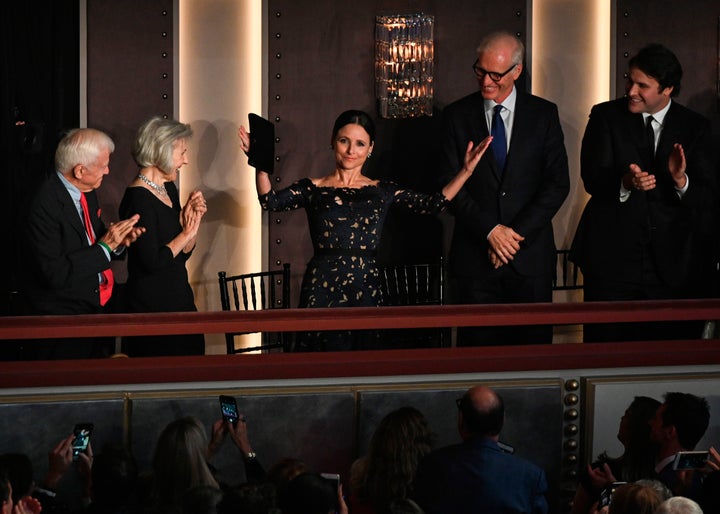 Louis-Dreyfus was one of nearly 200 women who went to Ford's high school and signed a letter supporting her after she came forward to accuse Kavanaugh of sexually assaulting her when they were in high school. 
"We believe Dr. Blasey Ford and are grateful that she came forward to tell her story," says the letter from alumnae of Holton-Arms. "It demands a thorough and independent investigation before the Senate can reasonably vote on Brett Kavanaugh's nomination to a lifetime seat on the nation's highest court."
The women also said Ford's accusation "is all too consistent with stories we heard and lived while attending Holton. Many of us are survivors ourselves."
The Republican-led Senate brushed aside the misconduct allegations by Ford and two other women, and voted to confirm Kavanaugh to the Supreme Court. Many GOP senators said they believed Ford had been sexually assaulted, but because she couldn't remember some details, it probably wasn't Kavanaugh who did it. Some, joined by President Donald Trump, sympathized with Kavanaugh.
"This, by the way, is totally true and not some kind of subtle attack on our newest Supreme Court Justice ― for God's sake the man has suffered enough," Louis-Dreyfus cracked during her address.
Previous recipients include Richard Pryor, Lily Tomlin, Tina Fey, Will Ferrell and Eddie Murphy.
"Cancer isn't at all funny but a big part of dealing with it has been finding the funny moments. The old cliche about laughter being the best medicine turns out to be true. Which is good, because that's what the current administration is trying to replace ObamaCare with," quipped Louis-Dreyfus.
CORRECTION: A previous version of this story mistakenly indicated Louis-Dreyfus and Ford attended Holton-Arms at the same time.
Calling all HuffPost superfans!
Sign up for membership to become a founding member and help shape HuffPost's next chapter