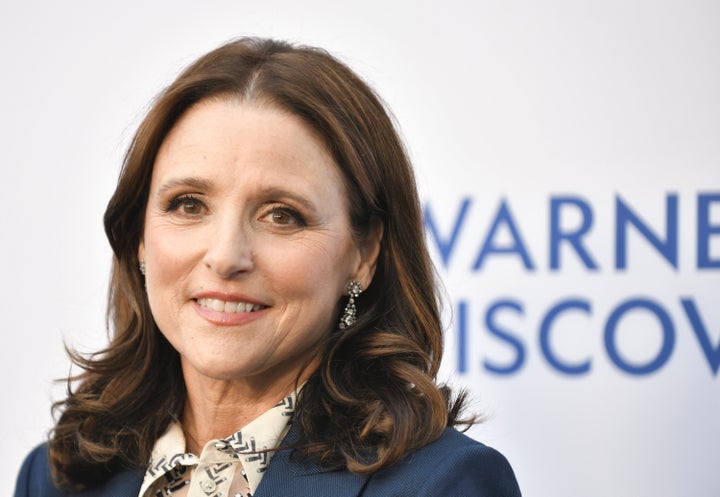 The "Seinfeld" alum told host Sean Evans on the interview series "Hot Ones" that she thinks "women have a tendency to apologize too much."
"Or apologize, I should say, inappropriately," the former "Veep" star said on the episode released Thursday. ("Hot Ones" is produced by Complex Networks, which shares a parent company, BuzzFeed, Inc., with HuffPost.)
The subject came up when Evans asked the Emmy winner the one "piece of wisdom" she's embraced from her new podcast "Wiser Than Me," in which she interviews older women including Jane Fonda, author Amy Tan and Diane von Furstenberg about how to live a meaningful life.
The "Saturday Night Live" alum said one bit of advice she learned was that "'No' is a complete sentence."
She added that she likes that sentiment "very much."
"It's a really good one," Louis-Dreyfus said. "I think it's a good one especially for women, if I may be so bold as to say that."
Louis-Dreyfus' opinion about the prevalence of saying "sorry" has merit. The University of Waterloo published two studies in 2010 that investigated whether women apologize more readily than men, and found that they do.
The first study found that "women reported offering more apologies than men, but they also reported committing more offenses." This led psychologists at the university to hypothesize "that men apologize less frequently than women because they have a higher threshold for what constitutes offensive behavior."
The second study confirmed this hypothesis by asking men and women to "evaluate both imaginary and recalled offenses."
"As predicted, men rated the offenses as less severe than women did," a summary for the report reads.
Communication and gender bias experts Andie Kramer and Al Harris pointed out in a 2020 article in Fast Company that women don't view the term "I'm sorry" as purely an apology.
"Women, in particular, often say 'I'm sorry' as a way of showing concern, empathy, and understanding," they wrote. "The term is used to indicate their personal connection, appreciation of a problem, and sense of care and closeness."
The problem is that this intention doesn't translate well, Kramer and Harris explained.
"Unfortunately, this habit can confuse listeners and discredit the speaker," they wrote.
Louis-Dreyfus also told host Evans that she also appreciated the advice from another podcast guest, chef Ruth Reichl, to do "things that really do frighten you."

So in short, if you are a woman who is scared of the idea of not apologizing, tell that fear off. Or at least, we'd like to believe that's what Louis-Dreyfus would tell you.
Popular in the Community