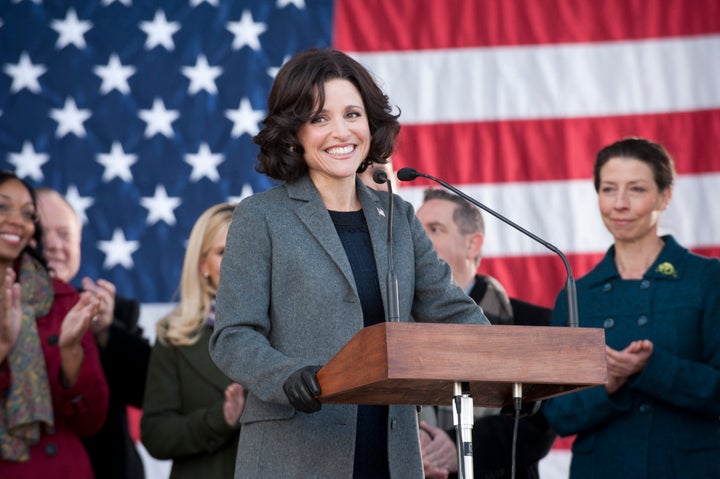 The actress, who returns as Vice President Selina Meyer for the HBO series' second season on April 14, won an Emmy for Best Actress in a Comedy following the first season of "Veep." But Louis-Dreyfus, who spent nine years as Elaine Benes on "Seinfeld" and five years as the titular character in CBS's "The New Adventures of Old Christine," said she wasn't looking for an "asshole" character to play.
"Yeah, she's kind of an asshole," she said with a laugh. "And I think that comes to me naturally. I didn't say to myself, 'I'm going to play an asshole,' because you can't start there. That wasn't the intention. But she's extremely driven, extremely vain, narcissistic and all of that stuff gets in front of her good intentions, which are somewhere down there. Deep, deep down. She doesn't mean to do the wrong things. It's a dog-eat-dog world and she feels that. I'm not going to say she's a victim -- she's not -- but she's definitely reacting to a political universe she's been a part of for twenty-something years."
Louis-Dreyfus spoke with The Huffington Post via phone right after "Veep" wrapped production on Season 2. Read on for her favorite lines, what happened when Vice President Joe Biden actually called, a "massive" upcoming stunt and much more.
Do you come up with any of Selina's crazy insults or all those all written?
It's a process that we share. So, it kind of comes out of rehearsal, I pitch things, we've got a writing staff -- we work in concert. We could run through it and I could tell you what joke belonged to who, but that would be boring. We're all a part of the process. [Laughs.]
This season we find Selina in pretty good favor. Is she going to mess that up somehow?
Sure! Always. [Laughs.] The shit's really going to hit the fan. A lot happens ... Episodes 5-10, I think they're pretty mind-blowing. We went all over the place. It was pretty fun. Really fun.
Were you involved in any of the pitching for the stories this year?
Really, honestly, it is a huge group process ... You know, as you're working, ideas occur to you, like where you should go as the show moves forward, God willing. Over the period of time when we were shooting Season 1, we did come up with ideas that were then applied to Season 2. Then, after we completed Season 1, we did get together and have a meeting to brainstorm areas in which we wanted to go for Season 2. A lot of those are in the show.
In some of the Season 2 episodes that were sent out to the press, both Tumblr and Reddit come up. I know "Veep" and Elaine Benes are both big on Tumblr. Do you ever poke around on that blogging platform?
You know, I don't. I guess I should, but I probably would be frightened if I did. I don't know, but I don't do it a lot ... should I? Or would it be a huge mistake? [Laughs.]
I think it's fun. There are all these GIFs of great Selina insults and moments. Right after the trailer for Season 2 came out, there were a bunch from there.
No shit! I gotta go on that and check it out. We have this meeting with HBO, sort of a social media meeting, and we were talking about going to all these places and ... I can't get over what people are putting out there. It's pretty cool. Some of it's cool, I guess some of it's scary, but some of it's cool.
This season, you have a new nemesis of sorts in Gary Cole. How was that?
Oh, what a nice guy he is! Both Gary and Kevin [Dunn], I've known them for years and years, so it was a complete treat to work with both of them all season long. Gary Cole plays a senior strategist to POTUS, this sort of Dick Morris, James Carville type. He's without emotion and is just a numbers guy. That's all he does. It's really fun, he did it brilliantly.
Do you have an absolute favorite line from the show?
Oh, Season 1 ... I like the croissant/dildo line. It's one of my favorites. I think it's really just -- [Laughs] -- one hell of a classy line. I think this season -- well, there are many coming that you haven't heard, of course -- "Jolly Green Jizzface." That was pretty fabulous.
[WARNING: The clip below is NSFW.]
Do people quote the show to you on the street or anything?
[Laughs.] No, people are more respectful than that. I think they're probably shy and I can understand why. Occasionally, I've heard a few things. I'm so excited for Season 2 to get out, for people to see it, because I really do think as much as I loved Season 1, it feels like we went to a new place this season.
What is your favorite thing your character does in Season 2? She's got a gun, she's singing ...
Well, without giving too much away, it was certainly fun to sing. There are a couple of things I do this season that are rather remarkable ... We get to go on Air Force 2 a lot, which is really fun ... She does a couple of things that if I told you about, it'd really ruin the show.
Are you as cynical about politics as the show seems to be?
No, I'm not. I'm a hopeful person. Our intention is not to skewer politics so that people lose hope or something -- our intention is to make a funny show. Irony and sarcasm are of course a part of that ... If we were depicting an earnest place where people were trying their absolute best to do the absolute right thing all the time -- believe me, I know for a fact that those people exist in Washington -- I'm not sure how funny that would be. So, I think that's probably why you don't need a lot of characters quite like that in the show. But I do believe those people are all over the place in Washington. I have nothing but the utmost respect and admiration for what they do. It's a huge sacrifice and service that those people do.
Have you heard from anybody in the veep's office? Are they fans of the show?
Yeah, I heard from a number of people within the vice president's office and they are big fans of the show. In fact, I won't say who, but somebody did say to me that they've coined a phrase now within their office, "That's a 'Veep' moment. That's very 'Veep'-ish," which is really fun. I did hear from the vice president himself. He called to congratulate me when I won the Emmy, which was incredibly gracious of him. That was nice.
Do you have anything you want to add about Season 2 that fans should look forward to?
Well, Selina goes overseas with her staff; she swears in senators after an election; we meet her ex-husband; and we have a lot of great guest stars this season. Allison Janney is on this show. She's fabulous! Of course, I mentioned Kevin Dunn, who is now a regular on our show. We have the wonderful Dave Foley. We go to Helsinki -- a lot happens ... There are a lot of surprises, including a massive stunt towards the end of the season. When I say stunt, I don't mean a celebrity on the show -- I mean there was an actual stunt that we did. It was really fun to do, but that's all I'll say!
"Veep" Season 2 premieres Sunday, April 14 at 10 p.m. ET on HBO.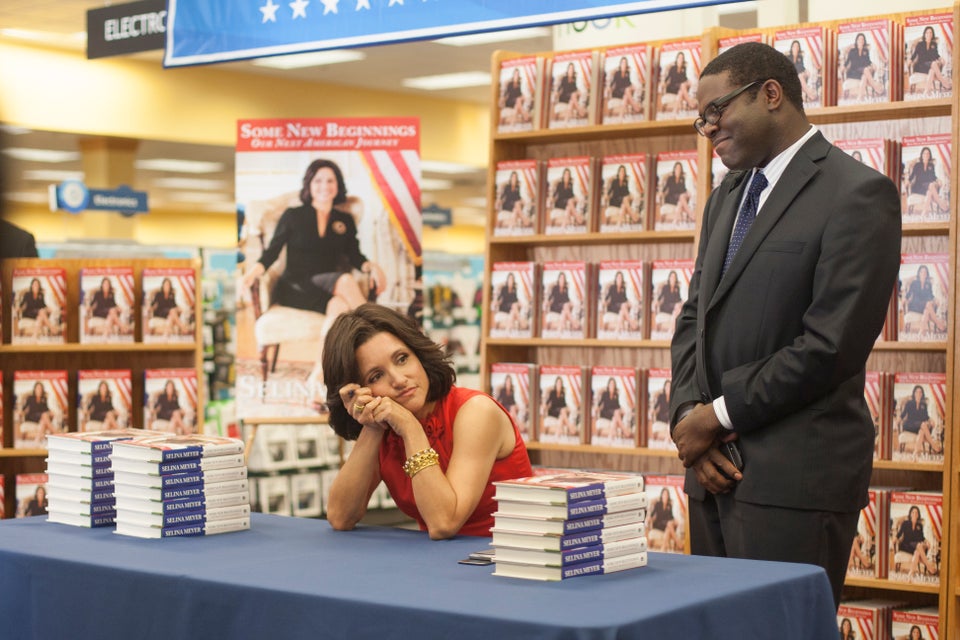 Veep
Related
Popular in the Community