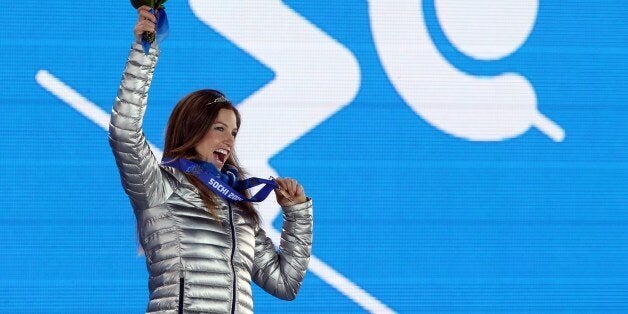 Welcome to our "Like An Olympian" series, where HuffPost Healthy Living takes a look at lifestyle and fitness lessons from competitors, coaches and former Olympians alike.
With her bronze medal win in Sochi, Julia Mancuso, who is partnered up with ZICO, became the most decorated woman in U.S. Olympic alpine history. We sat down with her to talk about how she handles the stress of competition as well as why she had to give up coffee during the Games.
On jumping right back into competition:
Next weekend, I'm already racing again in Switzerland. We race every weekend from Thanksgiving all the way until the end of March, and the Olympics are another weekend in there. We raced the weekend before we flew to Sochi and had a few days off before getting right into competition. We get a couple of months off at home [after the season is over], but then we're training again starting in June or July. On how she handles jet lag:
I sleep as much as I can. I think you can never get too much sleep. I do pretty good with making it through the night. The only time I ever consider taking any sleep "help" is the first three days after jet lag -- I'll take melatonin.
It's interesting being an athlete: I work out so hard that sleep comes naturally, because I'm using my body all day.
Any time I'm having a hard time sleeping, I have to cut out the electronics. I think the electronics really put you into the "wired," staying-up zone.
On returning to Squaw Valley -- her hometown -- to compete in the U.S. Alpine Championships in March:
It's awesome. We have a good community of people who support ski racing and skiing, and it's awesome to go back there for nationals and see everyone. It feels really good.
On the pressures of competition and how she keeps herself calm:
I get nervous, and I think the stress... makes me want to go faster, so I don't mind it. I like the excitement of big events. They're inspiring, and it takes me to that next level.
I thrive on [stress], but I also focus on what I'm doing. I focus on my race, and then I let it go and relax. In the minutes before I compete, I think of everything that makes me happy -- I go to my happy place! And then the skiing comes naturally.
We've done so much training, and you're not going to change anything in that minute before the race; it's more about getting into the right mindset and being able to let go and go for it.
On listening to her body:
I take notice of what makes me feel good. Something that I had to give up in Russia because of the time difference: I didn't drink any coffee, because I noticed the first day I got there I had coffee, and with my nerves I got really anxious, and it wasn't making me feel good. I try to observe and take note of things that make me feel healthy, and then when it's really important, I stick to those plans.
On her bronze medal win:
I was definitely nervous going into those races. I had a tough season going into the Olympics, and things weren't working out perfectly, so I had to focus on the positive things and try to turn every negative bit of doubt in my head into positive.
It felt like all the belief and work I put in -- believing in myself and believing in my skiing -- allowed me to get to a place where I was able to win a medal. Want to re-fuel like an Olympian? Try one of Julia's smoothie recipes, created exclusively for ZICO:
Julia's Chocolate Smoothie
-- 1 cup chocolate coconut water
-- 1/2 cup ice
-- 1 scoop vanilla protein powder
-- 1 tablespoon almond butter
-- 1 tablespoon raw cacao nibs
-- 1/2 cup blueberries (optional)
Julia's Natural Smoothie
-- 1 cup natural coconut water
-- 1/2 cup ice
-- 1 teaspoon maca root
-- 1 teaspoon spirulina
-- 20 grams protein powder
-- 1/2 celery stick
-- handful of kale