Julia Mauer has been searching for her long lost brother for five years, but it wasn't until she took her search public on Tuesday that she was finally able to find him.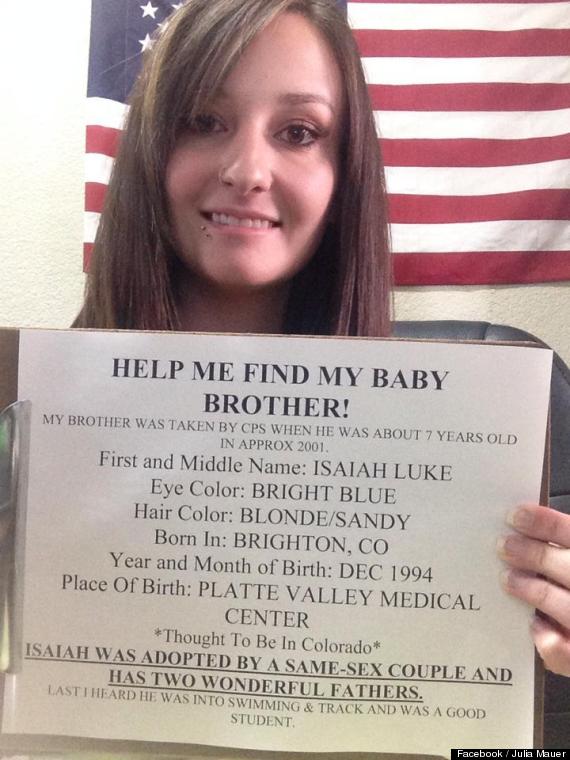 According to ABC7, Mauer and her brother, Isaiah Luke (his last name wasn't reported), share the same mother but have different fathers. Due to repeated incidents of abuse while they were growing up, the pair and their two siblings were removed from their home in 2001 and were sent to live with their respective paternal grandmothers.
Then, Isaiah and his younger sister were placed in foster care and adopted. The last time Mauer saw them was over 12 years ago.
"Growing up there weren't a lot of great things, but [Isaiah] was such a light in my life," Mauer, now 24, told ABC's Good Morning America. "I had this draw to find him."
She posted a selfie holding all the information she had about her brother on Facebook, where the photo was shared thousands of times. Her story went on to be picked up by two local news stations, and it only took a day and a half before someone reached out with information.
It turned out, Mauer had been searching with an incorrect birth year. After she finally found Isaiah on Facebook, she discovered he was living only 30 miles away in Aurora, Colo.
"I've never felt this happy, this sort of fulfillment, and closure of the past in my entire life," Mauer told ABC. "It's tears of joy. It's also a new beginning. I have part of my family back, I have part of myself back."
When Mauer Facebook messaged Isaiah, asking if he'd ever thought about her and her twin sister, he responded, "I've spent the last 12 years telling everybody about my sisters."
REAL LIFE. REAL NEWS. REAL VOICES.
Help us tell more of the stories that matter from voices that too often remain unheard.
BEFORE YOU GO
PHOTO GALLERY
Heartwarming First Meetings