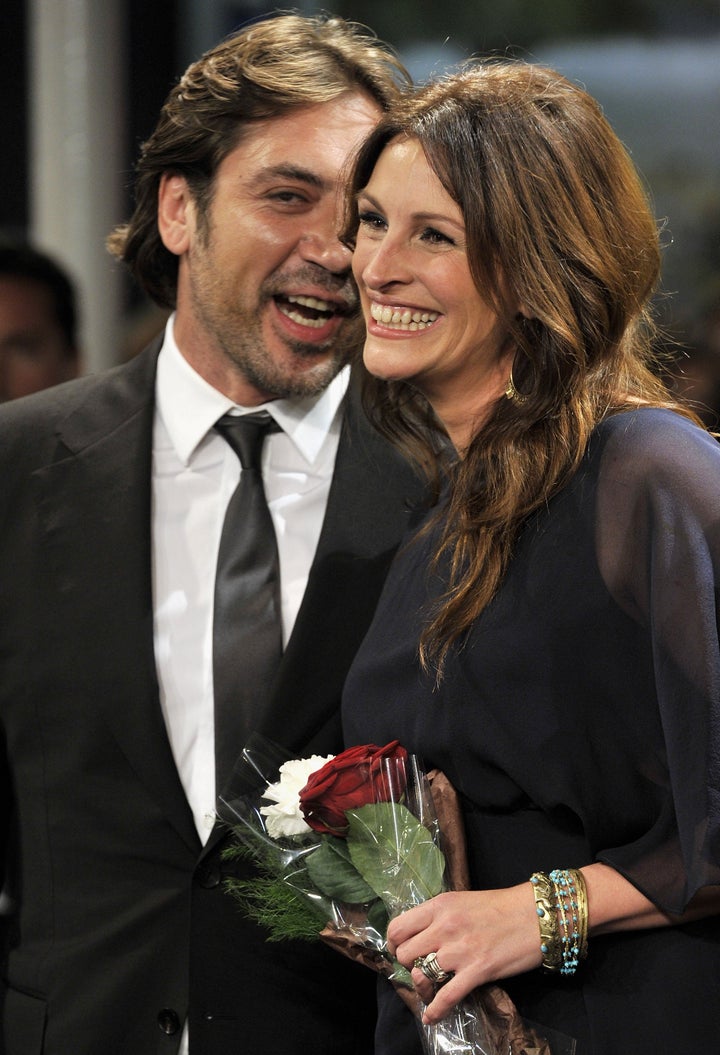 When it comes to Javier Bardem, Julia Roberts is eating, praying, loving... and campaigning.
Entertainment Weekly reports that Roberts, an Academy Award winner herself, is working hard to get another golden trophy for her 'Eat, Pray, Love' co-star Bardem, lauding his performance in the Spanish-language 'Biutiful.'
She was so won over by his emotional turn as a crime boss and father diagnosed with a deadly illness in the film that she actually hosted voters in her home for a screening on Tuesday night. She talked up in no uncertain terms the actors' raw performance.
"He's so raw and completely open to sharing every emotion this character has," Roberts told EW. "I was telling him at dinner tonight, when I watched it I had to keep stopping and saying, 'Okay, this is not actually happening to Javier.' Because it's his face and his big eyes. I think it's unexpected for a man to expose himself so deeply."
So what's the problem? Roberts thinks that it's got nothing to do with the film, and everything to do with its marketing -- and the voters themselves. Bardem was passed over for Golden Globe and Screen Actors Guild nominations.
"I think the movie hasn't gotten the exposure," she said. "You don't know where it is. It's like this hidden little jewel. Especially in this particular season, people don't hunt for things. They just take what you throw in their face."
Fair enough, and that's why she's working so hard to get it a nomination. But what if it doesn't work? What if he doesn't score one?
"If there's not hope for talent, then we're f--ed."
Bardem already has one Oscar, for Best Supporting Actor in 2007 for 'No Country for Old Men.'
For more on Roberts' campaign and her next project with Meryl Streep, click over to EW.
Here's a trailer for 'Biutiful.'
WATCH:
Popular in the Community