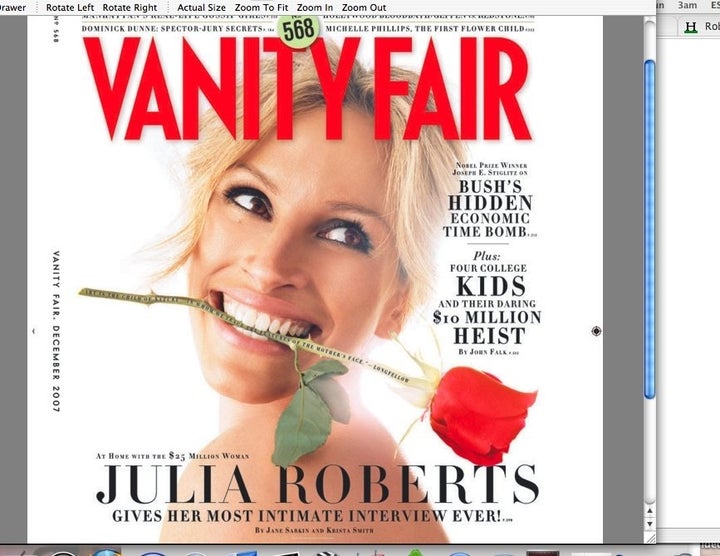 NEW YORK, N.Y.--In a joint interview with Vanity Fair features editor Jane Sarkin and V.F. West Coast editor Krista Smith, Julia Roberts says that, at age 40, her dream is to be "a highly fulfilled and productive stay-at-home mom and wife. The highest high would be growing our food that I then make, and then composting and growing more--that kind of circle."

Roberts says having her own creative outlet is important, "even if it's just silly needlework and stuff like that. To have that high-functioning fulfillment, and to have that radiate into my children so that I'm there with them, I'm connected with them, and I'm with Danny [Moder, her husband] and we're all together, and yet my motor is revving."

Being a mother has made her more aware of her family's environmental impact, says Roberts, explaining that "making less garbage in every way possible" is something she's determined to accomplish. "[As a family of five,] we make a lot of garbage. This is our plight."

Roberts says she isn't sure if she will publicly back a candidate in the 2008 presidential election, but admits that she is "really digging Obama. For anybody good to want this job, they must be so good. I think it just draws extremes now. It's either the so good or the so evil."

Roberts tells V.F. that marrying Moder was "the most correct decision I've ever made in my life--not that it was even a decision, because it just overtakes you. My whole body knew." She also says that she still wants "to look pretty for him! But he's so great and supportive. He's a real creative force I like to be next to.... Sometimes intellectually you're on the same plane as a person, but you don't feel connected to them in your soul, or you don't like their politics or the way they tell jokes, but with Danny it's all there. It's still that way. When he comes home, I always do this [she pinches her cheeks] so I'll look pretty."

Roberts says she doesn't think she wants more children. "At this point I'm having so much fun with them. You only have so much energy and you want to put so much energy into each child. I wouldn't know how to have five kids. And they're a really good trio, these three."

Roberts also speaks about a range of topics:
THE FRENZY SURROUNDING TODAY'S YOUNG CELEBRITIES:
"I think it's just grotesque. It's like a circus sideshow. I don't know why anybody would even want to go into show business these days, with all of the different magazines and shows. It just wouldn't be worth it. And it's too fast. Before, you could build a career over years and many movies. Now it's like you do one good movie and they throw a ton of money at you and a ton of attention at you. You're being constructed outside of yourself before you even know who you are, and what you are, and how you want to do it, and why you want to do it."
...
"I see and hear what's happening to Britney Spears and it's all I can do not to move her into my guest-house and say, 'OK, this is how it's going to be!' And just take care of her."
PAPARAZZI TAKING PHOTOS OF CELEBRITIES' CHILDREN:
"I just feel like it's so demeaning the way they behave, and I hate the fact that I even put any of my energy into thinking about it or being stressed about it. And really, more than anything, it just has to do with my kids. There's no reason to take pictures of celebrities' children other than for people to say, "Oh, they're cute." I think magazines shouldn't run pictures of people's kids. I have a problem with that. I also have a problem with the whole notion that, if I have Henry in a sling, I'm hiding him. He's a baby and I'm carrying him around, and so's the lady across the street. I get pissed off, because I think that it's inhuman to chase a woman with her children."
CELEBRITIES ARE JUST NORMAL PEOPLE:
"We're all the same. Why can't we get on board with this? That we're all the same. Some have cooler jobs, some have less cool jobs, some have longer legs, some are nicer people, but we're all the same. We're all orbiting the same sun."
DIAPERS:
"I use Seventh Generation [chlorine-free, nontoxic] diapers for Finn and Hazel, and then I was turned on to the [plastic-free, flushable] gDiapers. Henry's got a gDiaper on.... I would recommend them overall. It is flushable, but you've got to stir that thing! If you don't really break it all the way up, it doesn't go all the way down."

IF HER KIDS WANTED TO GET INTO ACTING:
"I would call Natalie Portman's mother. Natalie is such a good actress, but she seems like such a sensible person. I asked her about it one day when we were doing Closer, and she said she only worked with people that her parents trusted, and she only worked when it didn't impact her school. So there were definitely guidelines. No one does it that way, but they did it, so it can be done. I hope I don't face that, though, because I think kids should be kids and childhood should be filled with ... you know that smell, when your kids come in and they smell like dirt and sweat and sunshine? That's what I hope for my kids."

HOW IT FELT TO BE THE FIRST WOMAN TO EARN MORE THAN $20 MILLION [FOR ERIN BROCKOVICH]:
"Just as good as it would if you were a man, I bet. I mean, I guess I shouldn't belittle it like that. I should take pride in being a forerunner, even if it's something that seems kind of stupid, like being overpaid for a great job. But I don't really think about it. Elaine Goldsmith-Thomas was my agent then, and she took a real position, as a woman in the industry representing a woman, to make strides in that way. So she really deserves credit. It was really a thing for her."

GETTING BACK INTO SHAPE AFTER HAVING CHILDREN:
"I have been working out, but listen, it is 97 percent genetics. Don't let anybody tell you any crap about anything else, because that's what it is: 97 percent genetics and 3 percent just get your ass moving. Because I've never met a cookie I didn't like."

The December issue of Vanity Fair hits newsstands in New York and Los Angeles on November 7 and nationally November 13.
Popular in the Community