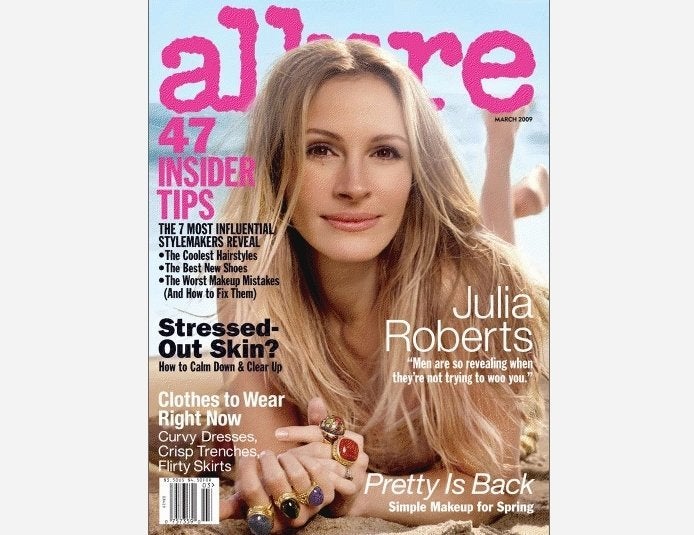 Julia Roberts if returning to the screen as a leading lady in "Duplicity," out next month and costarring Clive Owen. She talked to March's Allure about her marriage to Danny Moder and the joys of being a mother to her three kids, four-year-old twins Hazel and Phinnaeus and younger son Henry, almost two.
"I will never be bored again," Roberts tells the magazine. "Danny and I talk about, 'What did we do with all the time we must have had?' Because you don't recognize it as such, until you have all these little ... time thieves running around your house."

See an Allure slideshow of the actress here
The key to beauty is always to be looking at someone who loves you, really. One of my favorite things about my children right now, even Henry, who can't say all the words...sometimes he'll see me and go, "Ma-ma!" and throw himself on me. Or Finn says he likes my earrings. Or Hazel will say, "You look pretty, Mama," first thing in the morning. And I realize, that's all my husband. They're seeing the things that he does and the way that he shares his feelings with me, and the way that I share my feelings with him. The coolest thing you can do for your children is to love each other in their presence.
She also talked about getting pranked by Brad Pitt and George Clooney on the "Ocean's" movies.
"I also went to my hotel-room door one morning, and there was an overwhelming smell of something clean and fresh; they had shaving-creamed my door. It wouldn't open, because they had taken two huge potted trees and put them outside, trying to make me late for work.
And she said her dream dinner party guests are the Obamas.
Read the whole interview in Allure. "Duplicity" opens in March.