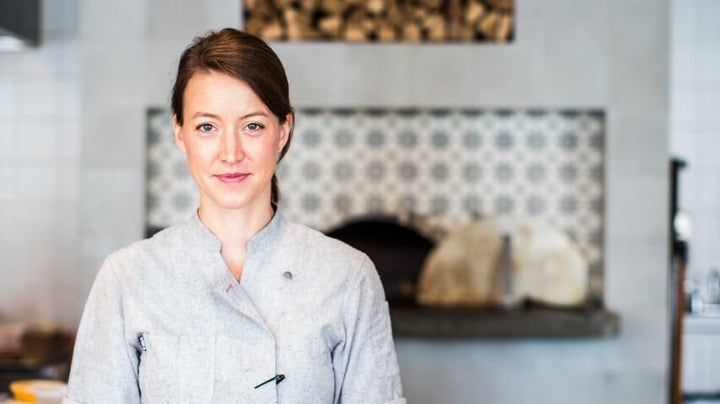 In the wake of the profound conversations ― and the burgeoning reckoning ― the #MeToo movement has inspired in Hollywood over the last four months, women in other industries have begun to think and speak out about their own encounters with sexual harassment, sexual assault and inequality in their workplaces. Here, Julia Sullivan, co-owner and head chef at Henrietta Red in Nashville, sounds off on her experience working in a variety of kitchens throughout her career, the benefits of opening and running a restaurant primarily staffed by women and why it shouldn't take "luck" to succeed ― and remain unscathed ― as a female chef.
Working in professional kitchens is like playing team sports ― at worst, it's painful and messy, slow and uncoordinated. At best, it's symphonic ― one person making calls, everyone moving in response ― passing, receiving and plating without a wasted step. Service goes by quickly and everyone leaves feeling victorious and with spirits lifted, ready to tackle the next day.
I've witnessed the game at its absolute peak, in the kitchens of both Michelin-starred restaurants and neighborhood establishments, which, although smaller and more casual, were often just as thoughtfully executed. I see this most nights in my own restaurant now and it's a great feeling.
Like sports teams, professional kitchens are often all, or heavily, male, and conversation digresses easily into "locker room talk," whether there are women around to hear it or not. This was the case in some places I worked, but not at the fine dining level. I never felt uncomfortable or diminished because of my gender. There was no time or tolerance for that behavior at that level of cooking in those restaurants. That's not to say there was no aggression or badgering, but it all seemed commonplace in a room full of competitive high-performers, jockeying for space and attention.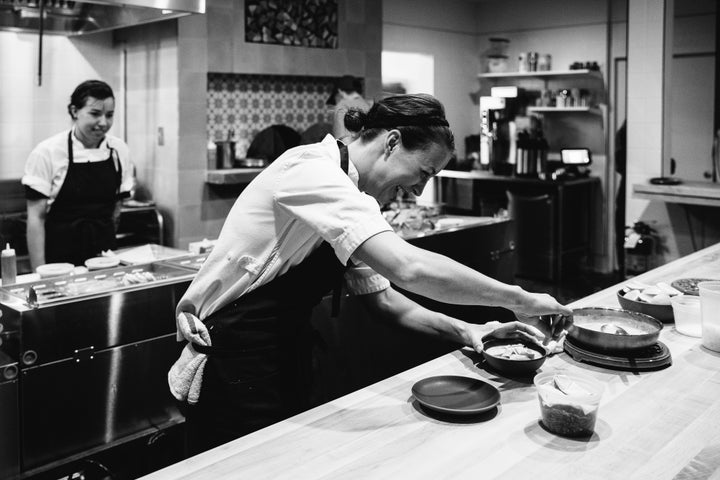 The knotted yarn ball of sexual harassment and assault claims that has only begun to unravel across multiple industries, including ours, has made me think long and hard about my own career and encounters, in and out of the workplace. The most offensive advances were customers making propositions, or purveyors undermining my position and authority by calling me names like "sweetheart" and "jailbait" while I signed in orders. Looking back, I consider myself lucky that was the worst of it ― but lucky is a funny word.
Why should one feel lucky to emerge unscathed from any place, much less a place she worked tirelessly for the benefit of others? Why should one feel lucky to work for professionals who promote based on skill and merit and not on sex or privilege? As Tamar Adler recently and so eloquently put it in The New York Times, "What will it accomplish if in the struggle to be treated equally, we assume the worst behaviors of the privileged group?" and so we feel lucky to be treated like humans and professionals.
Recent reactions I've heard from female counterparts range from #MeToo to feelings of complicity for looking the other way or focusing on their own self-preservation and advancement, rather than protecting someone or ― God forbid ― calling someone out. I think this is only natural, and many of us will be processing this for some time.
In addition to processing, I think it's important we, female and male industry leaders, take this opportunity to lead by example in our own businesses and communities. Last spring, I opened a restaurant with a female partner. We have a diverse and well-balanced staff, but the kitchen team is primarily female. I've been asked why, and I can only tell you the responses I hear from them. When I hired them, they wanted to see what it was like to work for a woman and now I think they appreciate the environment, the camaraderie, the opportunities for advancement and learning, and the feeling that it is a safe space to grow.
Absence of personal misfortune is no excuse for ignorance anymore.
In the only eight months we've been open, we had one instance of a man repeatedly harassing and stalking a female co-worker. It's amazing how I diminished it at first. I thought, maybe she's wrong, maybe it's cultural, but ultimately we fired him and she still works here. In retrospect, I understand my own self-doubt but feel ashamed that I doubted her. Operating from a position of having been one of the "lucky" ones doesn't excuse us from making the uncomfortable calls. Absence of personal misfortune is no excuse for ignorance anymore. We are advocates for our employees and peers, and this behavior must not be diminished or tolerated. 
When I watch my team in motion each night, I am critical and introspective. I want us all to be better, to play better, to create the best guest experience possible ― but the experience I create for my team is just as important to me. The two go hand in hand and it's evident in the food we serve and the experience we create, every night we take the field.
Julia Sullivan is the chef and co-owner of Henrietta Red in Nashville. She is a graduate of Tulane University and the Culinary Institute of America, and worked at Blue Hill at Stone Barns, Per Se, and Franny's in New York before returning to her hometown of Nashville to open her first restaurant. Henrietta Red opened in February 2017 and was recently named one of Bon Appetit's 50 Best New Restaurants in America.
REAL LIFE. REAL NEWS. REAL VOICES.
Help us tell more of the stories that matter from voices that too often remain unheard.