WikiLeaks chief Julian Assange was granted political asylum by Ecuador on Thursday, setting up a standoff with the British government, which has vowed to block his exit from the country.
The announcement was made by the Ecuadorian foreign minister, Ricardo Patiño. He said that Ecuador was granting Assange political asylum because it believed he was being persecuted for his actions as the head of WikiLeaks.
"The Ecuador government, loyal to its tradition to protect those who seek refuge with us at our diplomatic missions, has decided to grant diplomatic asylum to Mr. Assange," he said. Applause greeted his announcement.
Assange remains holed up in the Ecuadorian embassy in London, where he fled to avoid extradition charges to Sweden. He is wanted there to face allegations of rape, but he fears that he will be swiftly transferred to the United States, where he says he could be prosecuted for leaking classified material through WikiLeaks.
Sweden has denied that it has any such intentions. A lawyer for the women who have accused Assange of sexually assaulting them told Reuters that the idea was "absurd," and that Assange needed to be "brought to justice."
But one of Assange's lawyers, Michael Ratner, said on "Democracy Now!" that the threat was very real. "If Julian Assange were to go to Sweden, he would be put in jail immediately. He is not allowed to get bail in Sweden," he said. "...At that point, the U.S. files its extradition request."
Speaking in the Ecuadorian capital, Quito, Patiño said that his country had offered to allow Assange's extradition to Sweden if it would guarantee that he would not be moved to the US, but that Sweden had not agreed. He denounced the UK threat to carry out its arrest orders, calling it an attempt at "blackmail," and said that Ecuador believed that Assange could not get a fair trial in the US.
"It is not impossible that he would be treated in a cruel manner, condemned to life in prison, or even the death penalty," Patiño said.
In a statement on Twitter, the British foreign office said that it was "disappointed" by the decision, and vowed to extradite him to Sweden — a warning that experts told the AP stands on shaky legal ground.
"Under our law, with Mr Assange having exhausted all options of appeal UK authorities are under binding obligation to extradite him to Sweden," the statement continued. "We shall carry out that obligation. The Ecuadorian Government's decision this afternoon does not change that. We remain committed to a negotiated solution that allows us to carry out our obligations under the Extradition Act."
Later, Foreign Secretary William Hague confirmed that the government has refused to allow Assange safe passage out of the country.
"We will not allow Mr. Assange safe passage out of the UK, nor is there any legal basis for us to do so," he said. "The UK does not accept the principle of diplomatic asylum ... Moreover, it is well established that, even for those countries which do recognise diplomatic asylum, it should not be used for the purposes of escaping the regular processes of the courts. And in this case that is clearly what is happening."
The British insistence on extradition means that it is still unclear whether, or how, Assange will be able to leave the UK. For the moment, he cannot leave the embassy without risking arrest, and the British cannot enter the embassy unless they revoke its diplomatic status. Ecuadorian officials told the New York Times that he will likely remain in the embassy indefinitely.
Speaking from inside the embassy, Assange called the decision a "significant victory," adding that his situation is likely to get more "stressful."
Support HuffPost
The Stakes Have Never Been Higher
Related
Before You Go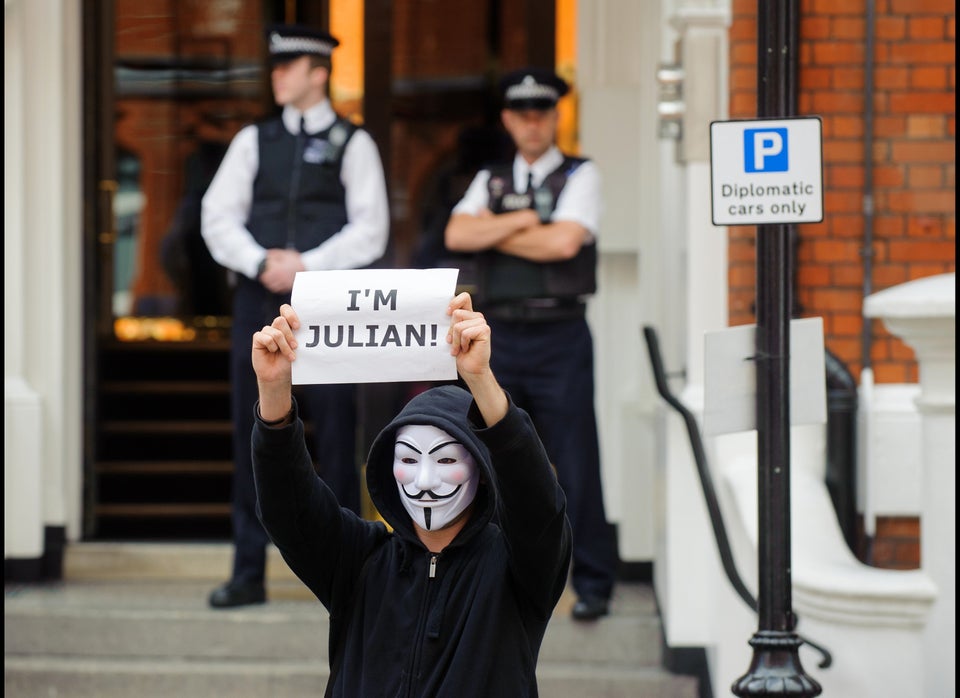 Julian Assange
Popular in the Community