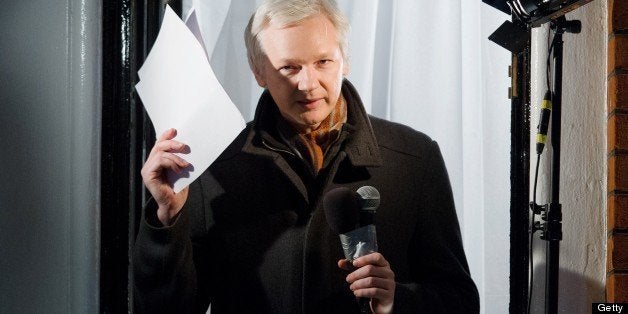 WASHINGTON -- The Department of Justice has "more likely than not" prepared a sealed indictment of WikiLeaks founder Julian Assange for publishing classified material, his attorney, Michael Ratner, told The Huffington Post.
Assange said the evidence he and his attorneys have gathered leads him to the same conclusion. "The DOJ admitted in March that its investigation against WikiLeaks is ongoing," Assange told HuffPost, speaking from the Ecuadorian Embassy in London, where he has been granted asylum. "U.S. officials in the Bradley Manning pre-trial proceedings admitted that the target of the DOJ grand jury is seven civilians, including the founders and managers of WikiLeaks. The [U.S. attorney] responsible is Neil McBride, the [attorney] for the Eastern District of Virginia, where nearly all national security-related prosecutions take place, seven kilometers from the center of D.C."
Zachary Terwilliger, a spokesman for U.S. Attorney McBride, said, "The investigation is in fact ongoing and we're not able to comment on an ongoing investigation."
Assange was referring to recent comments made by prosecutors in the court martial against Manning, the Army intelligence analyst accused of dumping classified documents to WikiLeaks. The trial phase in Manning's case began Monday.
"I think it's more likely than not that there is a sealed indictment against Julian Assange right now," said Ratner, the head of the Center for Constitutional Rights. The lawyer cited the empaneling of a grand jury in 2010, subpoenas that have been issued, and the number of people associated with WikiLeaks who've been contacted by the Justice Department.
"Our contacts with the Department of Justice and the district leave us the impression that there's a fair possibility that there's a sealed indictment," Ratner said. He added that the DOJ has been unresponsive to questions the department normally answers when there is no indictment.
The secrecy surrounding the grand jury investigation of the case had previously been broken. Manning's friend, David House, was called to testify before the panel last summer and took notes, despite orders not to create a transcript. (His final product, which he posted online, shows prosecutors flummoxed both by his note-taking and his refusal to answer questions.)
The question of whether a sealed indictment against Assange exists is critical to his argument for political asylum. He is fighting extradition to Sweden, where he is wanted for questioning related to allegations of sexual assault.
Assange said he is concerned that Sweden will turn him over to the United States, where he may face the same fate as Manning. Manning faces the possibility of life in prison if convicted of aiding the enemy.
If Assange does not face a serious threat of imprisonment by the U.S., then his reason for evading Sweden's warrant becomes much less sympathetic. The possible indictment plays a part in Alex Gibney's new film on Manning, Assange and WikiLeaks, called "We Steal Secrets."
"I think [Gibney's documentary] downplayed the risk of prosecution of Julian in the United States as a way of saying he's in that embassy to avoid Sweden, which is about the farthest thing from the truth that I can imagine," Ratner said. The U.S. didn't spring the indictment earlier, before Assange was safely behind the Ecuadorian walls, because it assumed Assange was in custody, Ratner said.
"The U.S. isn't going to necessarily play its hand and reveal an indictment until they have someone in custody," Ratner said. "And they assumed, I think, over the time, that Julian was wearing an ankle bracelet and that he was essentially in custody under the U.K. and they weren't going to then say, 'We have an indictment,' because then, of course, the U.S. is in the position where they'd have to fight something politically in a way they may not want to."
Ratner said the U.S may not have wanted to get in the way of Sweden. "If there is one extradition being filed and they file another one at the same time, then a court is in a very messy situation over what it's supposed to do," he said.
A leaked email from StratFor, a global intelligence company, shows a contractor boasting that the U.S. has an indictment of Assange ready. Gibney told HuffPost that the contractor may have been operating on little more than rumor. Without direct evidence of a sealed indictment, he said, he didn't want to assert in his film that one exists. The documentary does mention the ongoing investigation, he said.
Gibney and Assange have publicly feuded over the film's portrayal of the WikiLeaks founder. "I came away with an admiration for what he did in a certain moment of time," Gibney said. "I think there's a greatness about what WikiLeaks had done. At a certain moment in time, something very special happened."

Support HuffPost
The Stakes Have Never Been Higher
Before You Go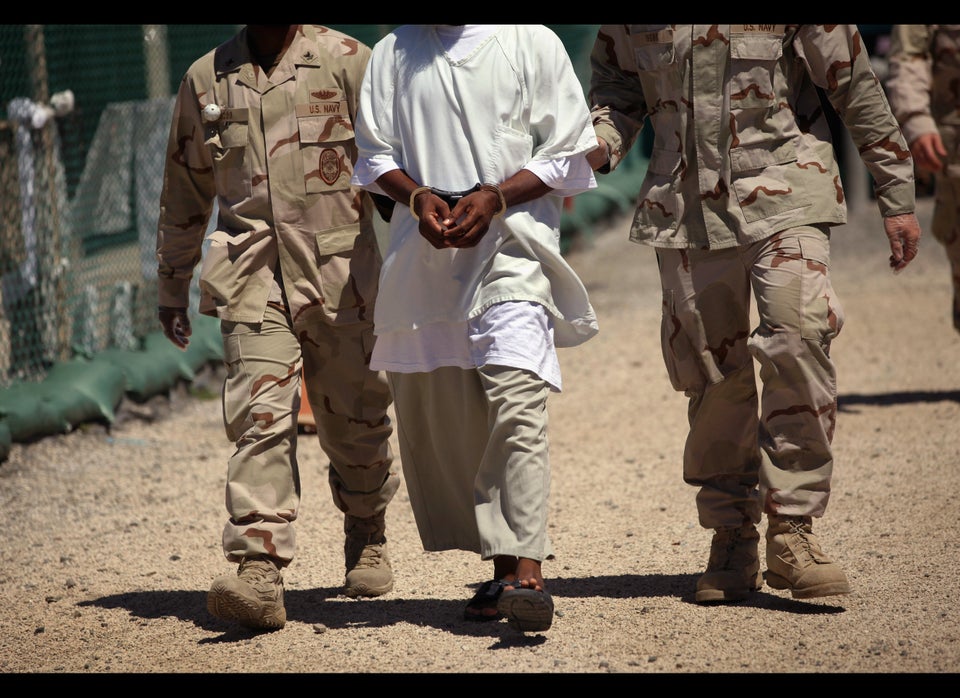 Guantanamo Bay Revelations From WikiLeaks
Popular in the Community