WikiLeaks founder Julian Assange gave a strong endorsement to the libertarian wing of the GOP on Thursday, praising Sen. Rand Paul (R-Ky.) and his father, former Rep. Ron Paul (R-Texas), for their political views.
"[I] am a big admirer of Ron Paul and Rand Paul for their very principled positions in the U.S. Congress on a number of issues," Assange said during a forum hosted by Deakin University and transparency organization OurSay.org. "They have been the strongest supporters of the fight against the U.S. attack on WikiLeaks and on me in the U.S. Congress. Similarly, they have been the strongest opponents of drone warfare and extrajudicial executions."
Assange went on to commend the libertarian ideal of "non-violence" with regards to military engagements, the draft and tax collection. He then put forth an argument against both established political parties in Washington, claiming that nearly all Democrats had been "co-opted" by President Barack Obama's administration, while Republicans were almost entirely "in bed with the war industry."
The current libertarian strain of political thought in the Republican Party was the "the only hope" for American electoral politics, Assange concluded.
Assange joined the debate in a Google Hangout from his refuge at the Ecuadorian Embassy in London, where he was granted asylum in June 2012 to avoid extradition to Sweden on sex crime allegations. He is currently running a campaign for Australian Senate, which he's managed to conduct almost entirely over Skype.
Correction: An earlier version of this story incorrectly stated that Campus Reform had coordinated the event. While Campus Reform participated, the forum was hosted by Deakin University and OurSay.org.
Before You Go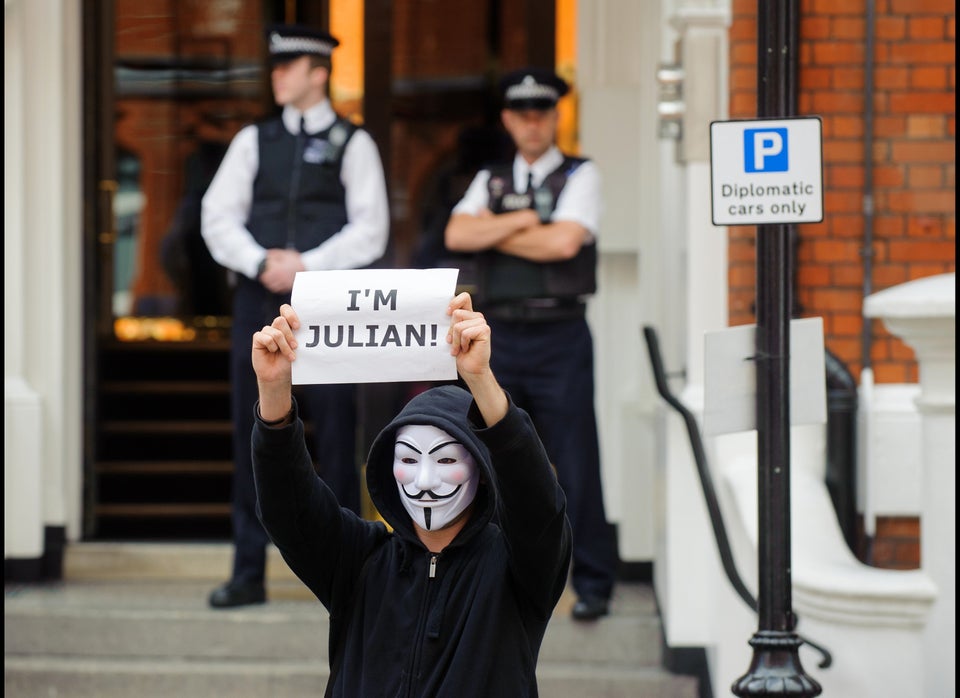 Julian Assange
Popular in the Community