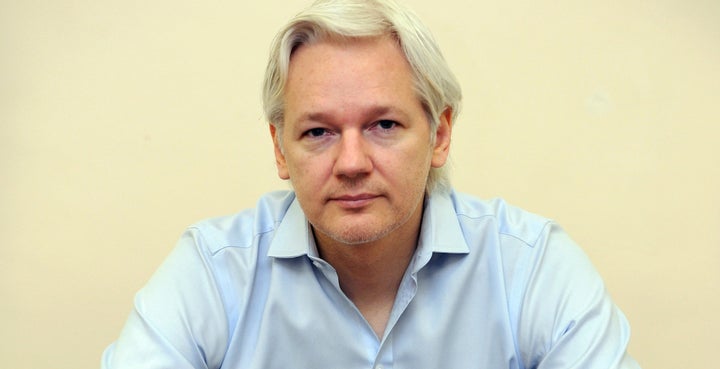 MEXICO CITY -- Wikileaks founder Julian Assange defended his decision to post the unredacted personal emails of Central Intelligence Agency Director John Brennan -- and his organization's continued focus on American and European intelligence agencies -- during a question-and-answer session at an open government conference Friday. Assange spoke via Internet from the Ecuadorian Embassy in London, where he's found asylum for the past five years.
Assange argued that publishing the email records served the public by exposing Brennan's donations to the 2008 Obama-Biden campaign and his efforts to win government contracts during several years he spent out of government in the mid-2000s.
The CIA has condemned the hacking that swiped the emails, claiming that nothing classified was exposed. Brennan said that he was "outraged by it," when asked at an intelligence conference at George Washington University on Tuesday.
"I certainly was concerned about what people might try to do with that information," Brennan said, as reported by CNN. "I was also dismayed at how some of the media handled it, and the inferences that were in there."
The Wikileaks founder dismissed Brennan's statement regarding the invasion of his privacy. Assange argued Friday that the personal email of espionage officials should not have the same protections as other individuals' emails.
When asked by The Huffington Post why Wikileaks doesn't focus more on opening autocratic governments like China, Iran or Russia that surveil hundreds of millions of people, Assange said that Western media is navel-gazing and simply doesn't talk about when Wikileaks publishes the internal political details of other countries in their own languages. 
"When we do it, it's simply not reported in English in the West," Assange said, referring to more than 120,000 documents at Wikileaks.org related to those countries.
Wikileaks has recently published documents from Syria and Saudi Arabia, along with a 2009 document from China. But most documents on the organization's homepage relate to the United States and European countries.
Assange justified the continued focus on the Western world by claiming that the U.S. is responsible for 60 percent of global intelligence expenditures -- and European countries make up a big chunk of the rest.
"If we're talking about the number of secrets produced, the size of the military economy, the size of intelligence economy, the biggest is in the West," Assange said. "If you don't like it, tough luck."
Documents leaked by Edward Snowden estimated the annual budget of U.S. intelligence agencies at $52.6 billion.
"Secrecy builds bureaucracy and incompetence," Assange said. He warned that the increasing technological capabilities of governments around the world would make the work of open government activists much more difficult in the years ahead.
On that count, he boasted that his organization had been able to outmaneuver the U.S. Department of Defense, which demanded that Wikileaks destroy leaked documents provided by former U.S. Army intelligence analyst Chelsea Manning in 2009.
CORRECTION: This article previously stated that the amount of money countries around the world spend on intelligence is difficult to verify. That information can be found here.
Calling all HuffPost superfans!
Sign up for membership to become a founding member and help shape HuffPost's next chapter