 When Julián Castro took the stage at the Democratic National Convention Tuesday night, there were probably few in the arena or watching on TV who did not know the essence of his story: young, Harvard-educated, Texas Latino and rising political star.
Castro has been referred to as a "Latino Obama" and a "Latino Messiah" more than once since plans were announced for the San Antonio mayor to make the keynote speech at the Democratic National Convention. But Castro also shares the broad biographical outlines and the national political spotlight with another man, Texas candidate for U.S. Senate, Ted Cruz (R).
And in Charlotte Tuesday, the comparisons came early and often.
"Julián Castro, yes we love him. Yes we like, no, we respect the Stanford and the Harvard on his resume," said Los Angeles Mayor Antonio Villaraigosa. "But I also like that this man, unlike another young Latino out of Texas, will tell you that government matters, policy matters and he, like I, will tell you that he is where he is today because someone opened the way for him. "
State Rep. Mary Gonzalez, a Texas Democrat who was elected this summer to represent a district in El Paso, turned to Castro's brother, State Rep. Joaquin Castro, for advice, but knows others who have received the same from Julian, she said. As the Latino population and electorate grow, both Castros are deeply involved in the effort to turn the solidly red Texas into a blue state, she said. Gonzalez also said that both Castro twins have been active in grassroots political organizing efforts to expand educational opportunities for Texas students.
"No disrespect to Ted Cruz, but Julian and Joaquin Castro have been on the ground doing work for years," Gonzalez said. "Ted Cruz just sort of showed up. It seems like a 'Legally Blonde' moment where he woke up one day and said 'I want to be senator.'"
Verna Blackwell-Hilario is a Bexar County Democratic Party activist and has served as a precinct chair in San Antonio for more than 25 years. Blackwell-Hilaro has known Castro and his twin brother Joaquin since the two were in junior high, trailing their mother at political events.
"For the Republicans to put pretty boys on the stage is just insulting," Blackwell-Hilario said. "Its just so clear when you listen to someone like Marco Rubio -- when you listen to that Ted Cruz, that that is a party that wants to try to fool Latinos into voting for them because these men have nothing to say that would actually be good for Latinos."
For Latino delegates and political activists such as Carlos Alcala, executive director of the California Democratic Party's Chicano Latino Caucus, the two men from Texas also represent two very different things.
"In Julián, we see a young man that's been groomed in this party, that's contributed to his community, who is working to make lives better," Alcala said. "In Cruz, we see everything the Republicans are trying to do. The Republicans, they think that if they give us the right names, they don't have to give us the right policies."
But it was Castro, 37, who on Tuesday pointed to some of the things he and Cruz, 41, have in common: Neither come from families that have long possessed great wealth or power.
Like the president, Castro was born to a woman who would later become a single mother. He was raised under what were less than affluent circumstances in San Antonio, a burgeoning center of Mexican-American political power and economic influence. In a cradle of Chicano labor and civil rights activism, Castro and his twin brother Joaquin, watched their mother register voters and get involved in community causes that, by many accounts, are too numerous to number.
Castro is so deeply concerned with Latino high school and college graduation rates. He helped to push a measure on the November ballot that will let San Antonio voters decide whether to raise the city's sales tax rate to cover the cost of pre-school education for nearly 30,000 children.
Cruz, the son of a Cuban refugee father and an Irish-Italian American mother, was born in Canada. Years later, the Cruz family moved to the Houston area. After graduating from Princeton University, Cruz went on to law school at Harvard and served as editor of the prestigious Harvard Law Review. President Barack Obama held the same post while a student at the same school.
In 2003, Cruz became the youngest solicitor general in the United States when he joined the Texas attorney general's office, arguing more than 40 cases before the U.S. Supreme Court. He was also the first Latino to serve in this position in Texas history. In 2012, Cruz launched his campaign for U.S. Senate and in July beat out Texas Lieutenant Governor David Dewhurst, a white Republican, for the Republican nomination. Given Texas' overwhelming Republican majority, Cruz is widely expected to win in November.
And while few in Charlotte Tuesday seemed to view the two men as similar -- much less political equals -- both Castro and Cruz took portions of their time on the national stage to talk about their families, generational progress, and their own conception of America's most basic promises and problems.
On Tuesday, Castro pointed to a sort of contract between hard working individuals and government.
"Texas may be the one place where people actually still have bootstraps ... and we expect folks to pull themselves up by them, he said. "But we also recognize there are some things we can't do alone. We have to come together and invest in opportunity today for prosperity tomorrow.""
In Tampa, a week earlier, Cruz described things differently.
"We are all sons and daughters of those who risked everything for freedom, and we have the duty to pass that same opportunity to the generations to follow," he said. "And yet today, many in Washington seem content to saddle our children with a financial debt larger than our nation has ever seen ... government is out of control."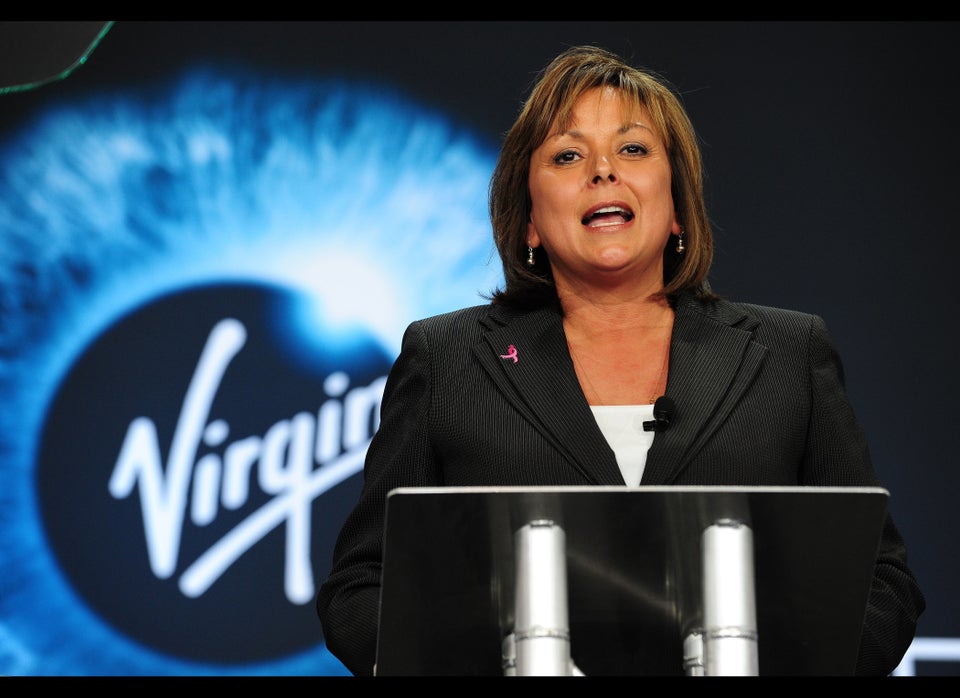 Leading Latino Politicians