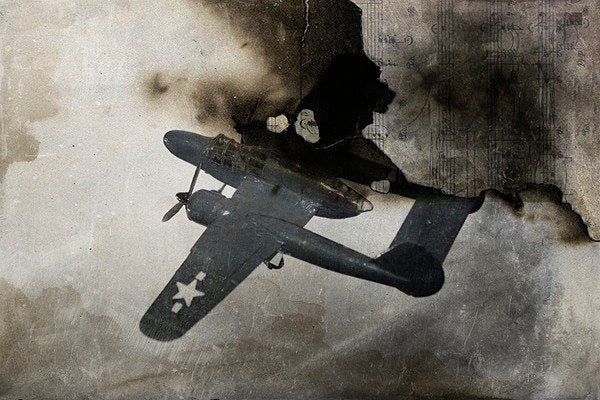 Julian Hibbard is a British photographer who is absolutely obsessed with the first and second World Wars. It all began with a chance meeting, as most good things do, and resulted in an experimental photo series that is as haunting as it is historically-based. This coming Memorial Day, we should all take a moment to remember the high cost of war on soldiers and their families as we go about our days. This series is a reminder of our collective history.Scroll down for photos.
Why did you decide to begin the series, "Tales of an Unknown Aviator" and how long do you expect it to go on?
The origins of this series go back several years. Whilst on a trip to southern Chile in 2008 I was by chance introduced to an old man. It turned out he spent the winters sat at a small kitchen table making miniature model planes -– not from kits –- but using recycled materials to reproduce in object form, the illustrations and photographs he studied in a vintage encyclopedia set. I instantly saw in him the spirit of a true outsider artist and his model planes seemed to connect with my own interest in objects that produce an emotional response triggered by memory. After a two-year period communicating back and forth by letter I returned to his hometown and photographed ninety one planes he personally selected from his larger collection, which by that stage numbered approximately three hundred in total. Luis Greenhill has since sadly passed away but this project continues to evolve as individual images are worked on one by one and I imagine that process will continue for another year or so until all are finished.
How did you achieve the vintage look of the photos?
The project is now a collaboration with my friend and fellow fine art photographer Demetrious Noble. I was aware of the powerful series "A Broken Home" he was undertaking in North Carolina. I felt the digital approach he was developing with that series could unlock the potential of the model plane images. As such the vintage look is in fact a digital technique developed and applied to each plane by Demetrious. His technique references surfaces, textures and fragments of information related to the project narrative, such as pages from the original encyclopedias and the letters Luis Greenhill wrote to me.
What's been one of your own favorite pieces so far? What is your relationship to it?
My currently favorite is the Northrop P-61 Black Widow. The way this image is layered and burnt speaks to me of memory, time, loss and the beauty of things delicate, imperfect and incomplete, which in essence, is the very definition of the project. All the planes photographed are scale models of real planes that relate to the first and second world wars. Interweaving the past with the present, the planes embody themes of power, struggle, trauma, sacrifice, change, invariance and self-reflection. From my perspective all the planes from the project, but this example in particular, help me glimpse and contemplate the truth of impermanence.
What artist or artwork has been influencing you lately?
Demetrious has complete freedom with regard to his intervention on the images. Many times his reaction on how to treat a particular plane is instinctive. Recently Demetrious has been looking at Cai Guo-Qiang's work with gunpowder. The cycle of life and death, destruction and creation is imbued in the model planes -– so to experiment with combustion and burning the images to create something mysterious and new is one line of enquiry he is also investigating.
Luis Greenhill was a modest and humble man. Constructing model planes was his passion for the last thirty years of his life and I am fortunate to be in a position to tell a part of his story and add to it. The next stop for this project is to display twelve images from the series at Portland International Airport this summer as part of a yearlong exhibit. As the
photographs and history of the planes appeal to many people on so many different levels, the possibilities for this project are constantly evolving. Our goal is to exhibit at other museums and galleries, return to present the images in Luis's native Chile and in due course publish the entire project in book form.
PHOTO GALLERY
Model Planes