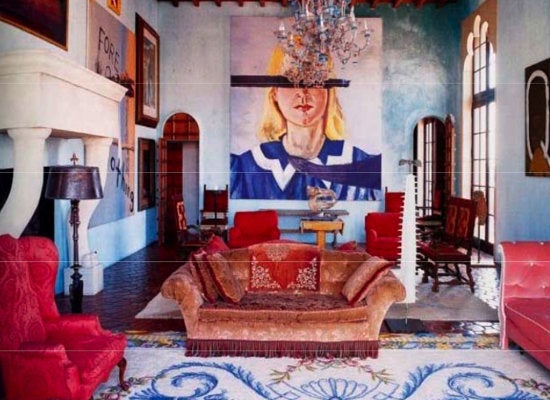 As the Manhattan real estate market gets pummeled, artist and filmmaker Julian Schnabel's Pompeii-red Palazzo Chupi, a five-unit building in the West Village, is suffering the ravages of the real estate downturn.
The total number of Manhattan real estate sales was sliced in half, according to new first quarter reports. In addition, the number of sales that have closed in new developments plummeted by 67% from the prior-year-quarter, according to the Corcoran Group. And a telling indicator, the number of sales contracts signed, plunged 40% to 1,324, down from 2,225 in the prior-year-quarter, according to real estate listings Web site Streeteasy.com.
Two of the units remain unsold and were recently discounted: the eighth floor duplex was put on the market in 2007 for $27 million, but was recently discounted for the third time to $19 million. The penthouse triplex was originally listed at $32 million, but is now $22 million. It was the fourth price drop, according to StreetEasy.
"The eclectic finishes and design would not appeal to most people," Sofia Kim, vice president of research for StreetEasy, told the real estate magazine The Real Deal. The prices are also still high, despite the price chops. The closest comparable sale--a triplex designed by architect Richard Meier--was priced at nearly one-third less, Kim added.
The actor Richard Gere bought his unit for $12 million in 2007, and originally listed it for nearly $18 million last year. He later lowered the price to $15 million. In February, after it still had not sold, he took the listing off the market.
The investment banker William Brady owns the fourth unit, and the fifth is reserved for Schnabel himself.
Among the amenities are unobstructed views of the Hudson River, a swimming pool and sauna, indoor parking and several original details designed by Schnabel.
Related
Popular in the Community