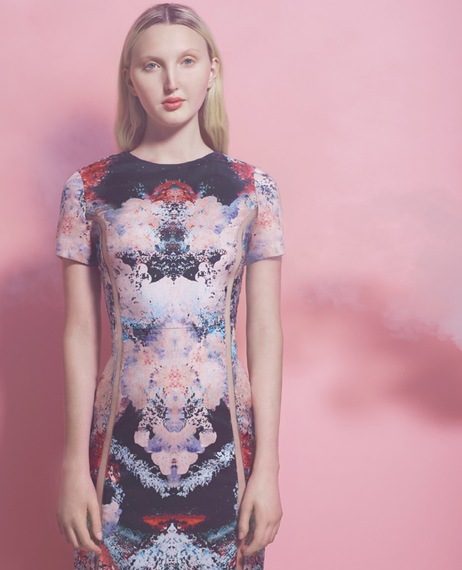 Julianna Bass - SS17 collection
This article will mark the first in a series of regular artist and designer features. The individuals that I'll be writing about will be connected in some way to the digital medium through their creative process. In my own practice, I'm always looking for new ways to push myself out of the comfort zone. Exploring and studying the way other successful professionals in the arts industry work, is one of the most effective ways of opening up fresh developments in our own making.
To get the ball rolling, I'm going to present the work of the talented Julianna Bass, a fashion designer who has gained recognition as an innovator in her field.

Maxine Noth, director of Haute Presents, explains why she decided to introduce me to Bass.
"In the digital age, industries that have traditionally been relatively insular, are being merged in exciting ways. Whilst working with traditional artists like Adam Butcher, who is pioneering the use of digital media in art, and fashion designers like Julianna Bass whose portfolio fuses art and fashion, I thought we could find a unique insight into this intersection. By having Adam virtually attend Julianna's SS17 presentation through the iPad, they were able to create a platform exploring the innovation that is driving the merging of art, fashion and technology."
I wasn't at all surprised that Bass had developed a fascination for incorporating the digital medium into her designs once I'd discovered that the original idea for her brand began in Berlin, where she used to live and work. Berlin is well known for being one of the leading pioneering capitals of fine art created with new technologies.
"I am interested in exploring a subtle fusion of tech and luxury fashion." She mentioned, in the build-up to the launch of her SS17 collection which was premiered at the New York fashion Week in September 2016.
The process of putting together the SS17 collection involved a partnership with Slovenian artist Blaz Kutin who's photography was digitally infused into her works. Kutin takes photographs of urban fragments; the unremarkable eroded street surfaces that capture his interest, are rendered without digital enhancement on a monumental scale and transformed into powerful abstract compositions.
"I'm most satisfied when pictures are completely detached from the context in which they were shot, when they are - in a sense - reinvented. I want them to communicate with the viewer on a very personal, even subconscious level," explains Kutin on his website.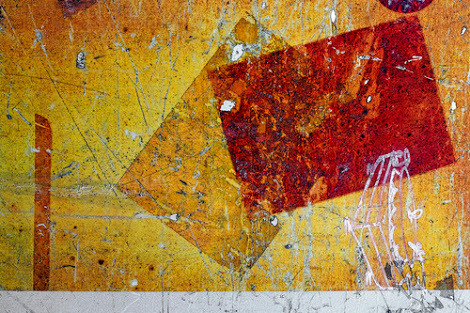 I think it's encouraging that digital artists are embracing opportunities to work alongside rising designers such as Bass. It makes sense on so many levels.
The designer benefits from having access to a never-ending source of inspiration that gives her creations their uniqueness. The artist gains that all important recognition, not only from the fashion world, but above all from the designer who in a sense becomes their patron.
Bass talked to me about the process of incorporating an artist's work into her designs. She explained how a mutually beneficial agreement between herself and the artist is created. As such, the artist sells her the rights to use and (within reason) rearrange the digital original. The artist has to be happy with Bass's interpretation in the final outcome and of course is credited when their work is featured. In this project, Haute Presents acts as curator and artist agent.
Once Bass has chosen specific art works, she then selects, plays with and reorganizes these back in the studio using applications such as photoshop to help her refine and prepare the final edited images ready for printing onto textiles. In the same way that I might oversee the printing of my Giclee reproductions, Bass is present throughout the all important finishing stages. Once she's happy with the colour quality, the printed material is then cut and fashioned using the usual traditional methods.
The results are incredibly powerful. She describes her creations as a: 'Post-apocalyptic cocktail: a dreamscape of honeyed calamity, oblivious opulence and drunk femininity--shaken, not stirred.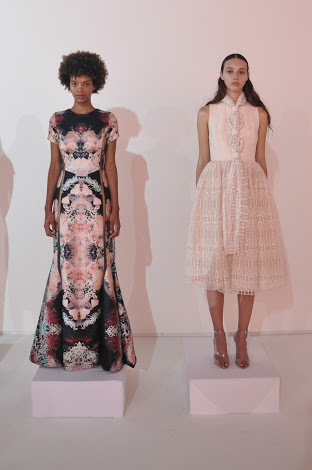 From a digital artists' point of view, I'm excited by the potential possibilities of this kind of collaboration. In particular I can see the process of conceiving the physical pieces becoming much more interactive. It's now possible to paint and draw digitally directly on projected surfaces and share the process from anywhere in the world, as well as draw virtually and print the outcomes out in three dimensions. Recent developments in electronic and reactive textiles often referred to as smart fabric, are now making the headlines. I'm only guessing, but I have a feeling that Bass is only too aware of these developments in new technology and will surely be taking advantage of them very soon.
So what does the future hold for Bass? Well understandably, she didn't want to give too much away, however she did hint at a growing association with technology. I very much look forward to seeing what exciting creations will come about from her next alliance.
"We have been inspired by recent innovations in the area of fashion technology. Looking ahead, the label is increasing its engagement with technology and will be developing several fashion tech related projects in hopes of enhancing the overall fashion experience by empowering the women who wear our clothes."
Julianna Bass
For all of the artists out there who are passionate about using the digital medium, I would encourage you to be open to collaboration across the various specialist areas. The accessibility of the digital medium lends itself particularly well to these kind of creative pairings. As I always say, you have to take risks and be receptive to change if you want to build that robust practice that will ensure you stand out among the crowd.
Are you an aspiring amateur or professional artist? Feeling overwhelmed? Need a one-on-one support in using the digital medium to take your practice to the next level?
I've developed the perfect program for you.
Subscribe to receive my free training video where I'll share 'My 3 Secrets to Unleashing Your Unique Creative Story'.
Support HuffPost
The Stakes Have Never Been Higher
Related
Popular in the Community