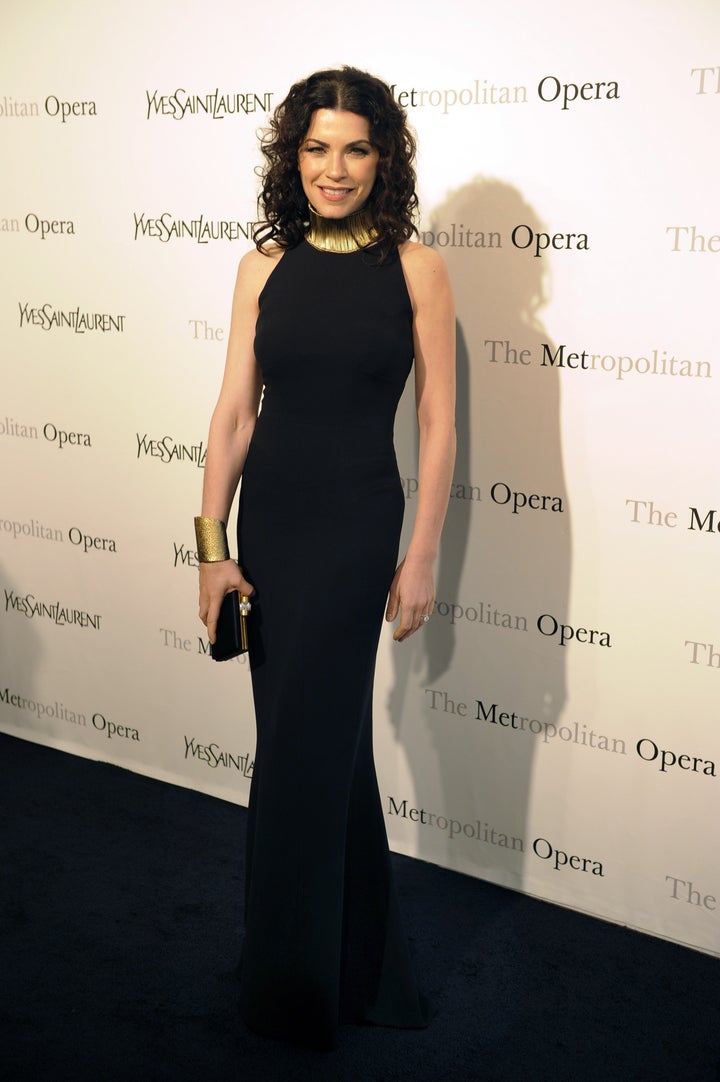 Television, in many ways, is a copycat game. Make one successful police procedural, get five more. One single camera comedy set in a workplace begets another. And even in a world of ever-expanding cable dials and an exploding number of niche channels, facsimile still rules the day. And so it was at last week's television upfronts, where network executives trotted out their fall series hopefuls. While, by and large, the presenters were middle aged men in suits, the products they were presenting had a distinctly feminine feel.
While women dominating television is nothing new -- the tradition goes back to Lucille Ball, picked up by Mary Tyler Moore and carried through to the era of police procedural teammates, Carrie Bradshaw and the Desperate (and Real) Housewives, rare has it been that a woman anchors, front and center, an hourlong drama. Especially on network television. Enter Julianna Margulies, an Emmy winner for her ensemble work in "ER," now breaking boundaries as the solo lead in the Peabody-winning series "The Good Wife."
The role is notable not just for its leads gender, but the message it sends: the wife of a sex scandal-plagued politician, going back to her job as a lawyer, taking the lead in court and at home. Its impact and significance won the show a 2011 Peabody, and speaking to The Huffington Post and a small group of reporters, Margulies said that she feels a certain pride in blazing the trail for the new batch of women-led programming.
"If you look this year at the pilots that they picked up, I would say more than not, women are the leads in network television, and I think we were the catalysts for that," she said. "And that makes me so happy."
Still, she understands that there's a lot of work to be done to change the perception and treatment of women stars, even when their shows are so successful. Citing the perceived women-led ratings battle between her show and "Body of Proof,' Margulies made no secret of her disdain for current scheduling practices.
"I don't understand executives that pit women against each other, the fact that they brought in 'Body of Proof,' Dana Delaney is a friend of mine, and the two of us were just rolling our eyes, it's like, of course, you finally have two great female leads and you're going to put us on against each other," Margulies said. "You're assholes. You should have put them on against a different show to see where they go, and then in the end, it was split down the middle. It's the feeling that you want to celebrate not de-calibrate."
Perhaps the message had already been received; "The Good Wife" was moved by CBS to Sundays at 9 PM, a change that the star is embracing -- and something she thanked CBS chief Les Moonves for making happen.
"I'm thrilled. At first I was taken aback because you always think a move is a bad sign. And then I started thinking about it -- this was all in the span of like five minutes -- and I was like wait, that was 'The Sopranos' spot. That's like my favorite time to watch television," she said. "Hold on a minute, this opens a whole door to the kinds of people that we want to attract to our show: a younger audience and an older audience, because a younger audience, young people can stay up at nine, and old people can stay up at nine... what it also does is, you can't really categorize our show. We're not a procedural, we're not a serial, we're a legal, political, human show, and any given week can be something else, and I think it allows us not to be pigeonholed."
No matter the time slot, though, Margulies' feels a great responsibility to keep the show at its height.
"I feel a tremendous responsibility to my crew, to my cast, to every guest star that comes on," she said. "I feel responsible that everyone has a really wonderful experience and to do the best work possible, and to always know my lines and to always be on time and to bring a level to the show in terms of quality that other people will follow."
Calling all HuffPost superfans!
Sign up for membership to become a founding member and help shape HuffPost's next chapter