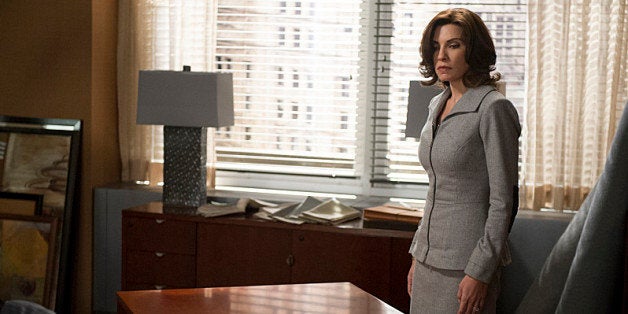 "The Good Wife" is poised to turn everything on its head with one fell swoop with "Hitting The Fan," the fifth episode of Season 5. So much so that it feels like a finale and premiere all rolled into one. For series star Julianna Margulies, it feels like the show is brand-new once again.
"It brings a lot of excitement to everyone. Not just the cast, but the crew, everybody feels it and it's so lovely," Margulies said in a phone interview earlier this week. "I feel like we really got off to a great year. It might be five, but it feels like one to me."
"Hitting The Fan" picks up right where the last episode ended. Diane Lockhart (Christine Baranski) has found out Alicia's (Margulies) plans to leave Lockhart/Gardner. The two characters had one final interaction before Diane spilled the beans to Will Gardner (Josh Charles): a steely stare.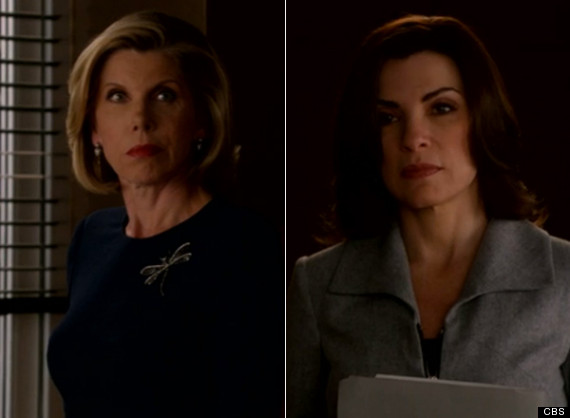 "It was horrible! ... But that look, it's chilling to the bone. You just feel ... you just feel like a piece of sh-t," Margulies said with a laugh. "There's no other way to put it. I've really dissected and looked into -- in order to play this character truthfully -- why Alicia would be able to do what she's doing. When she saw how Will treated Diane and kicked her out -- when she's standing there -- there was a real reason for Will and a real reason for storytelling why Will said in last week's episode, 'Alicia, stay, I want you to draw up the contract.' When she sees that and walks over to Cary and says 'We're out,' it's because the venom she feels coming from him and what he's doing to his partner, it's one of those moments where she realizes, 'Oh no, I'm not going to be a part of this.'"
Don't worry, Baranski and Margulies are still tight. In fact, the two have been emailing and plan to get together over martinis and burgers to laugh at all the drama they've had to play. But that venom Alicia sees in Will gets turned toward her.
"Look, the ultimate reason she's leaving, the penultimate moment, was when she realized she'll always have feelings for Will ... She and he will always be attracted to each other when they're in each other's proximity," she said.
But viewers will feel for Will, despite his explosive reaction (yes, we're talking about the desk throwing). "In the end, I think the person who comes out looking the best is Will. The most I would say, trustworthy is Will ... even though he in the end was the one who stole $45,000 from clients, was almost disbarred and put Diane in that position. In the end, he sort of comes out the cleanest of everyone," Margulies said. "I have a feeling viewers are probably going to have a hard time feeling for Alicia when she leaves, but I also think the competitive chase is on. It's going to be quite exciting."
Viewers may hate Alicia, but it's all happening for a reason. "I think what we have promised, being that we're shooting Episode 9 right now and almost finished and about to start Episode 10, is that there's a means to the end. In other words, everything is building up to a specific point. I haven't seen the actual written episodes yet, but I can tell you that the tension buildup and the idea of this separation, come Episode 15 will come full circle," she said.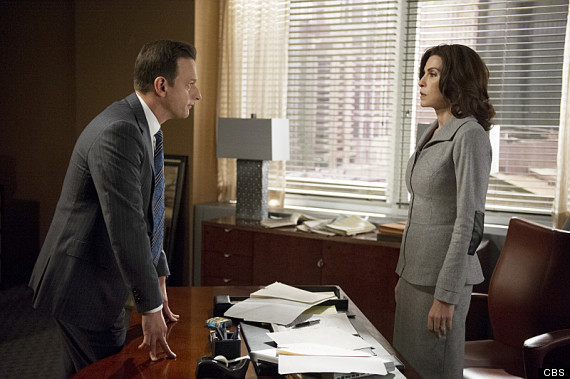 Margulies said this season has been difficult to play.
"I'm betraying people who I love and trust, who gave me my start. That moment when Will Gardner walks into Alicia's office and says 'No one would hire you' and we have this huge fight -- he's right! It's a betrayal. It's horrible. It's been hard to play that, in that I have to try and find the place to justify why I'm doing it and try and see the light at the end of the tunnel," Margulies said with a laugh. "My dad, who's such a fan of the show, he called me last week and said, 'I don't like where the show's going. It's too dark. There has to be a human element of sympathy for these characters and I'm not feeling it.' I was like, 'Dad, hang in there. It's coming.' I think the build up has been unapologetically perfect."
And the Emmy-winning actress has this message for fans: "[A]ll of this is not purely for entertainment value's sake. There's a reason behind what's going on ... I think about all the guest stars you see on our show, where you go, 'I'd love to see that guy again!' and next thing you know you're seeing that guy again. The way Robert and Michelle craft each season embodies everything that's going on. There may be an episode where you're feeling let down in some characters, just wait. It all comes full circle. That's all I can really hope for, is that people have -- not the patience because I think you're going to get what you want from that episode -- but understand that this is a process. The beauty of television, which is why I think everyone is flocking to television, is that you get to really tell a story without having to finish it in that hour."
"The Good Wife" is gearing up for a game-changing season, but they're also heading for a milestone: 100 episodes. To celebrate, they're doing something a little bit different. The start of production on the 100th episode coincides with the one-year anniversary of Superstorm Sandy hitting New York and Margulies and "The Good Wife" team are doing charity work instead of cutting a cake and popping bottles.
"I felt, along with [executive producer] Brooke Kennedy, how do we celebrate our good fortune? We're a network television show to reach 100 episodes, how do we celebrate that in this incredible community of New York?" Margulies said. "We adopted a town when Superstorm Sandy happened, we helped Belle Harbor ... brought all of our generators out there and helped them. After a year, the spotlight has faded on these victims that are still suffering as if [Sandy] had just happened."
On Saturday, Oct. 26, the cast and crew are assembling to help rebuild a community, specifically a house in Brooklyn. As of the interview, they had raised $65,000 for St. Bernard Project.
"We're going to make a difference in hopefully a community's life and say thank you for letting us have our community of 'The Good Wife' and we give back," she said. "I would love to start something where shows in New York constantly give back to the community because we're so lucky to shoot here."
"The Good Wife" airs Sundays, 9 p.m. ET on CBS.
PHOTO GALLERY
'The Good Wife'