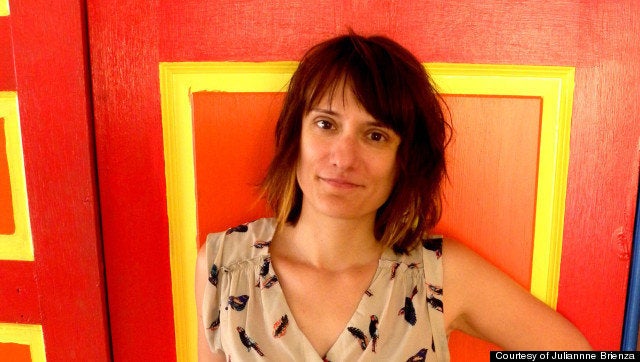 For this installment of The Huffington Post's "My D.C." Q&A series, we talked with Capital Fringe Executive Director and founding member Julianne Brienza.
The biggest weeks in local theater are upon us. Capital Fringe 2012 begins July 12 and runs until July 29. For a little over two weeks, 806 performances, mostly original works, will be staged in black-box theaters, pop-up spaces, retail stores and other places willing to host some art.
Now in its seventh year, the Capital Fringe Festival has become a theater institution. It's the only major unjuried, self-producing, open-access theater festival in the area. Plays, dance, puppetry, spoken word, film screenings, visual arts, radio and more are staged throughout the city.
We caught up with Brienza to find out more about her life in D.C. and how the theater scene could benefit from a little more space:
The Huffington Post: What do you do for a living?
Julianne Brienza: I am the Executive Director of Capital Fringe a D.C. non-profit organization founded in the summer of 2005 with the purpose of infusing energy into performing arts here in the D.C. Metro area.
HuffPost: Where do you live?
HuffPost: What's your commute like?
Brienza: I either take Metro, Bikeshare or Uber. It's usually about 20 minutes. I am originally from a small town in Montana. In making the choice to live in a city I hold strong to the principle that I must be able to get wherever I want within 20 minutes. Otherwise I should just live in the county where the air is better.
HuffPost: What's your favorite local spot to take out-of-town visitors?
Brienza: Well, most of my out-of-town visitors come to DC for the Fringe Festival, but outside of that the National Gallery [of Art] is a must visit spot –- always!
HuffPost: What's your position on D.C. statehood?
Brienza: I think in every big decision there are thousands of objectives that must happen first. There have been huge strides towards becoming a state, but will we get there and will the movement be organized and focused enough. Time will tell.
HuffPost: What's your favorite local neighborhood?
Brienza: Depends on what I am in mood for. U Street to get down. Adams Morgan for throwing it down like I am in my twenties. Georgetown for fancy dining. Downtown for movies and theatre. Brookland for home life.
HuffPost: What's your favorite local restaurant?
Brienza: I go out to eat a lot. I have so many favorites, but if I had to name one, Bistro D'oc.
HuffPost: Should D.C. lift its height restrictions on buildings?
Brienza: Not downtown but in other neighborhoods it would work and make the overall landscape of the city layered.
HuffPost: What do people in D.C. complain about too much?
Brienza: I don't know. But what they should be complaining about is homogeny. All the real estate development is great, but having every neighborhood look the same. Or even going out to the suburbs of DC and it is filled with copies of restaurants and retail that is in DC. We have such a unique identity in D.C. but having six to seven of the same businesses in one area… We should demand better planning and use of neighborhoods.
HuffPost: What's one way to improve the D.C. theater scene?
Brienza: Space. For me, every conversation about artistic creation quickly moves to a conversation about space. These are not conversations detailing the need of one company but the need for a collective space, the need for what I like to call a "theater barn" -- think of a movie megaplex, but for theater. In my vision, this space will be located in one of the two final D.C. cultural frontiers: the Southwest Waterfront or NOMA/Brookland, and will house five or six stages, all under 140 seats. It will not be run by a producing entity with an artistic mission or a panel of so-called "experts" programming the venues. There will be no resident companies, and the rental rates will be affordable for independent producers.
Email us at dc-tips@huffingtonpost.com if there's someone you think would make a good "My D.C." interview.
BEFORE YOU GO