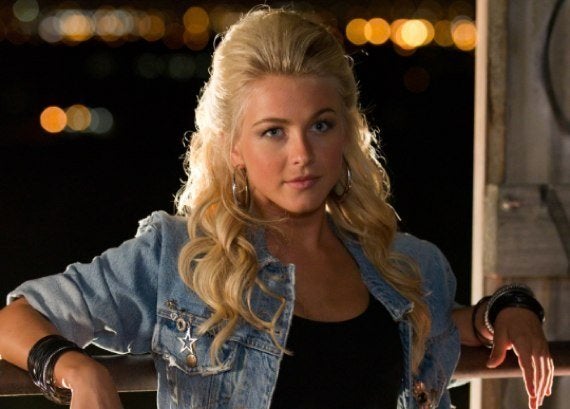 Julianne Hough has only been in four movies to date. And not counting her brief appearance in the first "Harry Potter" film, Hough -- who rose to fame on "Dancing With the Stars" -- has made a habit of appearing in some of Hollywood's more kitschy fare: Whether co-starring opposite Cher in "Burlesque," headlining the surprisingly delightful "Footloose" remake or, now, in "Rock of Ages," acting alongside Tom Cruise and a baboon. "You didn't want to get mauled by a baboon," Hough explains. Indeed.
In "Rock of Ages," Hough stars as Sherrie -- a small town girl from Oklahoma who moved to L.A. in an effort to become a musical artist. Once she gets there, many Night Ranger, Whitesnake and Quarterflash songs are performed. Here, Hough explains what it's like to act alongside a baboon and Tom Cruise (not in that order), why the set smelled like "shit," and if she'll ever shake the reputation of being the "dancer chick."
It's hard to resist a mashup of Pat Benatar's "Shadows of the Night" and Quaterflash's "Harden My Heart."
By the way, that song -- when I first heard "Harden My Heart," I wasn't so sure about it. I was like, "Really?" And then once they put "Shadows of the Night" together with Mary J. Blige and I kind of made it my own -- it has now become my favorite mashup in the movie. I mean, anything with Mary J. Blige's voice on it is going to be amazing.
Let's see if you agree with this: A person's enjoyment of this movie will be helped by a more rambunctious crowd.
Of course. Absolutely. I mean, it's like going a concert where everybody is sitting on their hands. Do you know what I mean? Or going to the same concert with avid fans. You know? So, I think that, regardless, I think you have to go there ready for a good time. No pun intended. It's a dude-sical, a dude musical.
I have to admit, I was skeptical when I first heard that Tom Cruise would be playing Stacee Jaxx. But there's no doubt that he goes all out in this movie.
Yeah. I've never been more attracted to a 49-year-old man in my life. I'm literally like, "Are you kidding me?" Every time he sings "Pour Some Sugar on Me" and does the whole razzle-and-dazzle part, I literally jump up and freak out a little bit. He is absolutely Stacee Jaxx. Especially my generation, they remember him from "Top Gun." And maybe those are movies that maybe they have to go back and see. But, forever more, I think everyone we will remember him as Stacee Jaxx. He is brilliant.
So many peculiar things happen in this movie. Was there anytime on set when you thought, I can't believe I just saw that happen.
I mean, every day on set, pretty much. There was a baboon running free and everybody was standing as still as possible because you didn't want to get mauled by a baboon. Then there's Catherine Zeta-Jones, she walks onto set the first day -- she wasn't working -- but she comes in wearing an amazing white suit and movie-star perfume. Because she just smells like a movie star. And then Tom and I dancing on a pole together -- I mean, where do I begin and where do I end? The list goes on and on. No pun intended, again [laughs].
You're doing a great job with the unintentional puns, by the way.
I know. I don't mean to.
It's funny that you said, "Where do I begin and where do I end?" You actually could have began and ended with "baboon."
Yeah. "Baboon." That's it. That's all I'm going to say.
You duet on, "Waiting For a Girl Like You," which was also a song featured in the original "Footloose."
Yes! It is! Apparently I like the '80s. That scene, actually, "Waiting For a Girl," it's kind of funny because that was [shot on] the only hill in Miami. So they had to build the Hollywood sign on there. And, you know, this is where we're supposed to fall in love and kiss each other. It had just rained in Miami, so it was very humid and it's hot -- we were standing on a landfill. So, we were basically standing on a big pile of shit. So, you can only imagine how romantic that was with the smell. That was not movie star perfume, no.
Did it smell worse than the baboon?
Yeah. I mean, there were a lot of smells in this movie.
So, I'm guessing that wasn't your favorite song to sing.
There's a couple of deleted scenes that will be on the DVD. Actually, for "Waiting For a Girl," there was this big fantasy moment. Oh, if you've seen the Broadway show, you know what I'm talking about: When she starts singing the "you're so good" part, you know? I loved that song. I loved singing "Rock You Like a Hurricane" -- that's the lap-dance between Stacee and Sherrie. Those two are pretty cool -- they're my favorites.
You've only been in four movies, but your filmography is fascinating. "Harry Potter and the Sorcerers Stone," "Burlesque," "Footloose" and "Rock of Ages." Do you ever consider just dropping the mic and walking away?
That's funny. I mean, I feel really fortunate because, in a lot of people's eyes, I'm the dancer chick. I think that to be able to do movies where I get to dance and sing is not too far out of the peoples' comfort zones. You know? And I think when people try to go so far out of that at the beginning, it doesn't work. It doesn't make sense and people get freaked out -- they don't want to see you as something they haven't discovered. So, I feel really blessed and fortunate all of these movies have kind of worked. And, this one, hopefully, will be the biggest one of them all. But, now I'm excited because I'm starting to step out of the box, like 10 percent. Then 15. Then 25 percent. So, slowly but surely, I want to build my acting credibility.
Well, no matter what, you were always in that first Harry Potter movie.
Heck yes! I'm a Potter! I am a Gryffindor!
Mike Ryan is senior entertainment writer for The Huffington Post. He's seen Rock of Ages twice on Broadway. You can contact Mike Ryan directly on Twitter.
PHOTO GALLERY
Photos From 'Rock of Ages'
Calling all HuffPost superfans!
Sign up for membership to become a founding member and help shape HuffPost's next chapter
BEFORE YOU GO