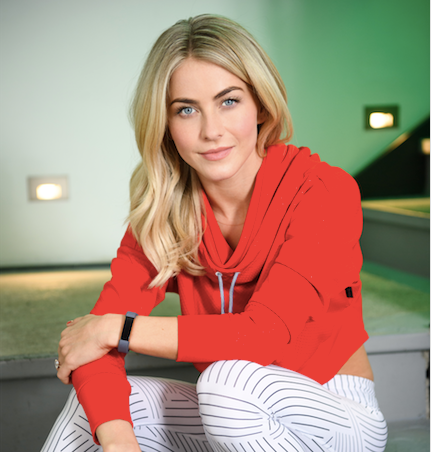 Actress, singer, dancer: Julianne Hough is one of those triple threats that makes your head spin. When she's not acting in her latest flick or dancing up a storm on tour with her brother Derek Hough, the 28-year-old Fitbit Ambassador is planning a wedding with fiancé Brooks Laich. Not surprisingly, this means she's on the road a lot. But, she still maintains one of the most enviable bodies in Hollywood. I had to find out her secret.
Q: How do you stay healthy while traveling?
JH: It's sort of become my lifestyle now. It's what I eat, it's how I live. My fiancé always says "the next time you say you don't have time, change the word time to priority." Once I started doing that, I knew I need to make the time for health and fitness and I need to make it a priority. Now, I will take an earlier flight so when land so I have time to work out and get a good night's rest.
Q: You're hitting the road again with your brother this spring. What's your wellness regimen while on tour?
JH: Before we even go out, we see the cities that we are performing in and then we try to see what kind of workouts are in the location. We'll do the same for food. After show food is usually so disgusting, so I'll ask the caterers make me double of whatever healthy foods they are making for lunch and then I will just save it and heat it up later. Otherwise, we are ordering pizza every night. Super glamorous, right?
Q: Do you work out or is dancing your go-to on the road?
JH: We find places around town to mix it up and do different things. But, it's funny, I don't get super skinny on the tour. In rehearsal and the first couple of weeks, I drop a lot of weight and I get like shredded and then my body gets sort of used to the tour. I burn a lot, but I also eat a lot. So, I just get really muscular and then I get home and then I sort of have a little break and then I lose a little bit of the muscle.
Q: Do you allow yourself to indulge at all?
JH: A thousand percent. My fiancé makes fun of me because I eat so much. On vacation, he has multiple pictures of me just like with food in my mouth. I think the first trip we ever went on together – I was like it's the last day, I am going to do a buffet. I had everything – there are pictures of it. He is like how does your little body fit all of that?
Q: Is there a particular culture you turn to for healthy living advice?
JH: I really follow more of a Mediterranean diet I don't really cook with butter. I cook with olive oil or with coconut. I love my pastas and pizzas, but I love my fishes and my chickens and my vegetables and fresh stuff too.
Q: Do you use any devices to help keep you on track?
JH: I love my Fitbit Alta HR because it tracks everything from my sleep to my heart rate. First thing when I wake up, I'll track my sleep patterns. Then it registers my workouts and steps, so I know how much activity I got in. My favorite part is the fact that it buzzes – it's like get up and move! I am in the car and going to different places, so it will remind me I need to walk. If I'm at the airport, I will walk around and just get my steps in before I sit down on the plane. Or, I will get on the plane and do a couple of laps and just walk down the aisles, stuff like that. Sometimes I will stand in the front if nobody is up there and talk to the flight attendants and just pace or do my squats. When I am at the airport, I am shuffling and doing squats and lifting my arms. I only have a certain amount of time to do something and I want burn as much fat as possible; the Fitbit tracks it all. All of those little things add up.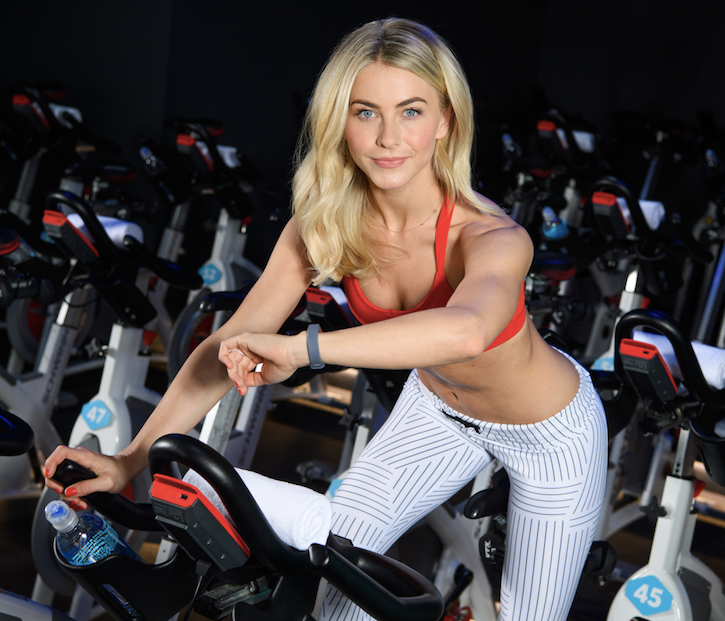 Q: Where is strangest place you have ever worked out or danced?
JH: We danced on a plane once! On our first tour, they played "Happy" because that was in our show and we did the dance down the aisle. Also, we would be in outdoor amphitheaters so we would be working out on the steps and going around the grass and running around. My sister and I did a beach yoga, but we called it drunk yoga because it was like a girls' trip and we had a few tequilas and margaritas before. It was a lot harder, I will tell you that!
Q: Do you ever eat airplane food?
JH: I eat it every time! I know that if I don't eat when I'm hungry, then my body goes all weird. I did this when I was shooting Footloose and I was on this really weird diet where my body got messed because I was not eating enough. Ever since then, if I am hungry, I have to eat because I can't mess up my body like that again. So, on a plane I will have a few bites to at least suppress that so I am not pigging out on Mentos.
Q: You pig out on Mentos?
JH: The cinnamon Mentos and the fruity Mentos, that is like my jam. I love those! But I eat the whole thing on a plane, it's so bad. I know, so weird and so random.
Calling all HuffPost superfans!
Sign up for membership to become a founding member and help shape HuffPost's next chapter
This post was published on the now-closed HuffPost Contributor platform. Contributors control their own work and posted freely to our site. If you need to flag this entry as abusive,
send us an email
.